"Add to Calendar" Button
Help your members never miss an event or CPE course with the click of a button! Clicking on an "add to calendar" button will generate an .ics file with all the pertinent information about the event that users can upload to their iCal, Google, or Outlook calendar.
These calendar files are flexible as well. This functionality can be applied to single events or to recurring events. An add to calendar button on the detail page of a CPE course will allow users to add their upcoming courses to their calendar, or a download events calendar allows you to sync your personal calendar with your events calendar.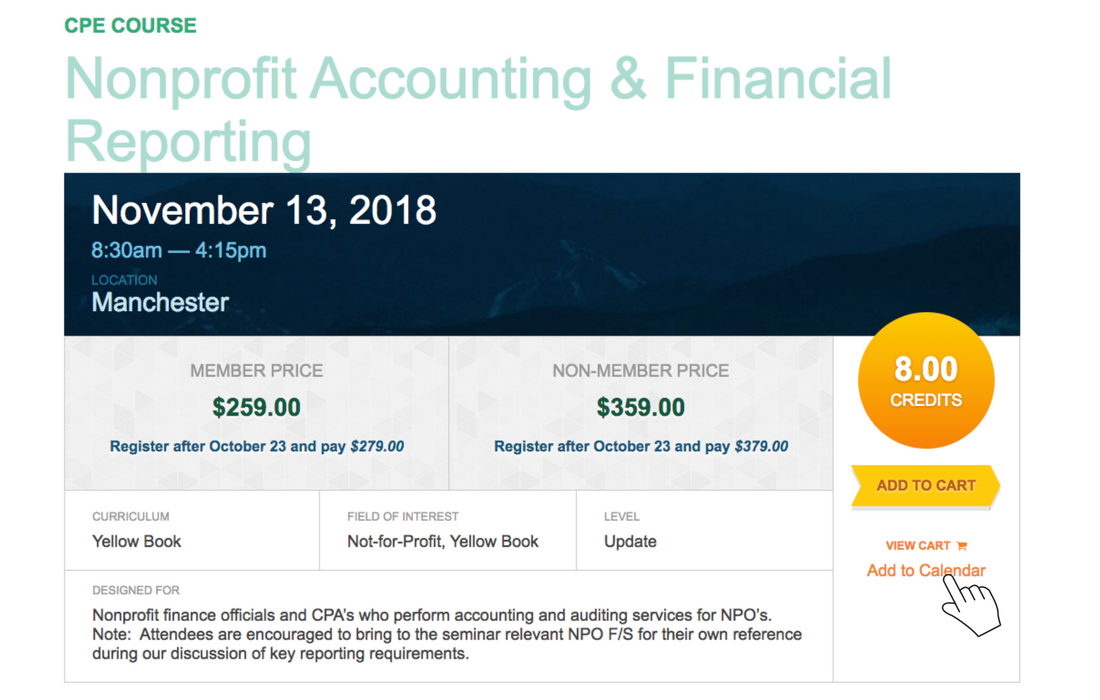 URL Tracking Parameters
Before members can get CPE courses on their calendars, you've got to get them to the courses. Social media is a strategic way to spread awareness, and advertising on those social channels will really amplify your reach. But as with all marketing efforts, being able to track conversion and ROI is key.
Most social media platforms offer analytics and reporting on ads, however, they are mostly reliant on tracking to a specific URL. If you are promoting a particular course and want to track purchases for that course, the confirmation page after checkout would be the destination URL you are tracking conversions on. This can become an issue because if all purchases go to the same confirmation page, you can't pinpoint how many of those hits were for the course you are promoting and if the purchase was from a user who clicked on the ad. This means you can't tell where those users are coming from.
Adding tracking parameter functionality remedies this. A tracking parameter is a unique identifier added to the end of a URL. In this case, it would be added to the end of the URL for that specific course. By driving ad traffic to a URL with a tracking parameter the website will carry that parameter throughout the checkout process, so the confirmation page will have the same parameter and you can track conversion accurately.
Coupon Codes
"But I have a coupon…" the famous last words of anyone trying to talk themselves out of a purchase. It's no secret coupons influence our purchasing decisions. In fact, 71% of internet users' purchase decisions are influenced by coupons and discounts. Even more importantly, coupons are one of the top-ranking tactics for driving loyalty (source).
Coupons build a sense of urgency and create an incentive for the user, which makes timing critical. A coupon code tool allows you to create, manage, and activate coupons at a moment's notice. This highly customizable tool allows you to create dollar amount or percentage discounts, and set product or group-specific coupons—no clipping required!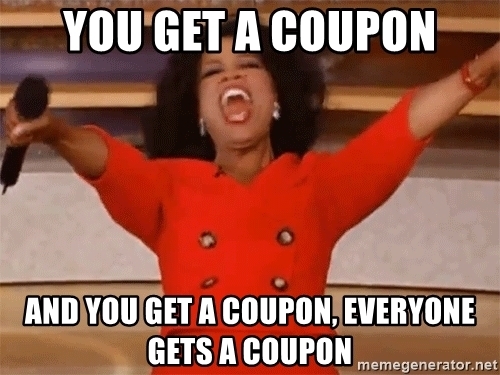 On-Page Editing
Keeping website content fresh and up-to-date can be a struggle. Sending requests for lots of small one-off edits is inefficient and time consuming, but rebuilding a website on a full content management system can be costly and even more time consuming. If only you could just update that one word on the about page real quick; with an on-page editor, you can!
An on-page editor allows site admins to easily update content. These editors work ideally on simple text pages like an about page, contact page, or leadership page. First, the capability for on-page editing must be added to the site, then the editors are added on a page by page basis. From there, the designated editors (per page) can update the content whenever they see fit.
So what are these "editors" I speak of? When signed in as a site admin (or editor) and editing is enabled, you can open a rich text editor to manipulate the content on the page. This allows you to update text, add hyperlinks, insert images, and link to files.
These are just a few of the tools and solutions that have been helpful with our societies. We are constantly dreaming up new and innovative ways to create the incredible. If you have a particular problem that needs solving or are interested in bringing one these tools to your society, let's talk!