Uncertain times, challenging times, unprecedented times, difficult times.
Finding the right words during a global crisis can be challenging to say the least. Even now as I sit down to write this blog, deciding where to start and what I want my message to be is difficult.
A friend and colleague of mine, Kelly, said it perfectly. Right now things are uncomfortable. Marketing teams around the world across every industry know two things:
Times of crisis should not be treated as an opportunity for your brand.
Being present and accessible for your customers is more important now than ever.
So how do we square these two ideas together? I think Forbes said it best, "a key factor in resilience is adaptability."

At Imarc, we followed three crucial steps when evaluating all of our marketing channels; which we're sharing with you in this blog. We will also highlight what we've seen with other brands in an effort to learn together as a community of digital marketers.
Pause
Pause, take a breath, and think. Don't skim this section because it's important.
I would argue that pausing is the most important step. Brands who choose to act impulsively and without direction typically fail in their attempts to mitigate a crisis. Think about the BP oil spill in 2010, or when United Airlines forcibly removed a passenger in 2017.
So where should you begin?
First, pause any email newsletters, paid campaigns, or social posts scheduled to run in the next 48 hours. Think about the timing, tone, and context of what you're promoting. We found following Google's media principles helpful, and we used their guiding questions below when we evaluate our own marketing campaigns:

Guiding question: Is this campaign right, given the current context in a local market?
Guiding question: Though we greenlit this campaign last month/last week/yesterday, is it still right for the context and moment?
Guiding question: Are all of the creative elements — tone, copy, visuals, keywords, placements — appropriate and relevant to this new reality?
Guiding question: What are the most relevant brands, products, or campaigns our media can support right now, and do we need to shift budgets?
Guiding question: What ways can our brand — and even our owned media channels — be helpful to people and businesses in this moment of need?
Once you've thought through these questions, meet with internal stakeholders and begin forming your core response team. This team's main responsibility is handling internal and external communication. This team will vary based on your industry, but it typically includes a member of the marketing team, an executive, and finance or legal representatives.

Hubspot also recommends appointing a directly responsible individual (DRI) from your core response team. "This person will be responsible for evaluating incidents, convening the response team, and looping in other teams as needed."
Once you have your team in place and have evaluated your current marketing messaging, it's time to plan your path forward.
Plan
Messaging
We can not stress enough how important it is to have clear, concise, and consistent messaging. To our point above, take the time to think it through.
This is the time to be human, express empathy, and showcase the authentic side of your brand. Begin by brainstorming how your service or product can be helpful during this time.
Specifically, in the case of COVID-19, a clothing store might discount loungewear. An online learning center may decide to extend free trials or offer free courses for businesses and their employees. A furniture store could offer discounts on desks for those who are now working from home.
Here are some examples we're loving.
Bella+Canvas, a Los Angeles based t-shirt company, decided to use their facilities to produce 100 million masks per week and partner with local officials to get these masks to people who need them the most.

Resources, informative content, or even general words of encouragement can be helpful to your audience as well.

Social media software company Sprout Social has worked to provide words of encouragement on their social platforms. They recently sent an email with a statement highlighting their commitment to helping customers keep their audiences engaged and connected.
"While there are many unknowns, we have seen that social media can be a critical communication channel for businesses as they navigate an ever-evolving landscape. That's why we at Sprout Social are focused on content and resources to help you stay connected to, and engaged with, your customers during these times."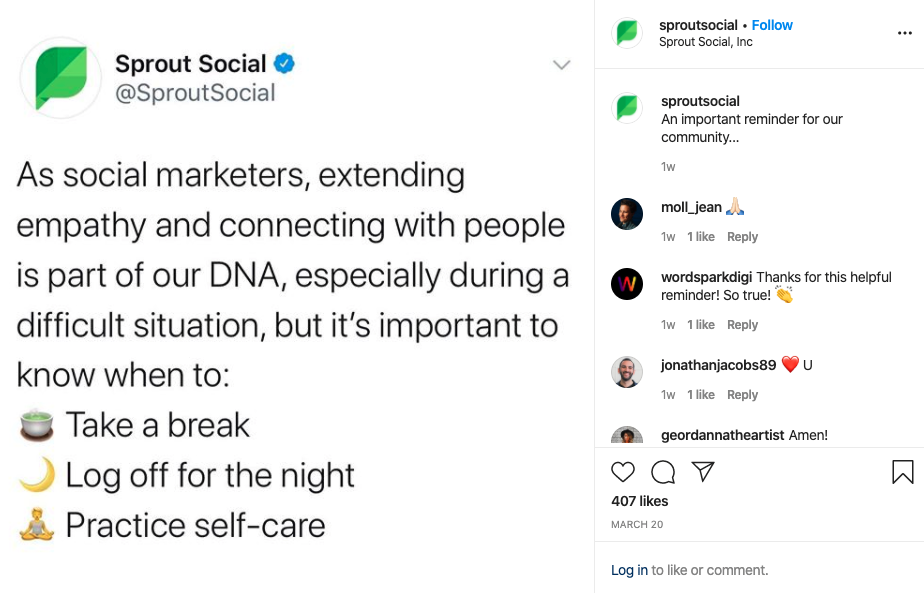 It has always been our mission at Imarc to be the adaptive strategic partner you trust. During this time we want to help our clients with their digital needs in any way possible. We found it's most beneficial for everyone to put our expertise to work as an extension of their team.
For example, several of our clients tasked us with implementing global alert banners. We updated CMS tools so site admins can quickly and easily communicate updates to site visitors and drive them to resources pages for further information.
Another client of ours, a national childcare provider, closed their facilities nationwide due to COVID-19. In turn we built them a virtual learning and resource center for parents and kids.
Budget
Once you figure out what your message is, your team should consider changing or reallocating your marketing budget.
According to ClickZ, "figures published by data intelligence company PredictHQ indicate that in February alone, concerns about the coronavirus led to a 500% surge in cancellations and postponements of significant events."
Money reserved for events, trade shows, conferences, and print marketing can be better used elsewhere.
Since your audience is likely to spend more time online during a crisis, a logical choice would be to move a good portion of that spend to digital marketing.
Social media, content marketing, SEO, and paid campaigns can put your brand in front of your audience. Consider increasing your budget on these channels to amplify your message.
Pivot
You've taken a moment to pause and assess the crisis. You have formed your core response team and crafted the perfect message. Now it's time to pivot and put your plans into action. Make sure you have the proper tracking set up so you can monitor how your message is received.
Marketing doesn't have to stop in times of crisis. However, it does need to sound different and feel different because it's not just another day. But, hopefully soon, it will be.
What strategies is your marketing team using right now? I'd love to know! Send me an email at karikennedy@imarc.com with your thoughts!
P.S. There is no time like the present to form a crisis communication plan so your team is ready to respond now and in the future. Need a template to get you started? Check out this one from Hubspot!