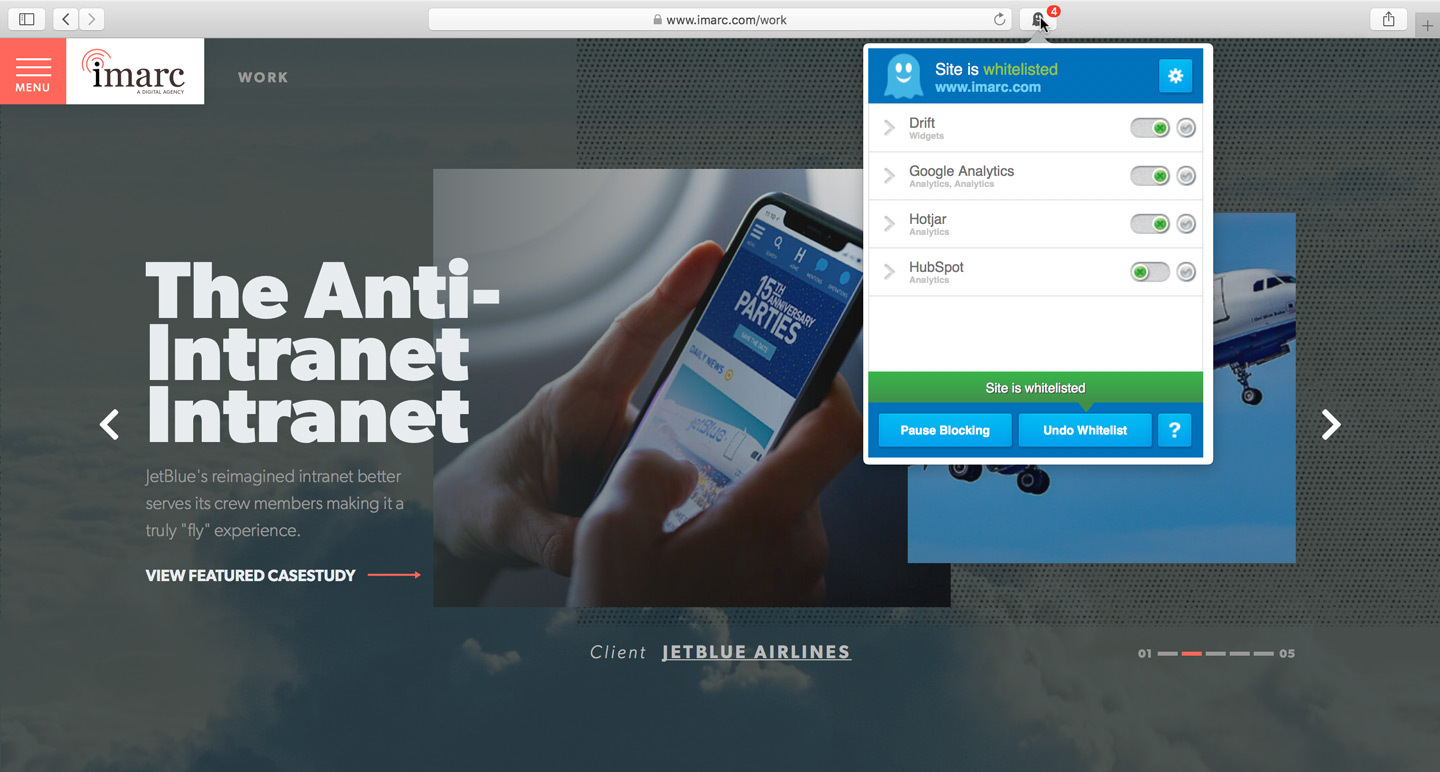 General Practices
Imarc believes that individual privacy is a right, and that informed consent is required. We never sell your personal information to a third party. We may use personal information to improve our services, to send information we think you may be interested in, or in other standard business uses. For example, we use web analytics to make our website easier to use, and we use an email delivery service to send our newsletters.
We do use some third party services, as detailed below, to provide certain services, and these may require some personal information. For example, our email newsletter delivery service needs to know your email address and name to ensure delivery.
Most of these services log their activity for troubleshooting and quality assurance purposes. This typically includes the IP address of visitors (i.e., yours). We don't believe this information is ever tied to personally identifiable information, unless otherwise noted.
Our clients' websites are governed by their own privacy policies.
GDPR
If you are a citizen of the European Union, the EU's General Data Protection Regulation (GDPR) may apply. We've written a brief blog about what marketers need to know about GDPR. We will update this document as we incorporate our legal counsel's advice into our site.
Specific Services
Google Analytics
Imarc uses Google Analytics, a service that allows us to analyze web traffic to this web site. We use this information in aggregate reports; Imarc does not use Google Analytics to track individual users. We use Google Analytic's "IP Anonymization" feature to ensure it's not possible to connect IP addresses to distinct users. To read more about what this means to you, you can visit How Google uses data when you use our partners' sites or apps.
HotJar
Imarc uses HotJar to learn how visitors use our website. HotJar is a privacy-sensitive recording tool that allows us to "play back" visits to the site, but does not give us information that enables us to identify you or tie your use of our sites to any other site. You can learn more about HotJar's approach to privacy, or opt out of HotJar on this browser.
HubSpot
Imarc uses HubSpot to track our own digital marketing activity, to deliver email newsletters, and to create "landing pages" that visitors can use to get more information in exchange for providing contact information (typically, name and email, but sometimes we may request other information). Some personally identifiable information is tracked by HubSpot, but this is only connected with your identity if you have chosen to provide it to us. HubSpot uses cookies and several other techniques. You can learn more about Hubspot's privacy policy & practices, including how to opt out.
SalesForce
Imarc usesSalesForce internally. Form data sent to us via HubSpot may be recorded in SalesForce.

Drift
Imarc uses Drift to offer web chat services on our website. You can learn more about Drift's privacy policy.
Typekit by Adobe
Imarc uses Typekit to provide web fonts on some of our sites. Typekit does not set or use cookies to serve fonts. You can learn more about Adobe Typekit's privacy policy and practices.


Questions? Let's chat.
If you have any questions, please get in touch. You can email info@imarc.com, call +1-978-462-8848, or use our contact form. (That form uses HubSpot.)
Updated July 2, 2019.