Gathering around the fire
Imagine gathering around a warm campfire with your teammates. The atmosphere is relaxed, and the hot cocoa and conversation are flowing. That's FirePit.
FirePit brings together both new and veteran employees in an online experience (along with a few carefully-chosen physical components) that simulates the atmosphere of a casual campfire gathering. With questions like "Do you believe in aliens?" and "What's the coolest scar you have?" the conversation gets going quickly and virtual barriers are broken instantly.

The physical component
We decided to think outside of the box – or in it rather – to develop this initiative.
Before campers gather with their groups, a physical branded FirePit box arrives at each doorstep. Our winter kit included a cozy flannel shirt, marshmallow scented candle, FirePit branded mug (hot cocoa included), and more. These items bring the camping experience to life and provide a tangible, shared experience for all participants.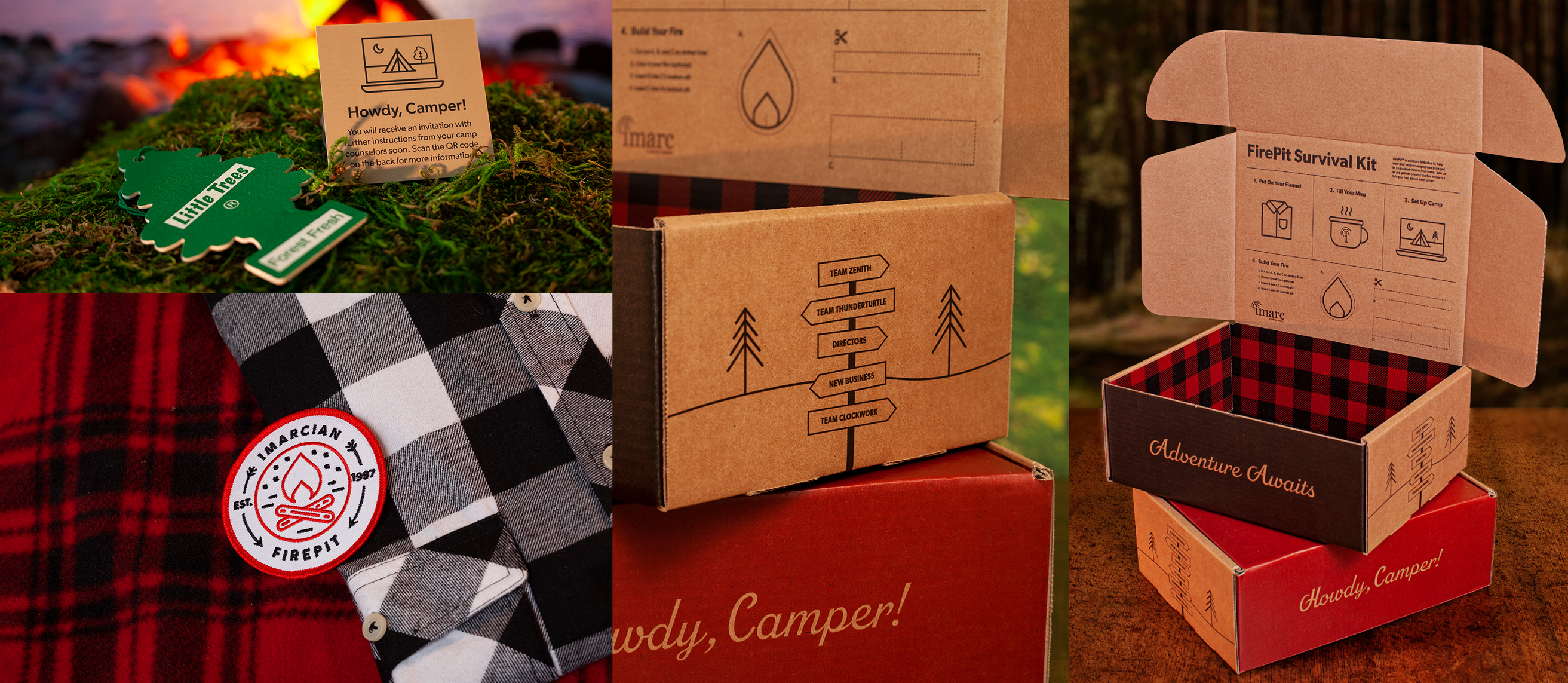 The digital component
This is where the fun happens! A few Imarcians volunteer to be "camp counselors" for FirePit breakout groups, and they facilitate the activities. Everyone has the same virtual background (a campfire of course!) and plays the icebreaker card game. The virtual deck is shown, and a single card is flipped. Each card has a question on it that has been thoughtfully curated to spark laughter, hot takes, and wild conversations. The discussions sparked by FirePit go far beyond other traditional and tired icebreaker sessions.
The FirePit card flip web application was developed by our own talented engineers! This was also a great team-building process, with collaboration between team members who might not usually have a chance to work together. The web app allows participants to submit smart, fresh, and fun questions to include in future sessions, including questions that are personally relevant to the Imarc team.
For 25 years, a big part of our "special sauce" has been our closeness, our culture of inclusion and support and teamwork. It's one of the reasons people join us and it's a big reason they stay. With more and more of our team working offsite, FirePit has been a great way for us to renew our bonds, create relationships, and stay close. FirePit has made it more fun to work together, and it has improved our work and our collaborations too. Nils Menten, Founder, Partner, & CEO
Get started with your team
Are you looking for remote team-building exercises that actually work? Does this sound like something that would be interesting for your team? We've created a number of similar solutions, including influencer kits for Red Bull and client onboarding kits. We're ready to create something unique for your team – Let's talk!