Founded in 1997, Imarc is a full-service digital agency dedicated to delivering our clients the most incredible website, brand, or intranet experience possible. Our team of 50+ experienced engineers, UX engineers, designers, writers, strategists, and business and marketing experts have helped more than 350 clients move their business forward. We put our clients first and focus on building deep relationships with them. We are proud to say that some of our clients have been with us since the very beginning. Today, Imarc continues to be a premier digital agency that attracts top talent and creates smart solutions for forward-thinking brands across many different industries.
We are proud to be recognized for our work a second year in a row as one of the Clutch Top 1000 Global Companies – as #166. Clutch is a review platform that compares B2B firms to help companies across the globe find the right agency for their project. The Clutch review process includes a personal touch – Clutch analysts speak with an agency's clients directly, gathering feedback that offers a true window into a partnership with the agency. Based on this research, Clutch organizes thousands of agencies into a directory with multiple shortlists and rankings.
If I had to build another website, I'd work with them again in a second. Director, Marketing Communications at Consulting Firm
According to Clutch Business Analyst Carolyn Rider, "Clutch's sophisticated scoring methodology is a data-driven assessment that accounts for myriad strengths and skillsets. Companies who lead the ranks on our platform have demonstrated not only an ability to deliver but also a competitive edge as an industry leader."
The Top 1000 Global Companies list isn't the only list that Clutch has us on! This past summer, Imarc was named one of the top creative & design agencies in the United States, and Clutch's sister site ranked us in the top 10 of their Top 25 Agencies in Boston list. You can also find us on Visual Object's list of Top Web Designers in Boston, and fourth on Boston Business Journal's Largest Web Design Firms in MA.
"It's an incredible honor to be ranked as a 2019 Clutch Global Leader! We have seen incredible growth in 2019, and we're looking forward to leveraging our combined talents and offerings to deliver maximum value to our clients in 2020." – Nick Grant, CEO Imarc
We'd like to thank our wonderful clients for making this award possible by engaging in client interviews with Clutch. Based on their feedback, our customer satisfaction rating is 4.8 out of 5 stars! Take a look at this recent review of Imarc: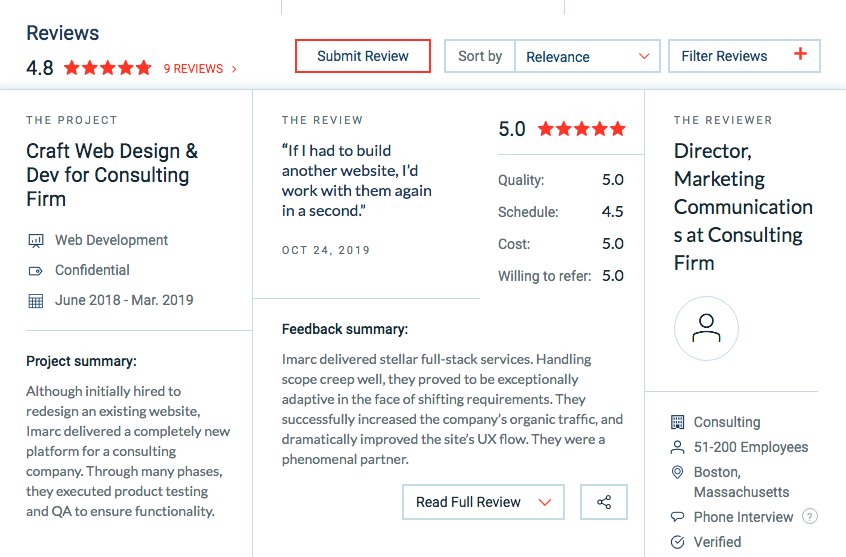 The overall result was a beautiful website that was visually compelling and aligned with our core values as a brand. Senior Marketing Manager, Cybersecurity Firm
This feedback provides transparency into how our clients feel about our work, where we've been exceeding expectations, and where we can work to advance our skills. Our next big step is to take Imarc global while providing our clients with the same quality of digital services in the years to come.
Interested in starting your next project to redesign and redefine your company image!? Drop us a line.