It's hard to believe how much our agency has changed since we last reimagined our website. In just the past three years, Imarc has:
Grown to 50+ employees,
Built out a 5,000 square foot expansion to our Boston HQ office,
Established Imarc Dallas,
And gained a lot of new clients while continuing to create the incredible with our current clients.
With all this change, we thought we'd better represent who Imarc is today. But what happens when a digital agency takes a look at their own site and decides it's time for a redesign?
Well, we simply treated ourselves like our own clients and used our tried-and-true approach, we:
Identified our goals,
Selected the best technology for our project (Craft 3),
Crafted our story,
And focused on elevating our brand.
Then, we listed the main goals of the new website. Much like many of our clients, we needed to:
Offer a best-in-class user experience,
Create a great customer journey and experience to help drive leads,
Elevate the Imarc brand and look and feel to better represent the Imarc of today,
And position and promote Imarc as an industry leader.
Elevating the Brand
In late 2018, the creative minds at Imarc took a look at our brand identity and decided that it was time to make some updates. With the new imarc.com in progress, it was the perfect time to roll out the new branding. The new, refined design expresses how the Imarc brand has matured since our last full-site redesign in 2015. The creative team and internal stakeholders focused on simplifying the visual elements to help curate people's experience as they navigate through our site.
Custom Iconography
At Imarc, we pride ourselves on our full-service capabilities. To showcase our services, the team created a series of highly stylized custom "badges" that represent each of our individual services. Each badge represents itself well independently and works harmoniously as a family. Look for them outside of our site on stickers, water bottles, and coasters.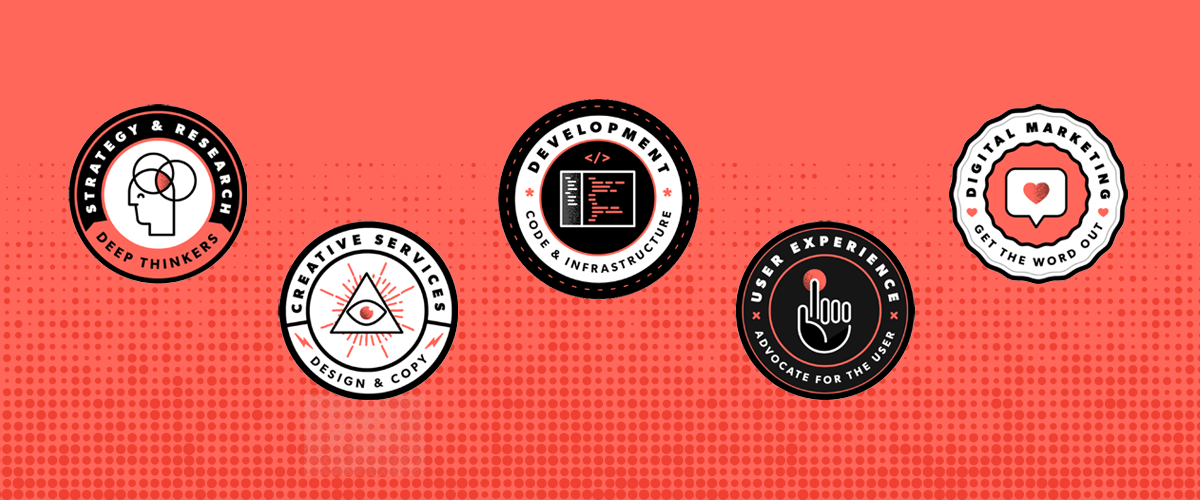 Great UX

Because we believe strongly that form follows function, our creative and UX teams worked closely to bring the site experience to life. CSS and Javascript animations and interactions help deliver an interactive experience for our clients and prospects. We also shifted our case study approach to better focus on our clients by telling more compelling stories that balance project visuals and narrative.
Why We're Pleased as Punch
Our creative director, brand guardian, and quite possibly our toughest critic, Jared Laham, couldn't be more pleased with the result:
"I'm most excited that this latest version of the website is going to be a game changer for the Imarc brand. As a whole, the site pulls from a strong foundation of visuals but also helped push it further by adding a layer of interaction and animation."
The new site is a clear, crisp representation of the work we do for our clients and our passion. And it's also incredibly easy to maintain. Ultimately, it's a great representation of who Imarc is today, who will strive to be in the future, our culture, and of course our great client relationships.
As we tell our clients, a website is a living, breathing thing. Our work here is not done. Stay tuned for new updates, great new client work, and, of course, our Thoughts. Enjoy the new imarc.com!