Hot new marketing tools get the most attention these days, while most marketers overlook simple tools that are incredibly effective at attracting customers. Google My Business (GMB) is a hidden gem for both B2B and B2C marketers. GMB can help you improve your SEO rankings, engage customers, and build your brand – and it's easy to use. Did we mention it's free?

What is Google My Business (GMB)?
Google My Business (GMB) is a free digital marketing tool that helps you to promote your business on Google search and maps. It allows you to easily connect with your customers, post updates, and gather data on how your customers interact with your business.
GMB is huge for small businesses and local search engine optimization (SEO). This is by far the lowest hanging fruit for someone who is new to the SEO world and is looking to improve their Google rankings. But it goes beyond local businesses.
B2B marketers can leverage GMB to boost their Google search visibility, gain additional customer insight, and even support their content strategy. Within each GMB post, marketers can add buttons with trackable links to increase clickthrough rates on their website.

How does GMB work?
Your business profile displays information such as your business address, hours of operation, and current promotions to drive traffic to your website and help people discover your business.
Your GMB profile also enables you to appear in Google's local 3-pack search feature when people search for products or services like yours. GMB pinpoints the physical location of your business and uses this data to feed local search results.
Just having a listing won't guarantee you a spot on Google's local 3-pack placement (the top three GMB search results), but it will significantly improve your chances of earning a spot there and increasing traffic to your site.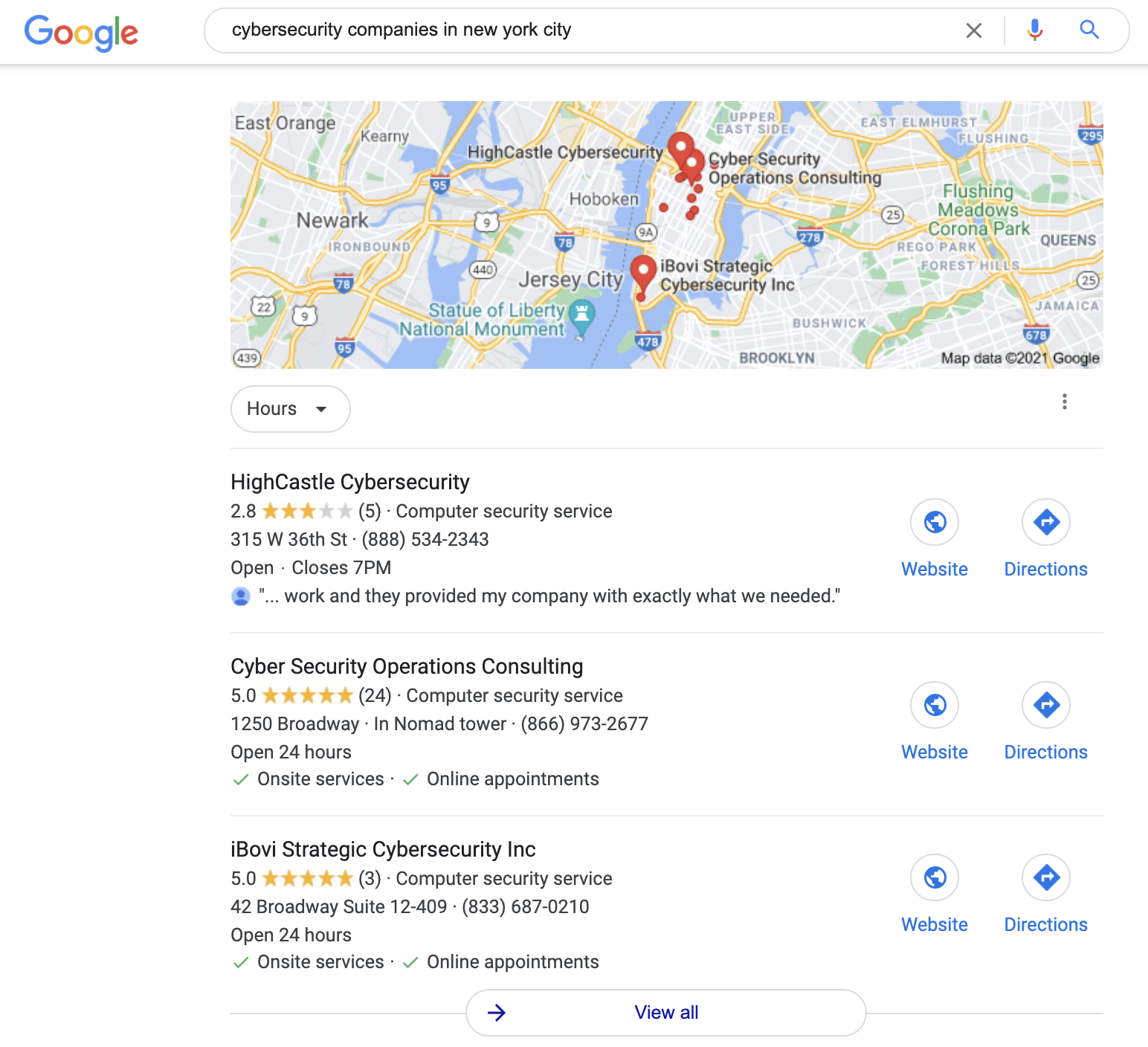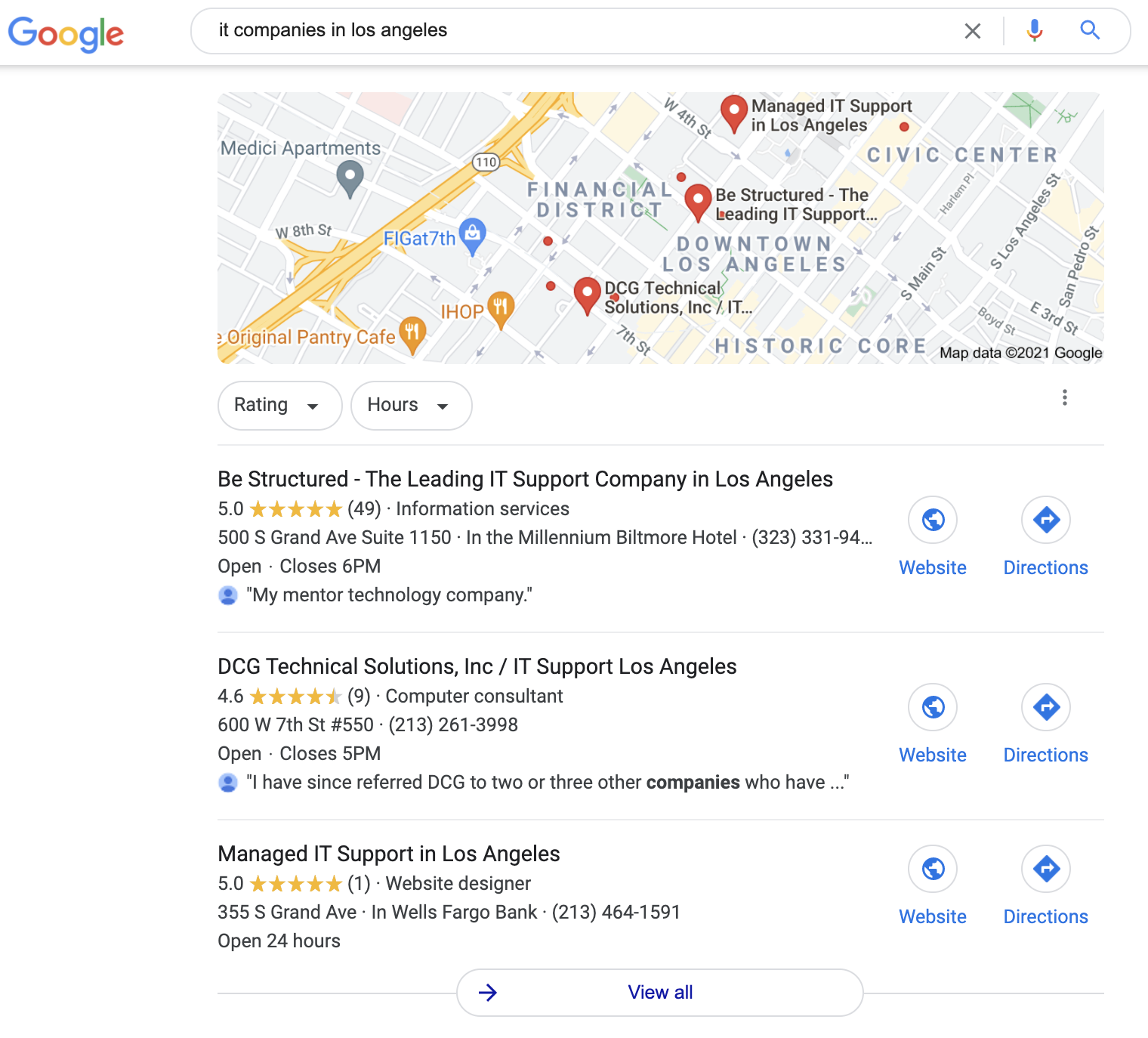 How it can benefit your company
Attribution
Upon finding your listing, customers may visit your website, request directions, call your business, view your posts, or view photos. You can see all of this activity in the GMB Insights menu. This performance data is incredibly valuable to digital marketers and to sales teams.
SEO
A GMB profile exists whether or not you claim it or use it routinely. If you want to affect how your company appears in Google's local search, you must claim that profile using GMB. Once claimed, you have the ability to manage the information that customers see about your company. Once you've claimed it, you can use the page to improve your SEO.

Data
Gathering key information from your visitors can help your business streamline the buying process and attract additional visitors to your website. GMB data can be connected to Google Data Studio to capture in-depth customer information and track conversion goals. Here's how to connect your GMB data with Google Data Studio.

Customer Engagement
GMB also has a question and answer feature that allows businesses to interact with customers, influence buying decisions, and set expectations. Google says that interacting with customers won't directly affect your search rankings, but it appears to provide a boost within local search. Google uses your interactions to determine how engaged you are with users and rewards more engaged businesses with better placement.

Imarc's tips
To optimize your GMB listing, our team recommends the following tips:
One change at a time: Make only one change at a time, and then wait for Google's approval. Google has raised its sensitivity to spam activity on GMB profiles, so it has become more common for profiles to get suspended for basic changes. Here's more on what to do if your GMB profile gets suspended and how you can prevent future suspensions.

Complete the details: Fill out all the fields for your business listing to expand geographic reach and give the algorithm the greatest chance to find your keywords.

Be content conscious: Add new content such as blog posts, company announcements, and photos to your listing regularly. Engagements on posts or images will boost your rankings.

Review and respond: Not only do reviews help your rankings, but they will promote user engagement! Reply to reviews to build customer engagement and trust. Here's more on how you can use reviews to improve your rankings.

Consistent updates: Make sure you have regular activity on your GMB profile, such as blog posts or work portfolios, to elevate your rankings and engage with visitors.

Add photos to your profile: The more photos on your GMB profile, the more search impressions you will receive. BrightLocal found that businesses with more than 100 images get 713% more discovery searches and 1038% more direct searches than businesses with just one photo. Interior photos of your office or images that reflect your customer experience will increase your search impressions.
Next steps
Looking to drive more visitors to your site? Need to convert more leads? We can help! Let's talk.