Movember began in Australia in 2003 with a couple of bros in a pub. They created Movember as a holiday to celebrate their favorite form of facial hair, and to encourage other guys to grow a mustache for a month. This quickly sparked conversations around men's health, and has turned into the Movember that we know and love today. You can read more about the history of Movember here.
Today, more than 6 million Mo Bros and Sisters in 20 countries participate, and over 1,250 men's health projects have been funded since 2003. That's the power of the 'stache!

Movember at Imarc
Movember is near and dear to the heart of Imarc Founder and CEO Nils Menten. When he shared his idea to start a Movember team at Imarc, we all jumped on board. It takes just one person to stand up and start a movement, and Nils was our leader this month as we shared our stories and raised awareness (and funds!) for men's health.
Many of the men shaved their faces bare on November 1st, while those of us who couldn't grow staches chose to put on our walking shoes. We even started a dedicated Movember channel in Slack to share our progress and cheer each other throughout the month.
Starting the conversation on social media
Talking about mental health, prostate cancer, and testicular cancer can be uncomfortable subjects, no matter who you're talking to. Over the last decade or so, the stigma around breast cancer has been dispelled (as we see from the many "Save the Tatas" bracelets and t-shirts), but the stigma around these men's health topics still exists. The best way to break the stigma is to start the conversation.
Over the course of Movember, we shared resources, stories, stats, and quizzes on our Instagram story to keep the conversation going. Each week, we chose a different topic to focus on and really got into the specific details and statistics behind each. For example, did you know that prostate cancer is the most commonly diagnosed cancer in men in the United States? We shared information about early detection, when to get tested, what a PSA test is, and other signs and symptoms.

Having fun with it!
It wasn't all about facts and figures for us – we also played some fun games and did quizzes to help start conversations around men's health. Check our Movember highlight on Instagram to play the "Guess the Stache" game.
One of the best parts of Movember was joining a team call and seeing all the different types of mustaches on our Imarcians. Some of the faces who we were used to seeing fully bearded or bare were rocking handlebar mustaches or Tom-Selleck-style staches.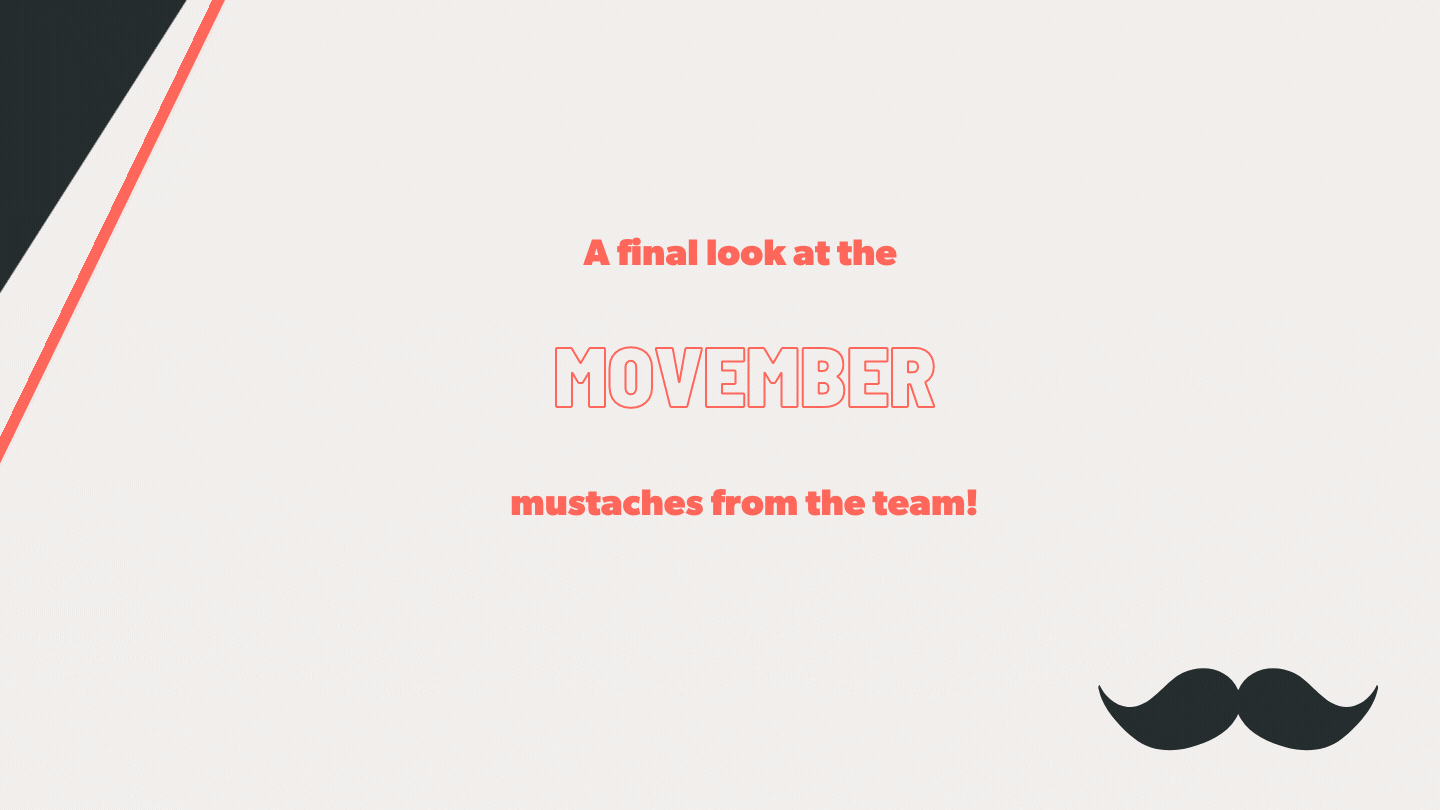 Join us next year

While we did have lots of fun together growing staches, we don't want to miss the main point of Movember, which is to save lives and support our bros. We're already thinking up more ways to make next year even better and more impactful – we hope to see you then!