"We can rebuild him. We have the technology."
One sunny spring day, a junior marketing specialist at a client firm – who shall remain anonymous – misunderstood some directions. They turned off several of the site's best performing blogs. A few days later, Google noticed the content was gone, and their rankings promptly plummeted. So did traffic and visibility.


Our client's marketing manager quickly figured out what was going on, reactivated the blogs, and asked Google to re-index them. But the damage was done. Rankings barely moved. The modest growth they had been having was severely damaged.
That's when they called us in.

SEO failure analysis
We audited the blog's SEO performance and content. We found that the blogs which had been disabled had good content, but surprisingly poor writing. Awkward phrasings and malapropisms abounded. Sentence structures were convoluted.
Readability metrics give us a yardstick to evaluate how much work a reader has to do to understand a text.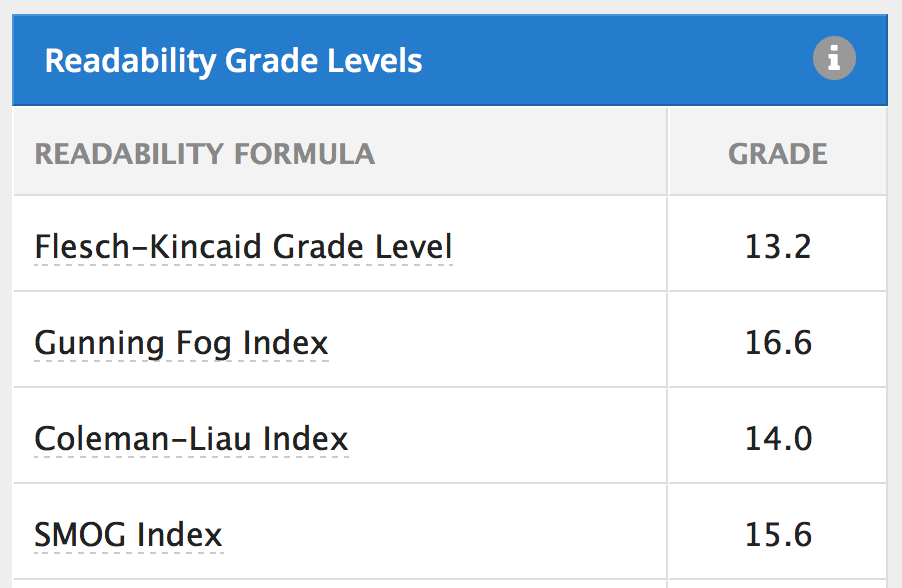 The blog posts were full of insight and valuable information. But it was a lot of work for the reader to understand. The content had succeeded in spite of itself.

Which gave us an idea…
Execute Operation "Good Writing and Readability"
These posts were somewhat old, which can work in their favor. In Google's view, old pages aren't bad, so long as the content is high quality. But updated old pages are very, very good in Google's algorithms. Google really likes canonical sources that improve over time.
With our client's blessing, we rewrote the blogs, re-published them with a current date, and added a note about their original publication date. We immediately saw rankings begin to rebound.

We continued working, overhauling more blogs. We refashioned several connected topics into a three-part series. We added pull quotes, illustrations, useful outlinks, and clear next steps to each. Relevant keywords were salted throughout, but not because that was the goal – they occurred naturally in the texts, just as Google expects.

The first update led to a sharp jump, but the second round kicked us far above where the site was before the debacle.

Better than before
We continued working with our client to update content over the following weeks. From this we saw a steady, strong rise in rankings:
and in traffic:


We even began stealing some ranking directly from their top competitor – gradual, but definite:

Better. Stronger. Faster.
No "black hat" or "grey hat" SEO techniques were applied to recover and grow. This was pure, 100% white hat SEO: great, informative, and easy-to-read content. No more and no less than what Google tells us to do in their Search Quality Guidelines.

Time to take a look at your content

Here's how Imarc's team can help:

SEO Performance audit

SEO Keyword research, expansion & refocusing

Competitive content review

Writing and editing deeply specialized content
If your SEO is in need of an uptick, think content! Our team is here to provide the value that your site may be in search of. Let's chat!