What we should all know about design.
Paula Scher of Pentagram doodled the infamous Citibank logo on a coffee shop napkin during a client meeting back in 1998. That 5-minute logo became a $1.5 million brand identity.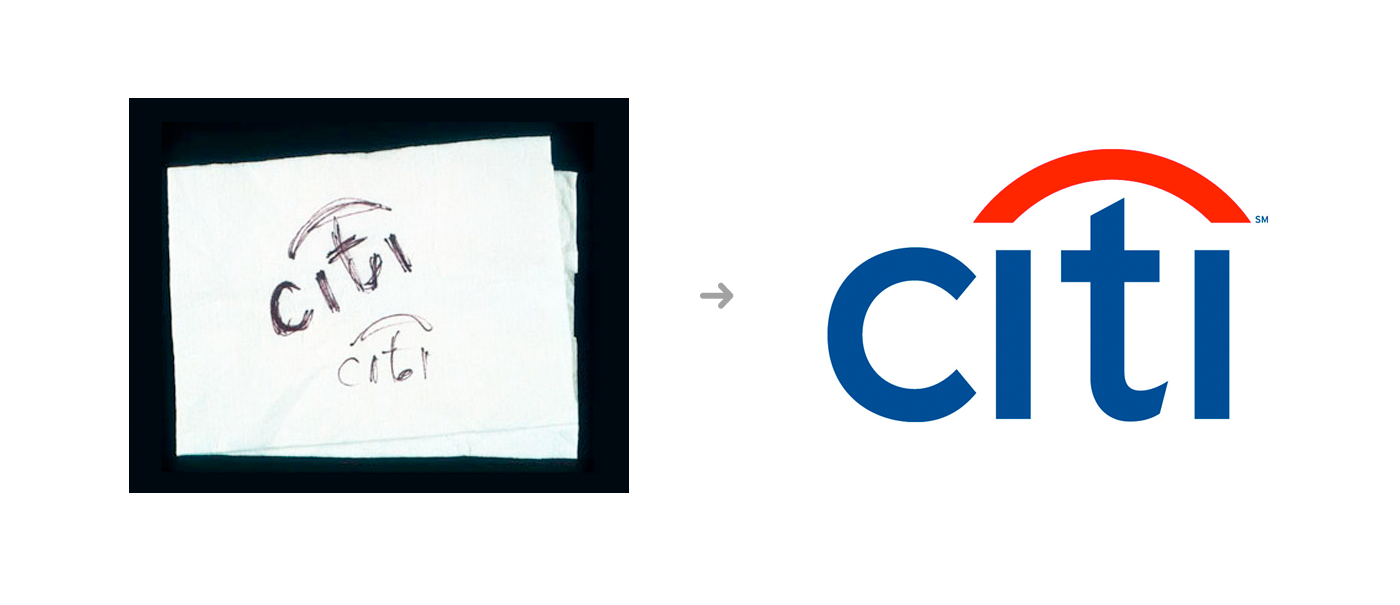 What's so noteworthy about this "design-school, motivational" story, is that Scher devotes over 20 years of design experience to that simple napkin sketch. It takes years of trial and error to be able to get something done in only a few minutes. From the outside, it may appear as if Paula performed a miracle. But to designers, we understand that there's more underneath that 5-minute sketch.
As designers, every new project doesn't appear to us as a naked, blank slate of an idea. We've dug deep, collected best practices and noted design trends that guide our direction. We stand on the shoulders of our latest designs (yes, both good and bad) to keep going forward and create something in the future that is better than the last.
Each of my website designs may be inspired by a Pinterest board, an Evernote doc filled with benchmarks or a sketchbook full of doodles that I may or may not have drawn during an exciting, hour-long meeting.
With each project, I gain a better sense of what works, what doesn't and what will never, ever, ever work again with a client.
Needless to say, there's a lot that goes into creating good design. I'm going to share with you some of my favorite ways to get inspired.
1. The Internet, duh!
Aside from a simple Google search, the internet has a lot of killer resources for designers. Pinterest isn't just for DIY crafts. Before I start a design, I'll run through the web for ideas. I also check out Dribbble, Behance and Niice for the latest trends. If you use Chrome as your browser, Panda is an excellent plugin that constantly features new designs every time you open a new tab!
2. Books.
There is literally NOTHING like a nicely designed book, and I am a sucker for them. I have so many books, I've lost count! Having a broad range of subject matters to look at keeps you surprised and your design eye versatile.
One of my favorite books for inspiration is actually a gig poster book I bought a few years ago. The typography on some of the posters is so unique and avant-garde that, even though I may not mimic them on a tech website, it gives me another direction I might like to explore with some new ways to present typography.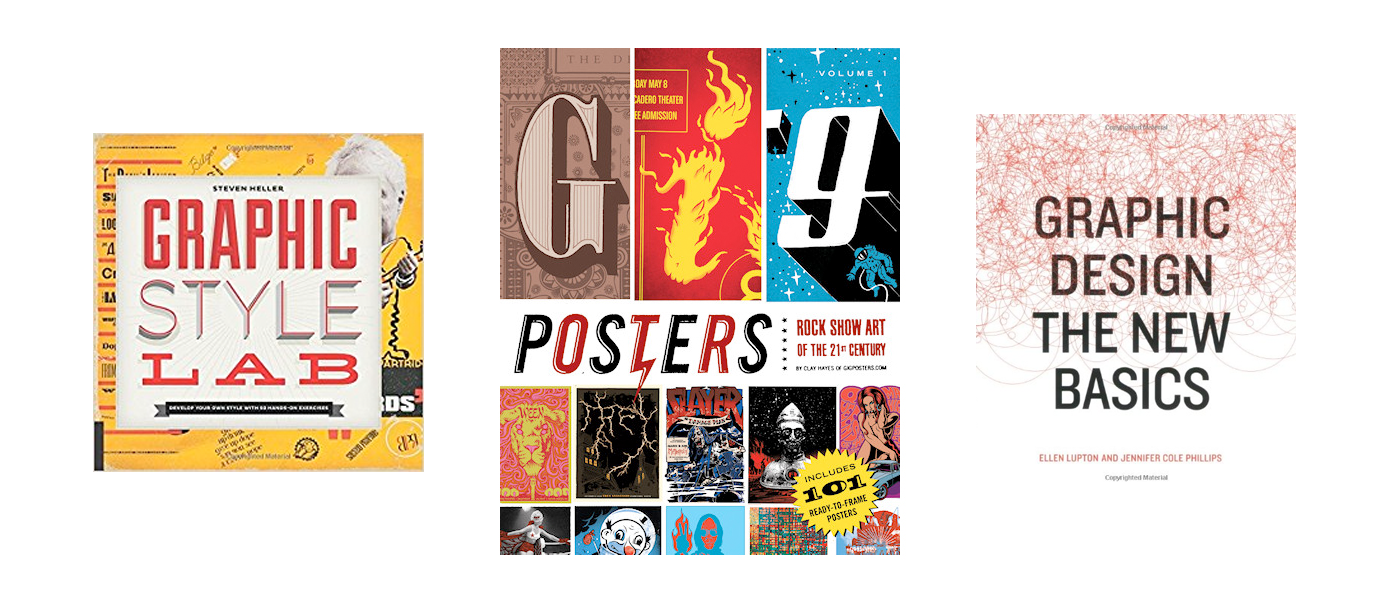 3. Moodboards
Moodboards will never go out of style! There are a lot of ways to approach a moodboard for a project and we have a unique way of doing so at Imarc. Rather than tacking up clippings and color swatches, I think about different design potential for the client. We usually will come up with 3 different concepts. Each has unique type choices and imagery centered around particular touchstones. You can see how moodboards not only inspire us, but they will inspire the client to get creative as well! At the end of the exercise we usually will combine our favorite features from each board into one direction for the project. Here are examples of moodboards from our client Diligent's website redesign.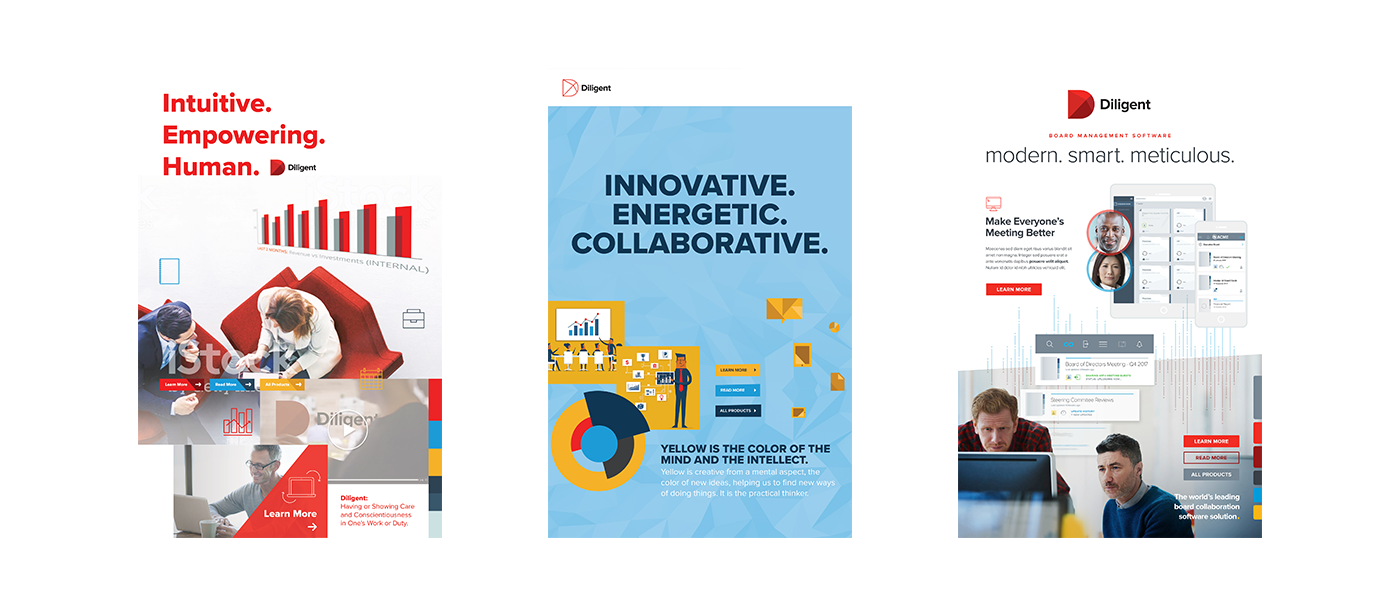 4. Other Industries
I'm really interested in fashion and I've found a lot of inspiration comes from places that don't necessarily connect with a current project I'm working on. Some style blogs and even emails from my favorite stores have unique imagery and type combinations. What's really cool about cross-industry design is the ability to introduce a new aesthetic that your client hasn't seen from their competitors.
5. The real world
Some may say inspiration hits in the shower, well for me that place was actually a coffee shop. I spied this cute little sign one day and it ended up inspiring a color palette for a current CPA website design! I'm always on alert when I see cool shop signs, window displays or business cards. There is really a lot of great design out there, you just need to keep an eye out for it.
At the end of the day, there are a lot of ways to stay inspired! Keep in mind the next time you see a great piece of design that there's more than what's presented at face value. What inspires you? Check out more of our work and see if you can figure out where the inspiration came from!