At Bright Horizons, my team and I are responsible for a complex network of 1,300 websites that serve our corporation, our clients, and their 6 million+ employees. In 2018, we began a relationship with Imarc and have been impressed with their expertise and professionalism. They are now our agency of record supporting all of our web research, design, and development as our strategic partner. We love working with the Imarc team and consider them an extension of Bright Horizons. In my role, I'm frequently asked for agency recommendations and the first (and in most cases only) name I share is Imarc. Catherine Van Evans, Vice President, Digital & Marketing Services at Bright Horizons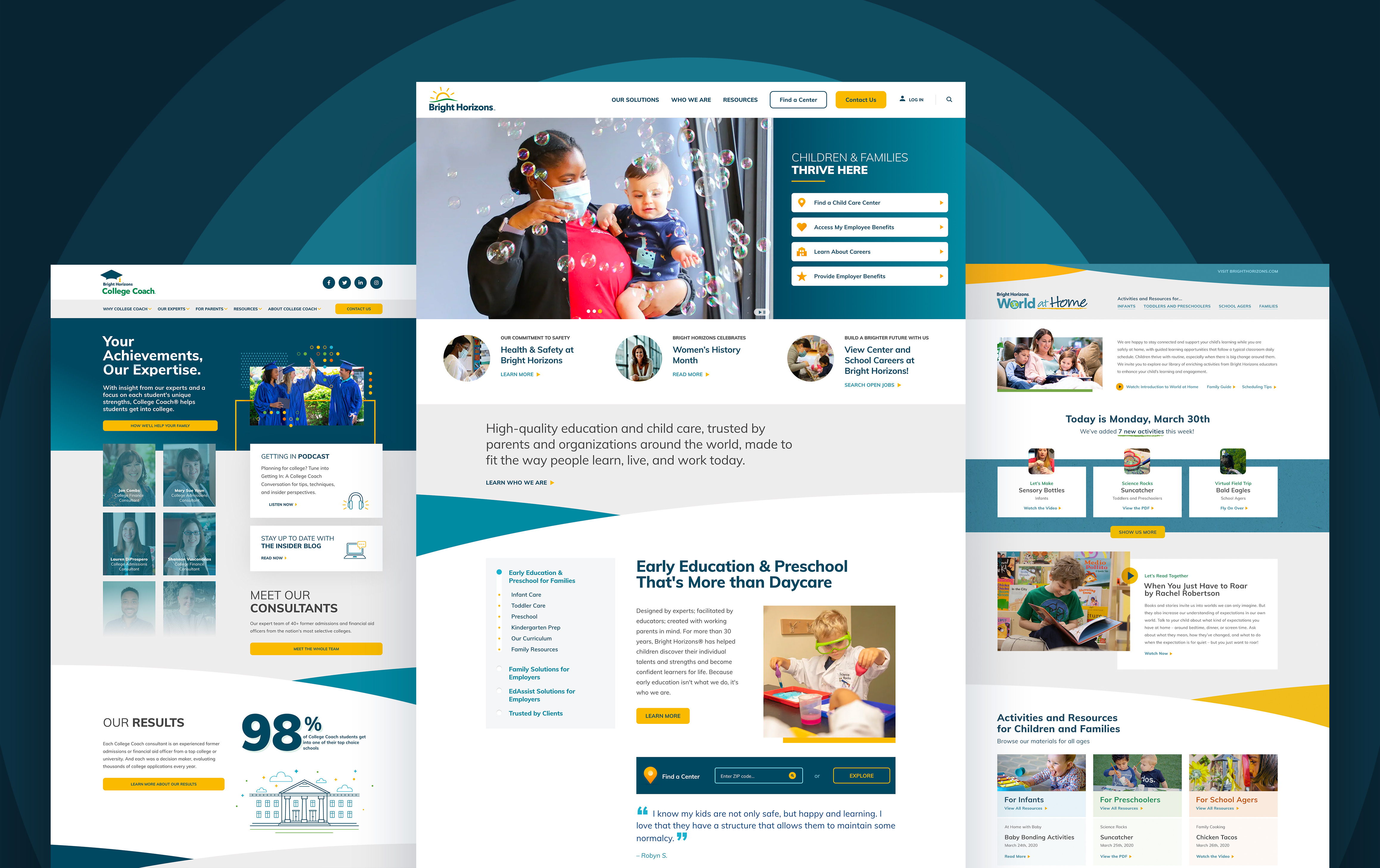 ---
The Projects
Supporting continuous improvement
Over the years, Imarc has launched a number of sites across the Bright Horizons digital ecosystem through the Sitecore platform. This includes over 800 sites for its premier clients including College Coach and Brookfield Academy.
The first project Imarc and Bright Horizons worked on was the launch of Bright Horizons' domestic client sites. After this success, Imarc did the same for the Bright Horizons UK client sites. The next project was to upgrade all sites to the Sitecore platform. To do this, the Imarc team audited and cleaned preexisting technical debt that would contribute to a seamless future upgrade. Following a year of work, Imarc successfully upgraded Bright Horizons to Sitecore 9.2, and we are looking ahead towards an upgrade to 10.
Imarc also updated Bright Horizons' Virtual Learning Center (VLC). The VLC is an online, password-protected destination that provides clients access to valuable resources that pertain specifically to their company. Imarc greatly improved the user experience, modernized the visual design, and streamlined the navigation. Imarc continues to work with Bright Horizons to enhance the VLC.
Other successful projects include updating the Bright Horizons ecosystem to be WCAG compliant, improving conversions through lead forms, optimizing their Center locator, improving search using Solr, and progressing towards a true Helix architecture. Most recently, Imarc established a module library to allow for efficient updates and consistency across online properties.