---
The Project
For over 20 years, Imarc has partnered with Marriott to maintain its asset library. Recently, the Imarc team updated the site to blend a professional look and feel with well-defined user flows to create a holistic digital experience. Throughout the project, Imarc's team worked to identify ways to enhance user paths and position Marriott to stand out from competitors.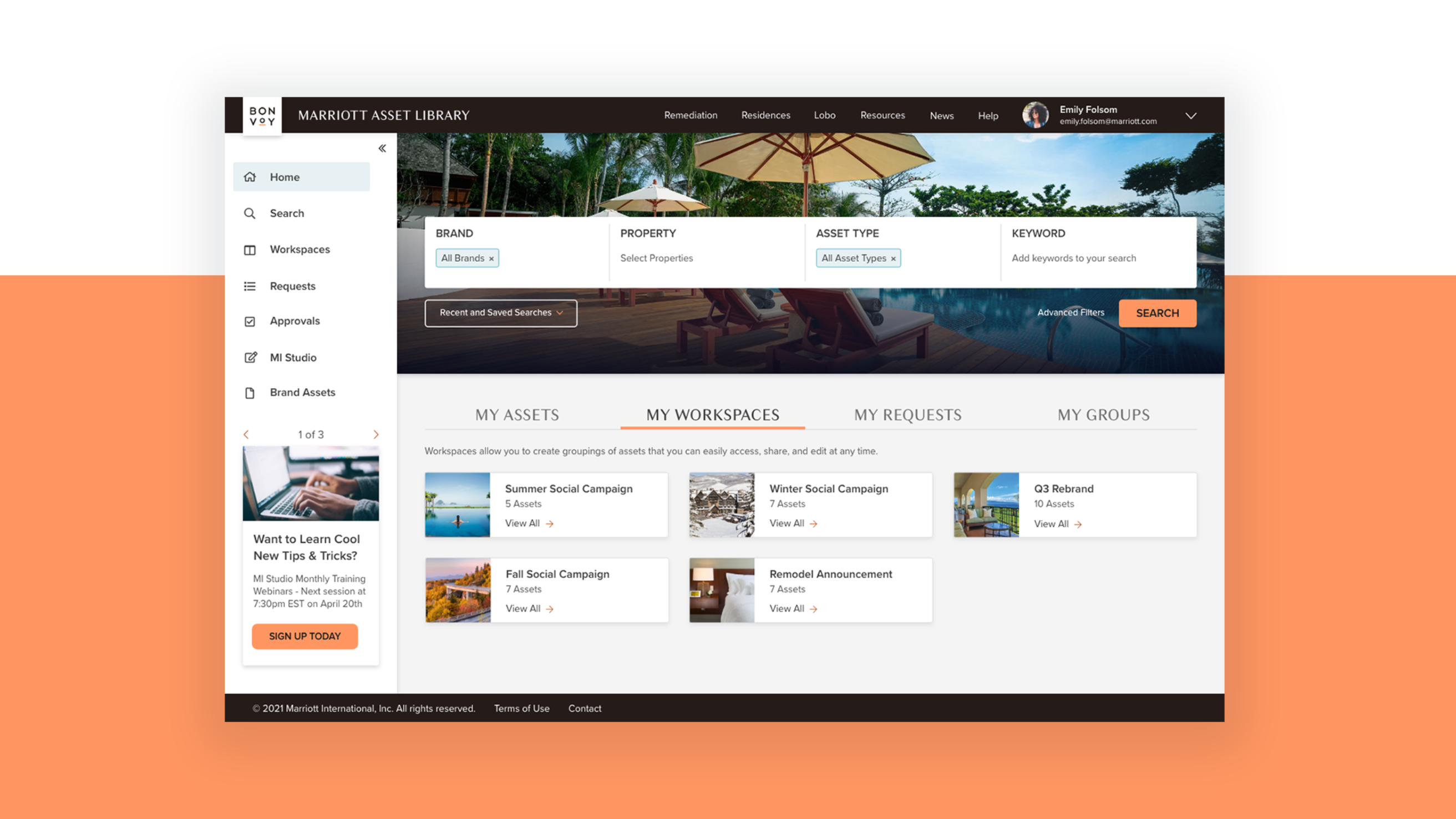 ---
Strategy and Planning
A user-centric focus
Extensive research was done in order to identify the primary user personas and determine the best ways to enhance the experience. A key focus was to pinpoint methods to improve the site's useability and ensure that user paths were as seamless as possible for Marriott's internal team.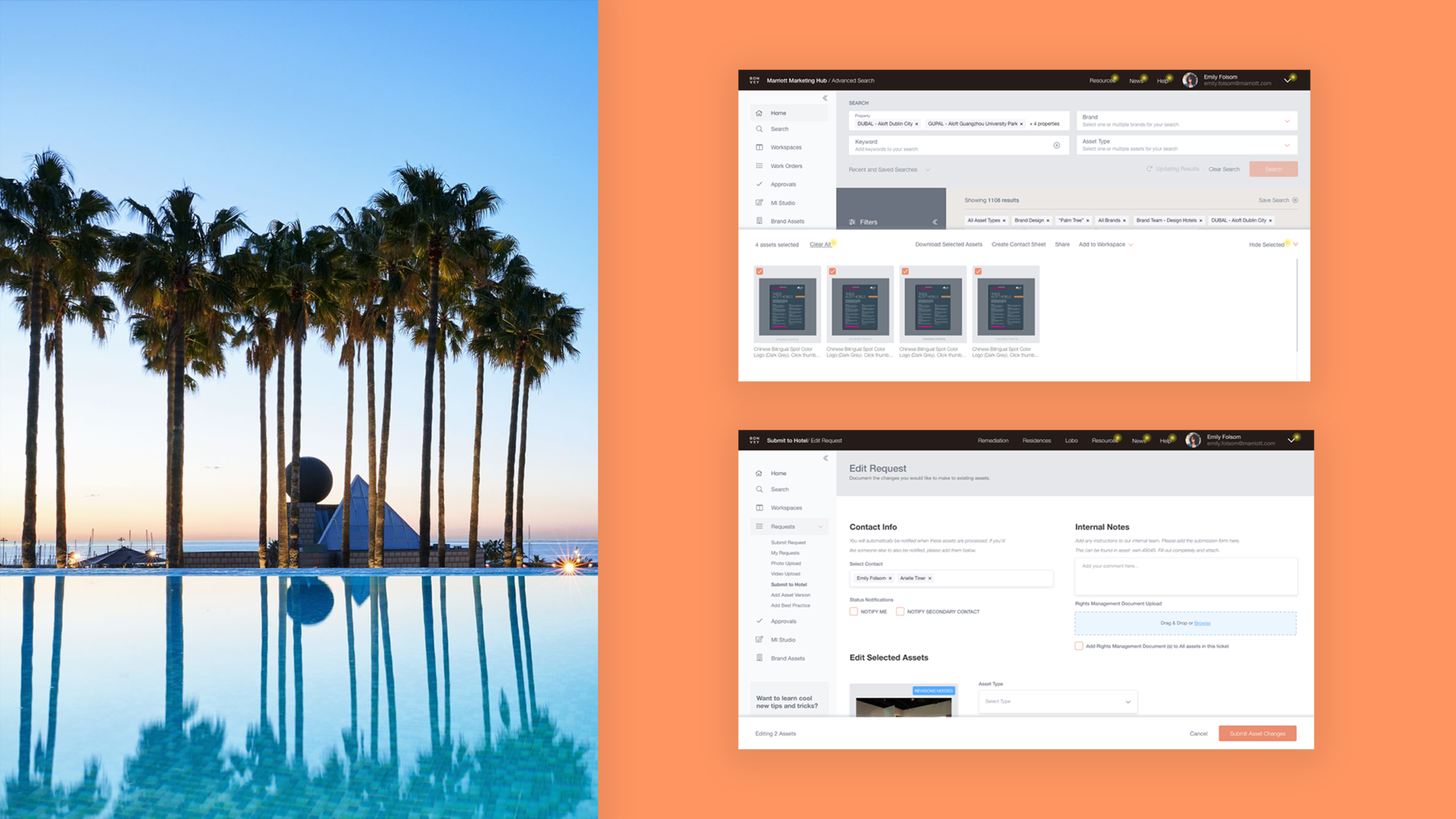 ---
User Experience
Building a modern interface
Imarc took the site's existing architecture and applied new visuals to create a distinct look and feel. Additionally, Imarc's developers made sure each page was responsive and aligned with the needs of Marriott's team. As a result, the new interface supports an intuitive experience and a dynamic user dashboard.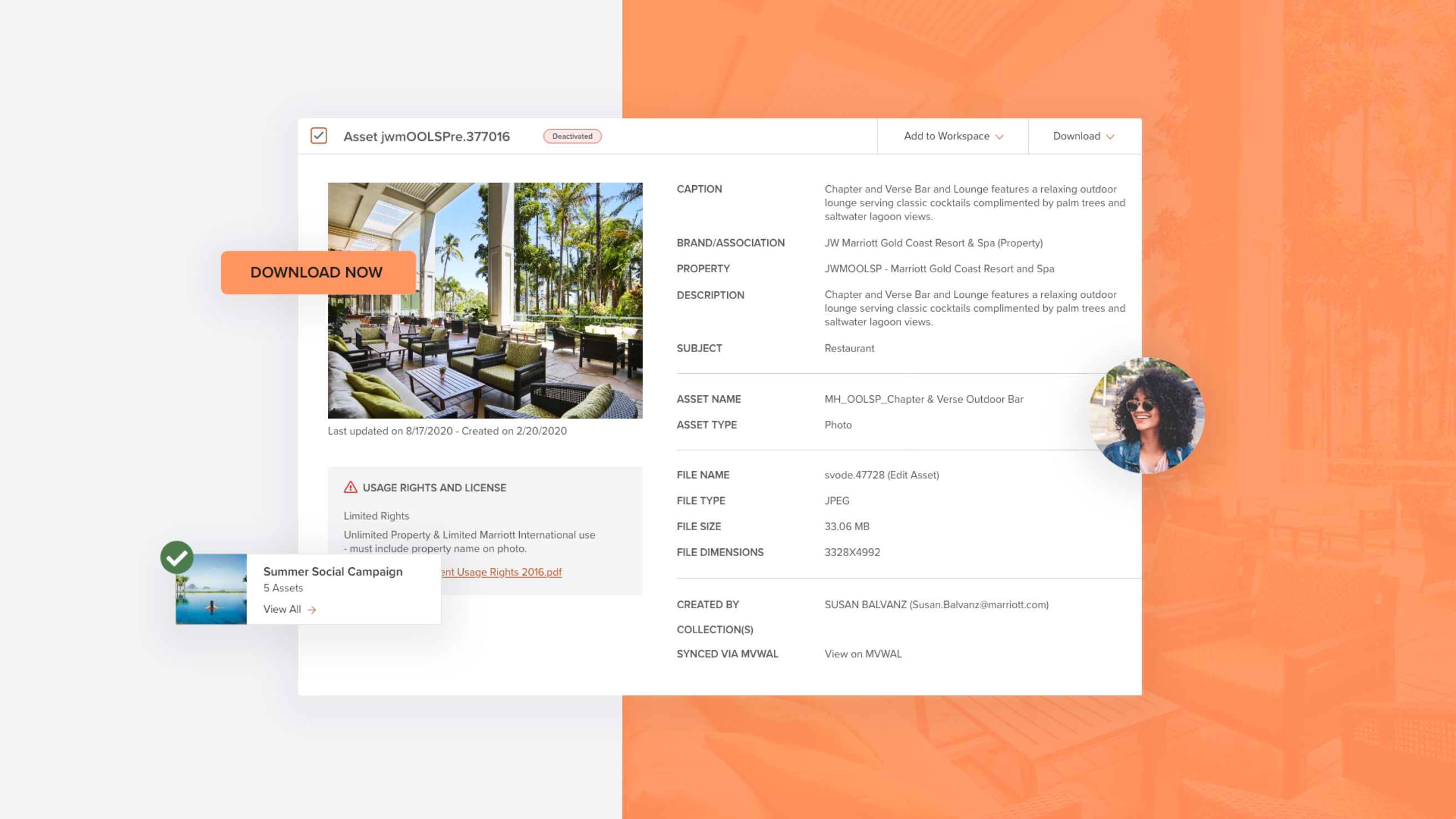 Imarc's creative team worked closely with key stakeholders to establish design goals and rebrand the asset library. From there, the team utilized wireframes and design compositions of key pages to support a mobile-optimized transformation of the asset library.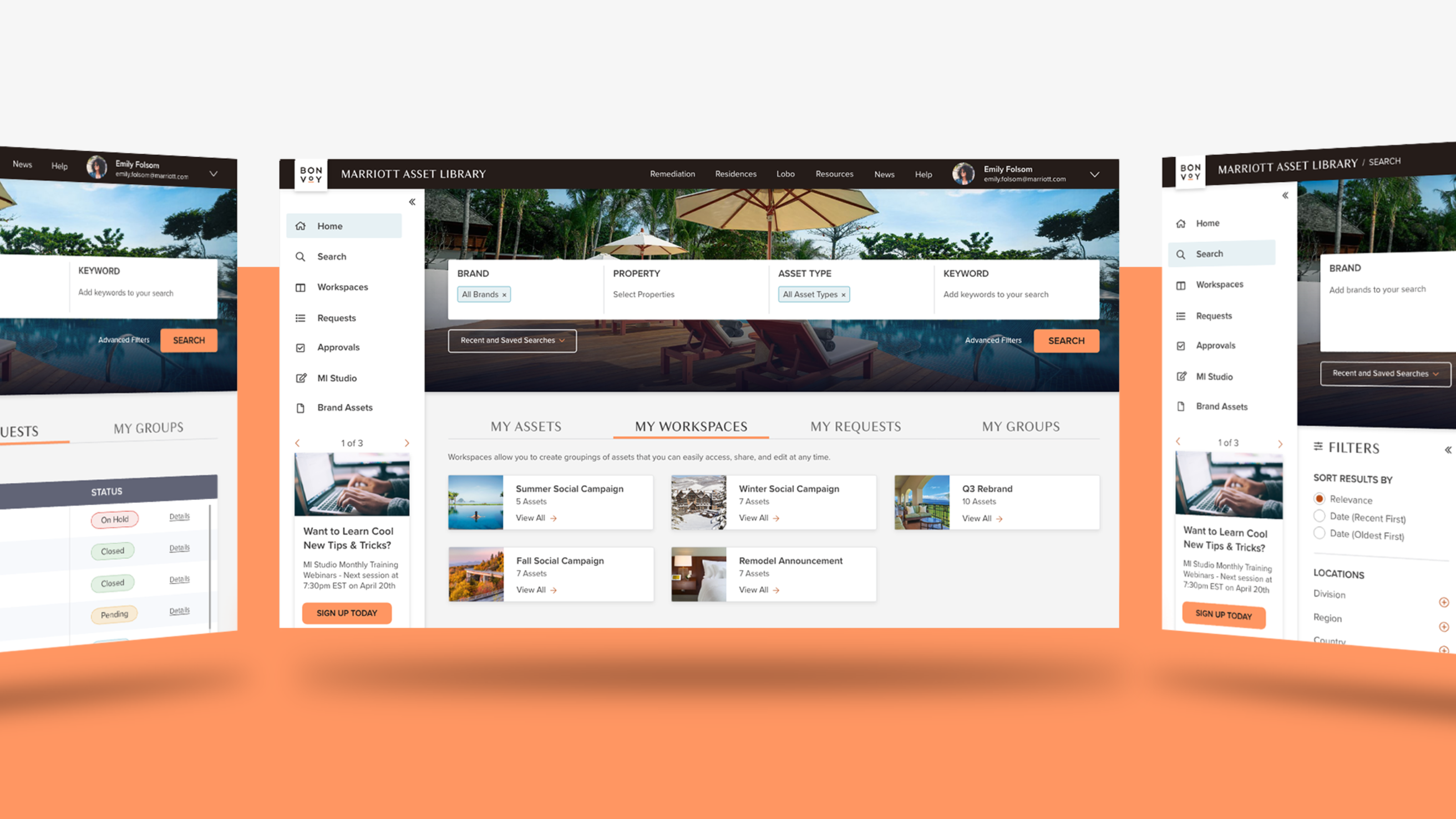 ---
Development
Upgrading performance
Imarc's team updated back-end fields to align with new front-end features and support optimal performance. Imarc facilitated the migration of files into the library and built a tool that allows users to easily manage assets. Automation and efficient workflows will support ideal functionality and usability moving forward.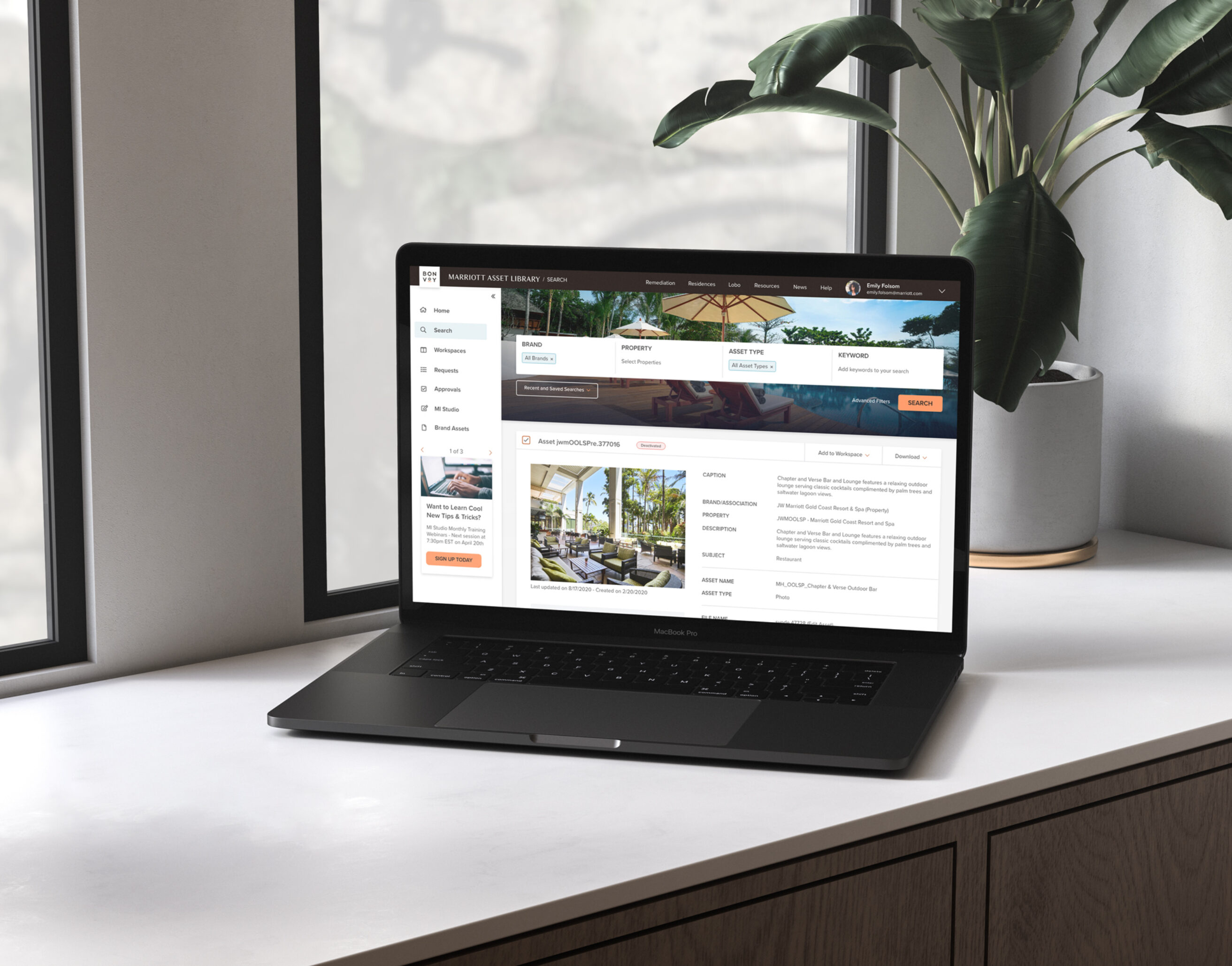 ---
Our Shared Vision
A long-standing relationship
Throughout the project, Imarc drew from years of experience working with Marriott to develop a robust, easy-to-use asset library that will allow for smooth future updates. The new assets are tightly aligned with Marriott's updated brand and allow for optimal use across all browsers and devices. We look forward to continuing to support Marriott's success and business growth.
STATEMENT OF WORK INCLUDED
Strategy & Research

Stakeholder Interviews
Research
Analytics
Persona Development
User Journeys
User Experience

Wireframes
Responsive Design
UI Kits and Pattern Libraries
Front-end Development
Creative

Visual Design
Art Direction
Photography
Development

Complex Integration
Hosting & Monitoring
Ongoing Support & Maintenance