---
The Project
A summer of fun
Imarc and Red Bull teamed up to design and produce an influencer kit to promote the new Red Bull Summer Edition Strawberry Apricot.
The kit invokes feelings of summer, with the two cans of Red Bull "floating" in a pool. A "Summer To-Do List" encourages the person to make the most of summer – with a Red Bull in hand of course. The package itself is shaped like a rolled-up beach towel, exciting everyone along the way as it's shipped to influencers across the country. Did we mention the limited-edition Red Bull sticker inside each kit?
These kits were highly personalized with hand-written notes to the athletes and social influencers who received them. Red Bull's sales team also used these kits in their marketing efforts as they built excitement for the release of the new summer flavor.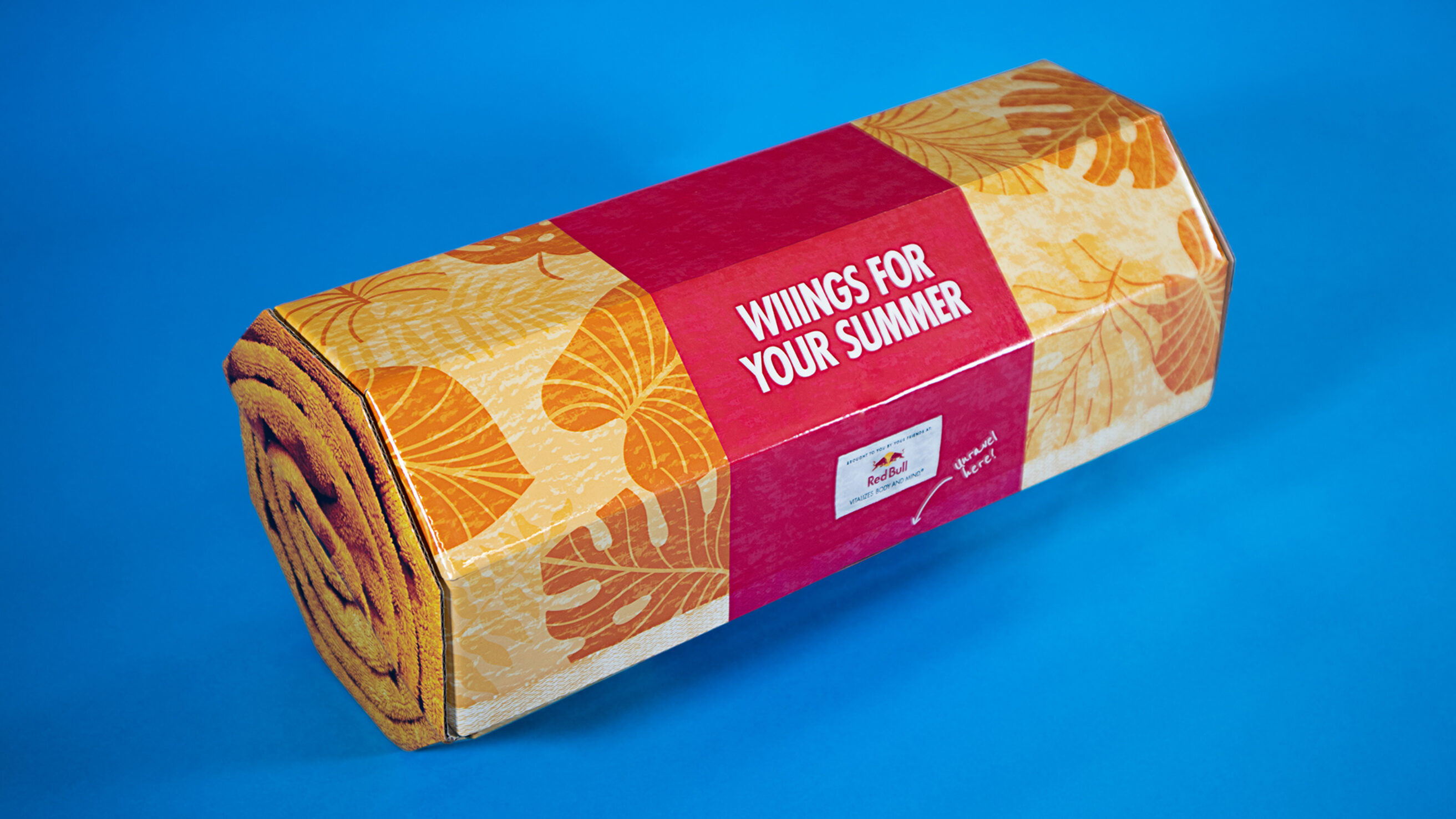 The team at Imarc did a great job transforming our initial ideas into creative and fun solutions. I enjoy collaborating with them and appreciate the premium work they produce. Kayleigh Phillips, Sr. Manager, Social Opinion Leaders at Red Bull
---
The Design
Unravel summer
Imarc's creative team brainstormed design concepts for the kits that could be infused with summer vibes. The final design incorporates elements of summer: the cans appear to be floating in a swimming pool, the package is shaped like a beach towel, and palm leaves are featured throughout the design. The color palette reflects the Strawberry Apricot flavor and aligns with Red Bull's brand.
In addition to supporting the new design, Imarc facilitated the production of the kits with Production Resources in Boston. Imarc worked with Production Resources to define the ideal recipient experience. Imarc and Production Resources collaborated to create sturdy, quality packages that would protect the Red Bull cans, while also managing shipping logistics.
The kits are made from recyclable materials to reflect Red Bull's dedication to sustainability.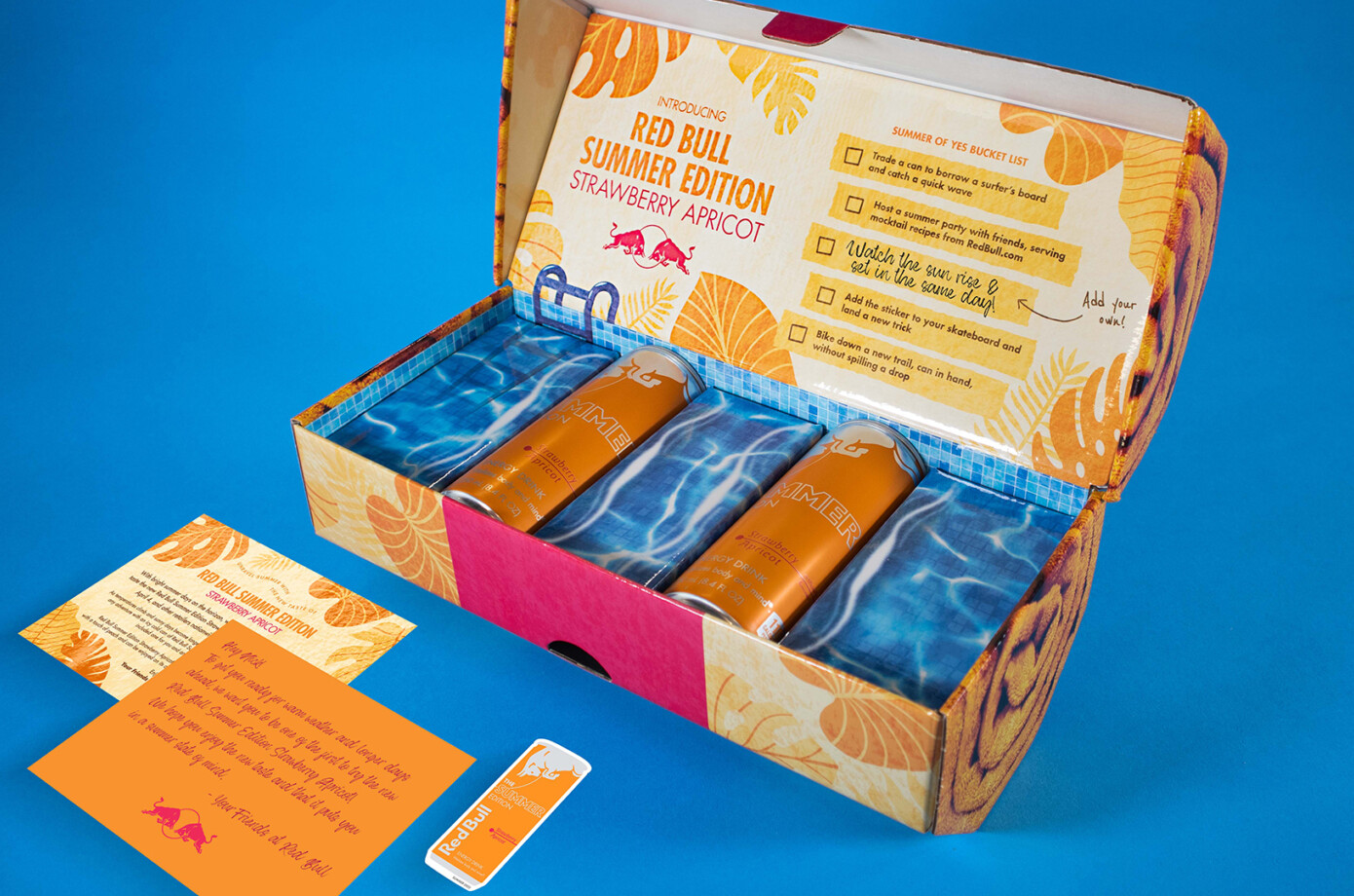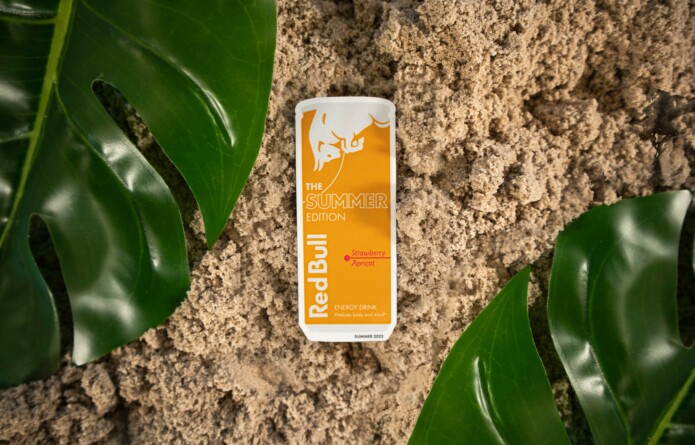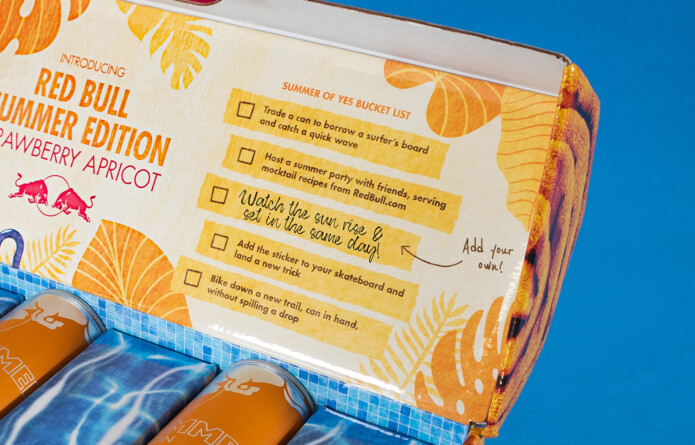 The kit that Imarc created was the perfect sales tool for us to promote our new Red Bull Summer Edition Strawberry Apricot. The Imarc team did a great job creating a kit that brings in the fun from the new flavor while still hitting the mark with our sustainability efforts. Greg Kent, Sr. Manager, Beverage Initiatives
---
The Social Presence
Making a splash on social
People were so excited to open (and share) their new gorgeous kits! They shared the kit and cans in unique videos and posts across social platforms which hyped up excitement for the new launch.
---
The Partnership
Our Shared Vision
Over the years, Imarc and Red Bull have collaborated to create unique, visually compelling kits that amaze influencers and drive social shares. Imarc is proud to support the launch of Red Bull Summer Edition Strawberry Apricot, and we look forward to Red Bull's continued success.