Buyer's Journey, Stakeholder Interviews, Visual Design, Development
---
The Challenge
Infor needed a new website to showcase the company's latest direction, as it adapted to a shifting industry landscape that now valued bundled CloudSuites over individual products. The information architecture did not match Infor's sales process, and on top of that the site was incredibly sluggish and hard to search.
I've worked with Imarc on a couple of website developments projects, prior to working as the CMO at Infor. I chose Imarc to lead the redesign and development of Infor.com as my first major project in my new role as CMO, because I could trust Imarc to make their deadlines and to push the envelope on design. Not only did they deliver on being on-time and develop a new site that elevated our brand, they helped us to increase our lead acquisition exponentially on our site. Ashley Hart, Former CMO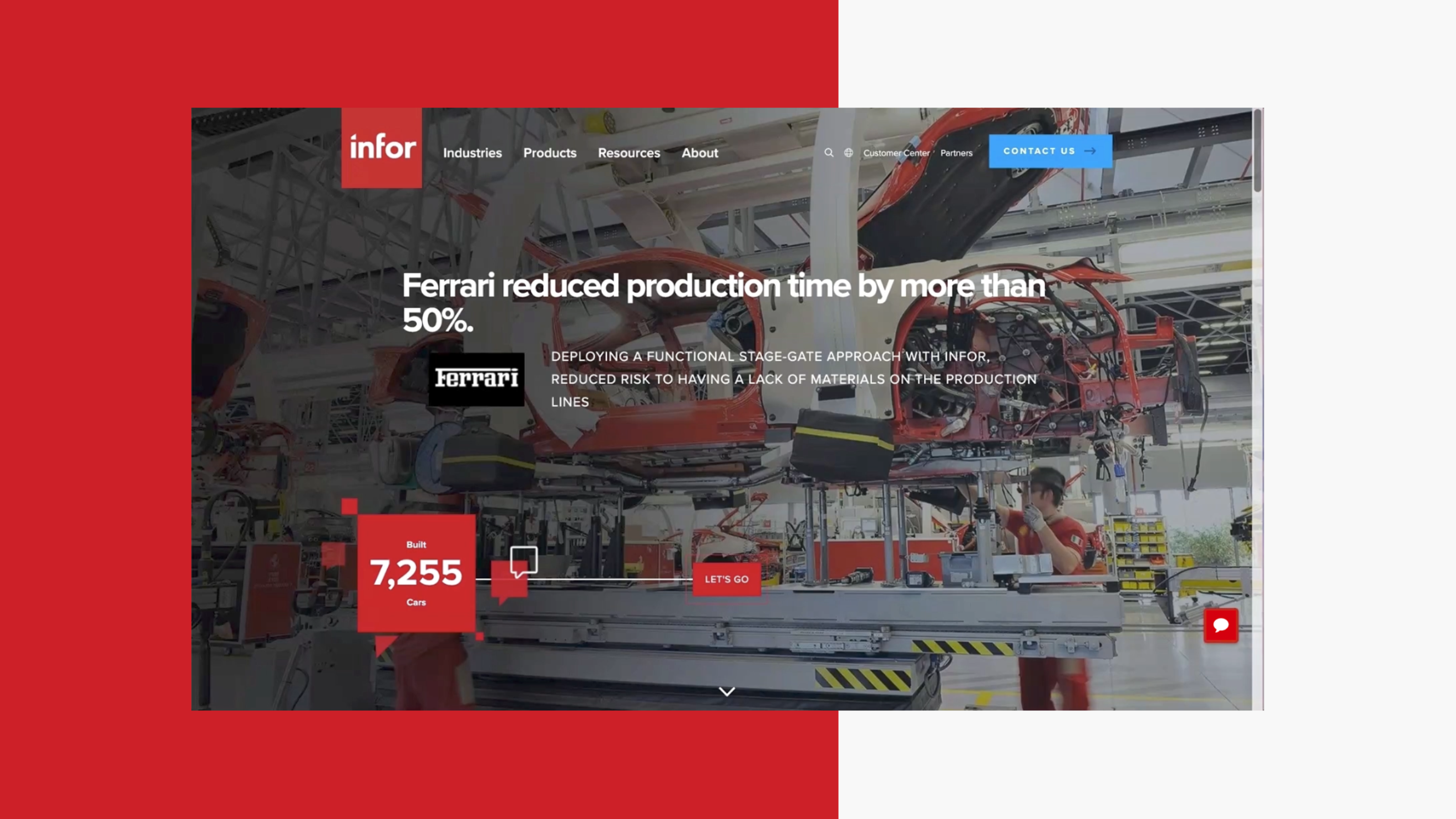 ---
Our Approach
To better understand Infor's vision for the site and business goals, we conducted a number of stakeholder interviews. These conversations set the tone for the entire project. The Imarc team made it a priority to work closely with Infor's internal content team in order to grasp the breadth of Infor's products.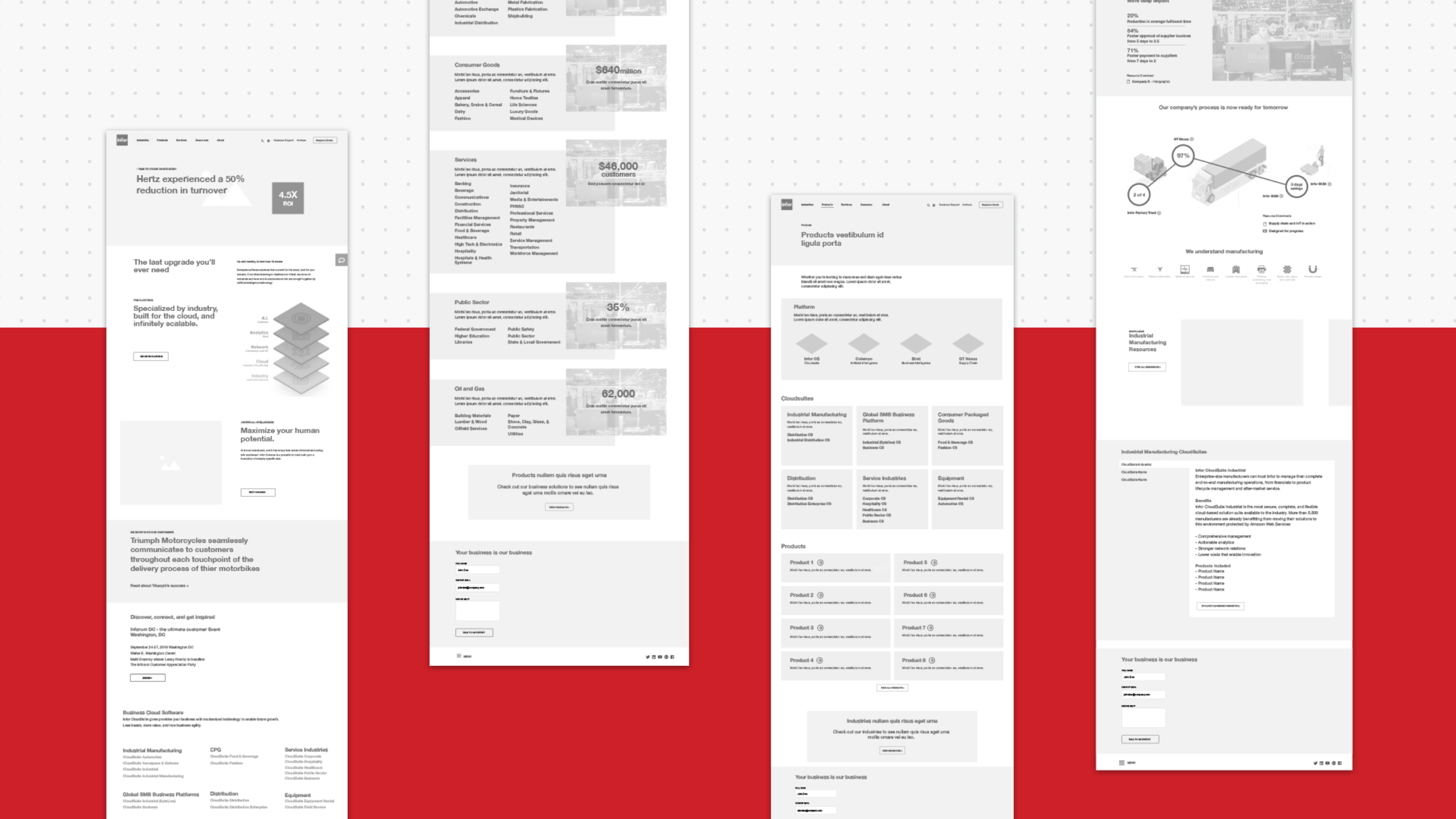 ---
Strategy and Planning
Analytics & Stories
The first order of business was to dive into website analytics to see support the website's new direction. It was often said 80% of visitors had heard the name Infor but was unaware of what Infor did.
When rethinking the site architecture and main navigation. Imarc lead with Industries allowing visitors to self identify themselves and controlling their own path to learning more about the Infor solutions.
Also important was telling the Infor story through results their customers achieve instead of talking about the company or features. Every Industry page is a case study from a leader within that industry. Visitors are greeted with facts and statistics showing the value of Infor's solutions. Videos, white papers or webinars are easily found if you choose to dive in deeper.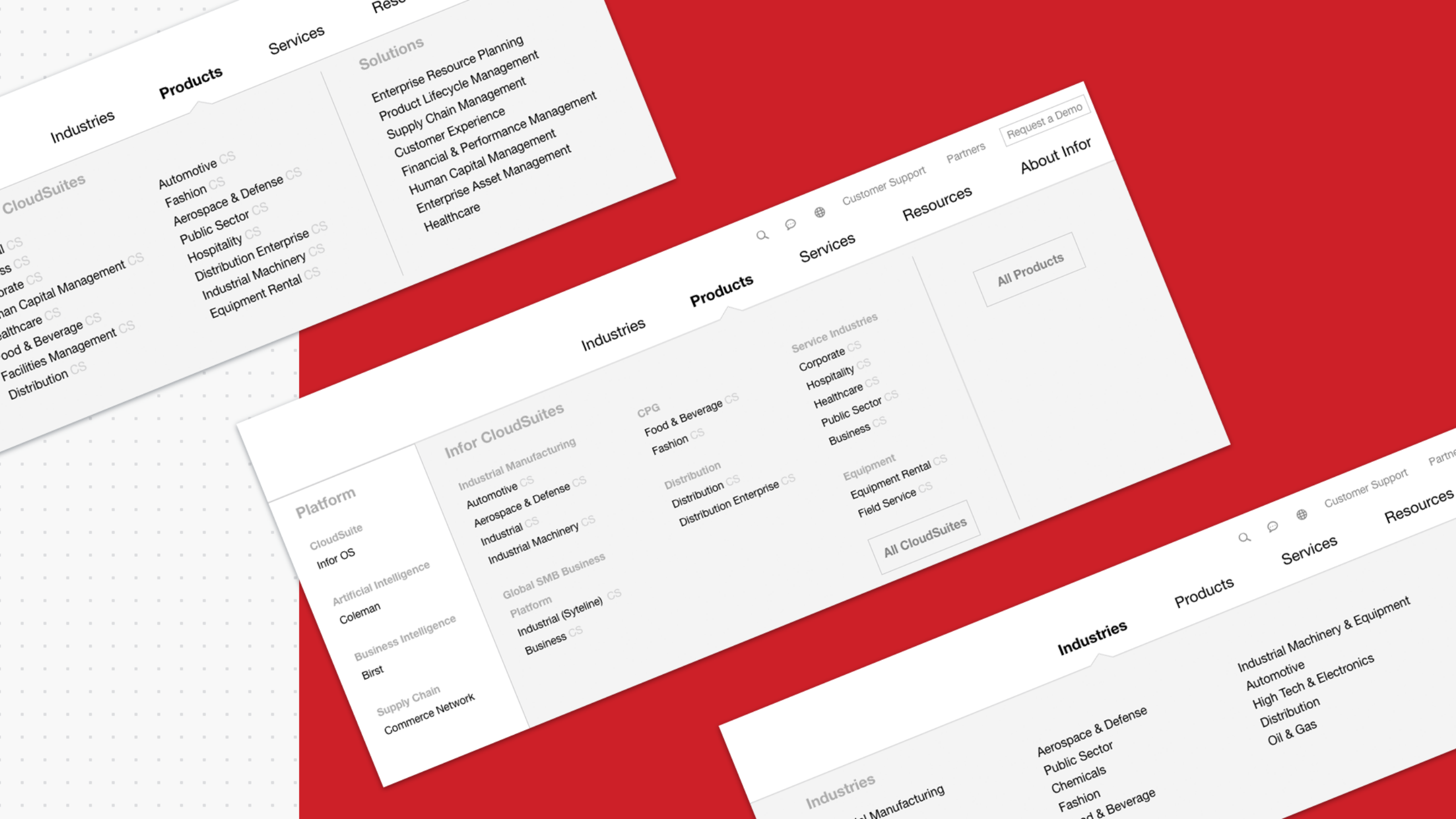 ---
User Experience
Seamless site performance
The website's performance was paramount. Whether that meant making it easier to find detailed information about a given product, or ensuring lightning-fast page reloads, Infor's website needed to be optimized and running like a top.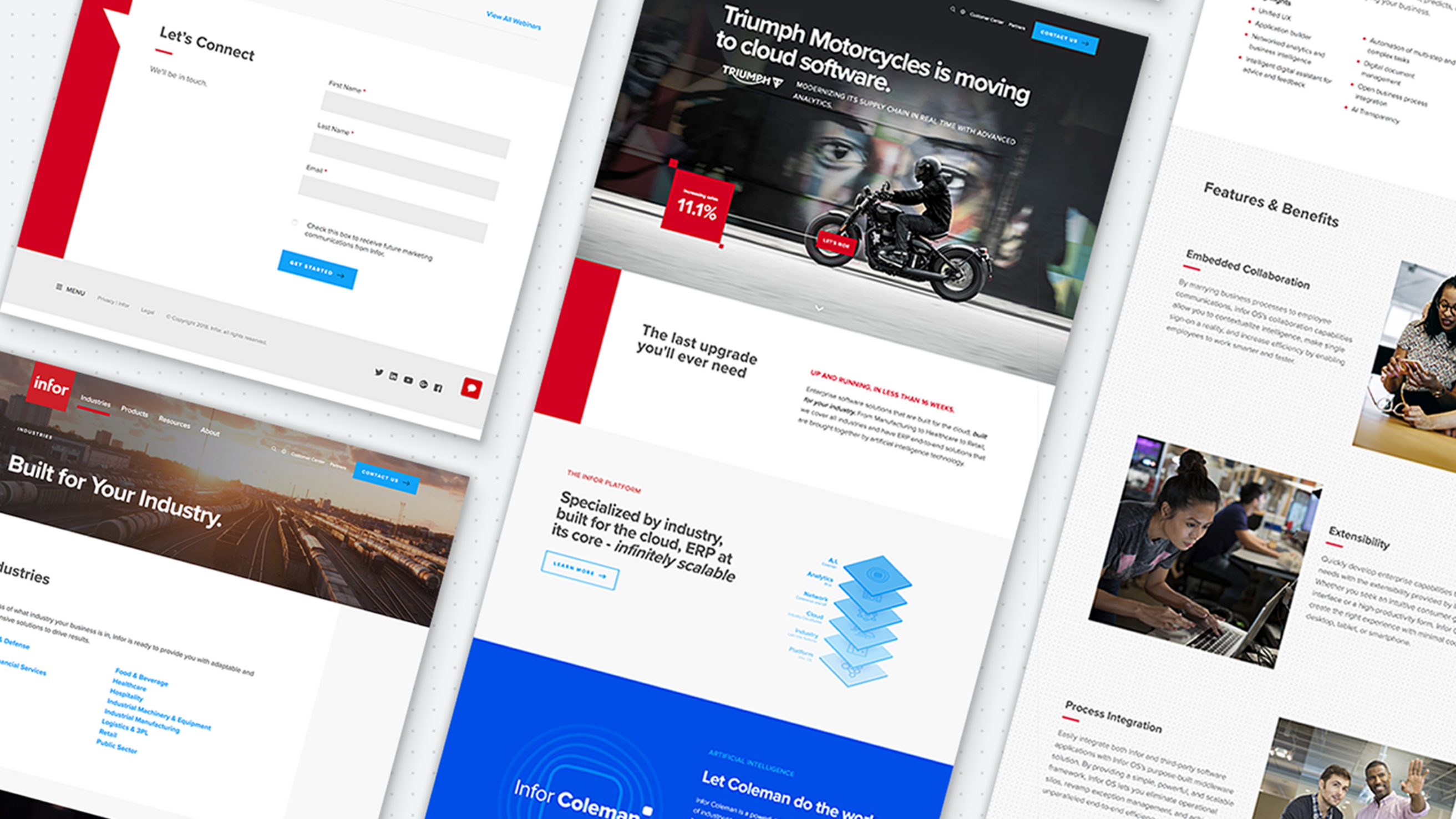 ---
Creative
A Bold & Modern Brand Expression
The design of Infor's new website needed to match the company's modern and bold new brand identity. Our creative team elevated the look and feel by working closely with key stakeholders to establish a consistent visual language that celebrates contemporary design, large emotive photography, and usability best practices for optimal website experience.
By leveraging powerful imagery with a true sense of humanity, the new design creates a memorable visual experience that demonstrates how Infor empowers their customers to succeed through technology.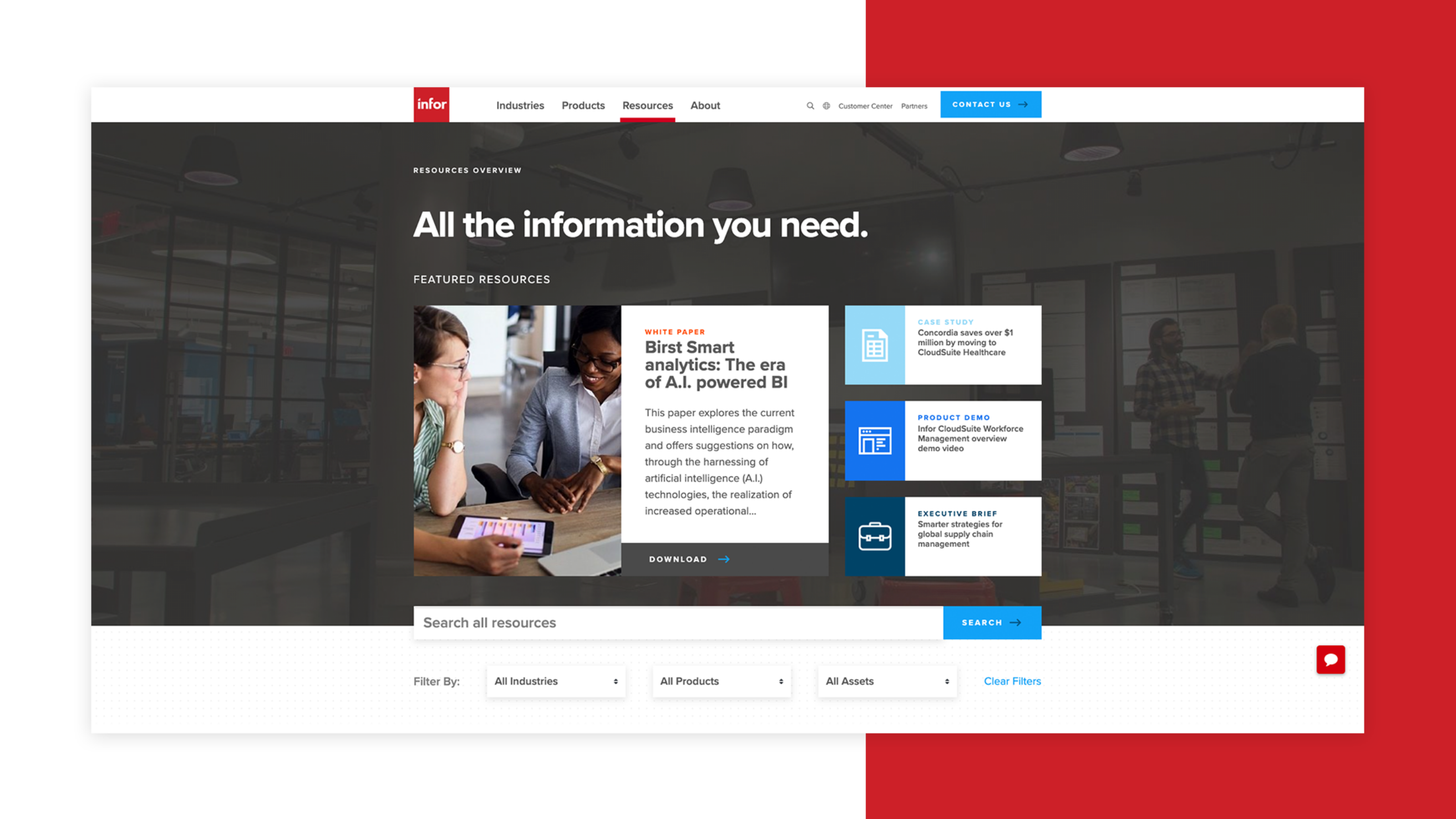 ---
Development
Craft CMS & localization
Achieving a high-performing website for one that's as large and popular as Infor.com can be a real engineering challenge. Infor uses the best of Amazon Web Services and Akamai's CDN to deliver performance and availability worldwide.
The redesigned website needed to allow Infor's marketing team to be able to easily create content through their new visual language without sacrificing design. By using Craft CMS to provide Infor with a flexible platform, their website is able to support both localization and translation into more than 14 languages.
They integrated their website with Acclaro to provide on-demand translations, Marketo to offer gated resources and contact forms for lead generation, and Infor's own Marketing Resource Management software.
The end result is a solid platform that lets Imarc and Infor's internal development team to continue to evolve as Infor grows as a company.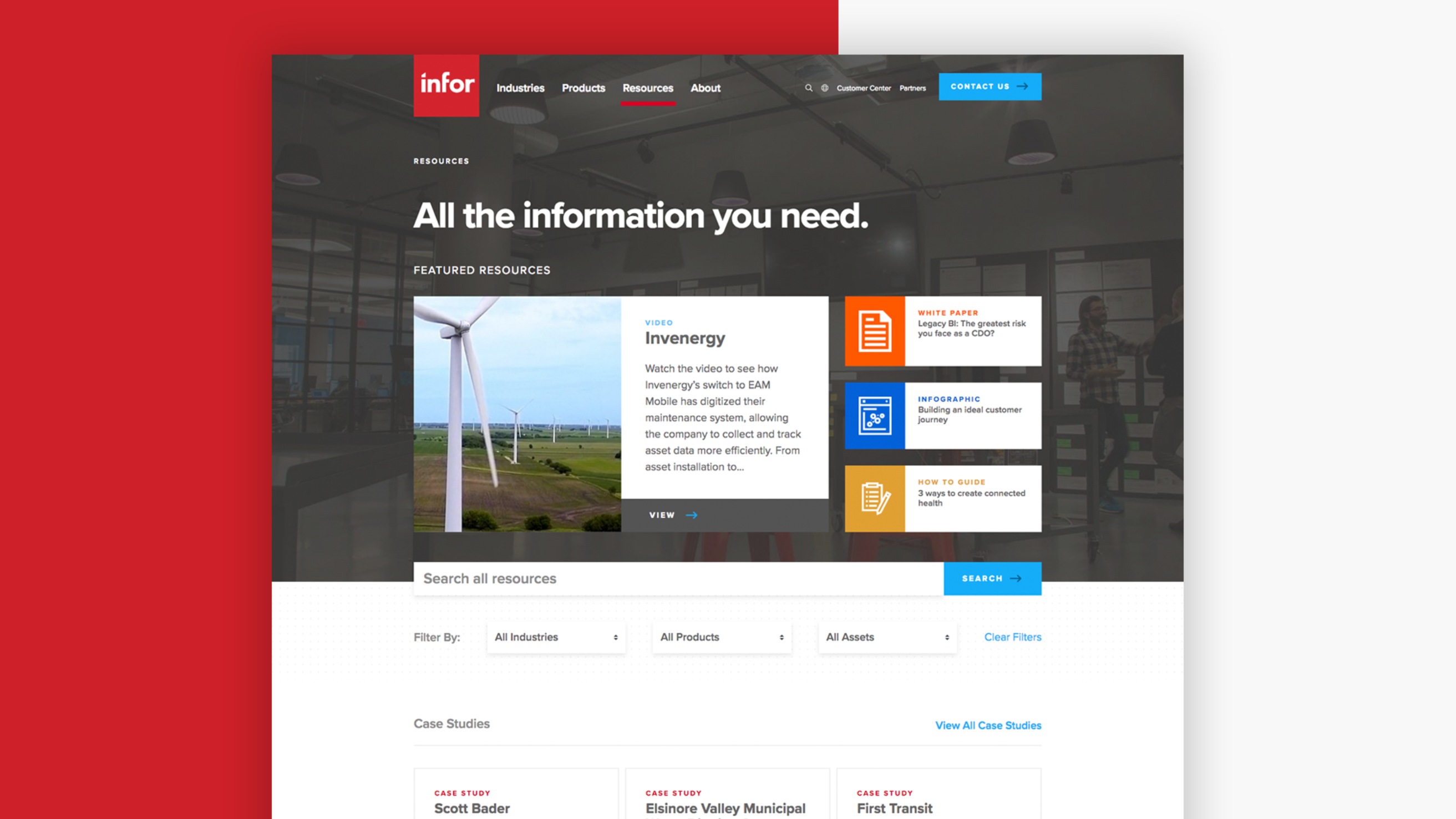 ---
Our Shared Vision
Together, Imarc and Infor have created a relationship that continues to work together and support the Infor team. Aside from the consumer-facing marketing website, Infor and Imarc have teamed up to create an unparalleled employee experience for their intranet, Team Infor.
STATEMENT OF WORK INCLUDED
Strategy & research

Stakeholder interviews
Research
User testing
Competitive analysis
Experience strategy
Persona development
User journeys
User experience

Sitemaps
Wireframes
Responsive design
Content strategy
Prototyping
Front-end development
Creative

Visual design
Art direction
Development

Ongoing support & maintenance
Custom Craft CMS