---
The Challenge
Businesses are often looking to deliver a great employee experience that aligns with their external facing brand. After Imarc redesigned and developed Infor's public-facing website, it was time to improve the user experience and visual design of their intranet. Instead of TeamInfor being merely a tool that is required to use, Imarc evolved it into a tool that employees actually want to use.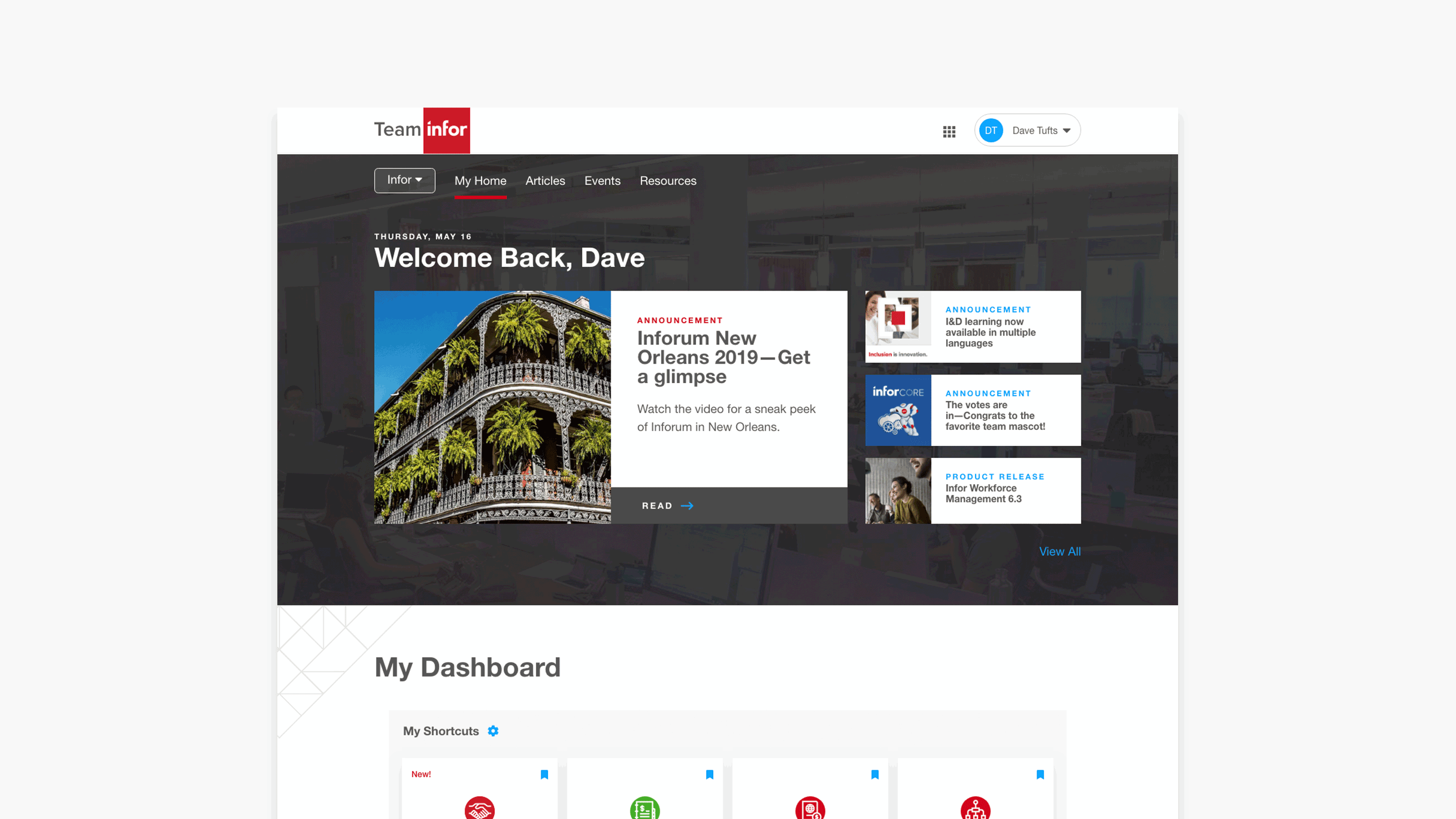 Imarc was able to merge our vast experience building award-winning intranets with Infor's updated brand. The result is an easy-to-use, on-brand, destination for all Infor employees and channel partners. By having a consistent voice with their public-facing site, TeamInfor creates 17,000 employee brand-ambassadors all aligned with the same message. It's a great place for employees to start their day, see the latest company news, and easily access their most-used tools and resources for whatever their specific role within Infor is. Dave Tufts – Managing Partner and CTO, Imarc
---
Strategy and Planning
Creating a digital hub
Throughout the discovery and user experience research for the intranet and sales portal, Imarc knew it had to maintain the existing processes and infrastructure that Infor's employees understood and were programmed to use. With hundreds of destinations that employees access from within the internal digital ecosystem, TeamInfor was built to serve as the centralized location and digital hub for all additional systems.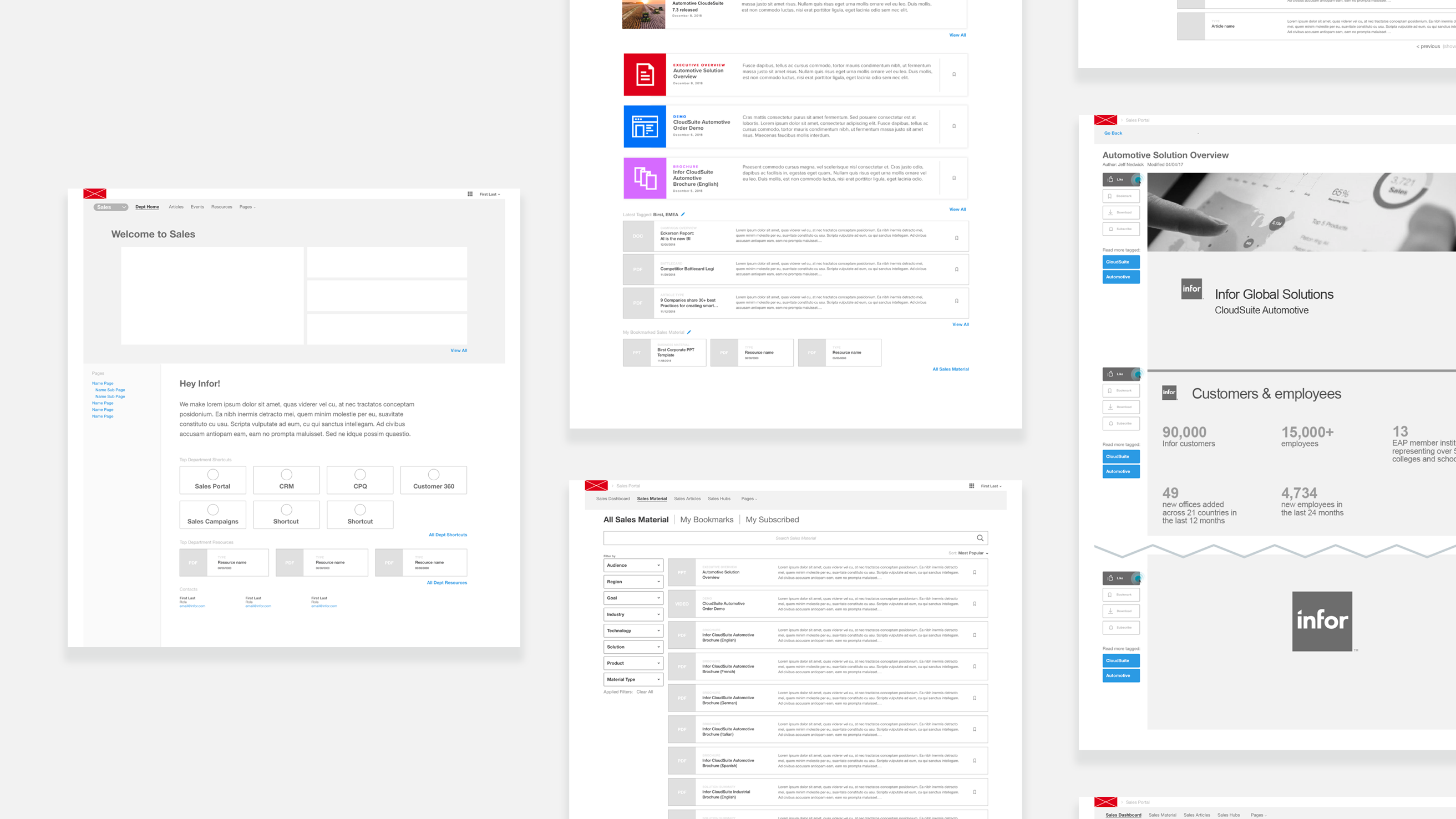 ---
User Experience
A tool personalized for each user
TeamInfor also improves employee onboarding. First time users are presented with information that helps guide them through TeamInfor, directing them to select relevant content and shortcuts. Employees are also able to personalize their experience. They can subscribe to news feeds based on topics they are interested in, add shortcuts to specific digital tools, and bookmark documents for easy access. They also can select areas of interest, including specific product lines, industries, or categories. Once preferences are established, content is prioritized and shared on their dashboard. For even more clarity, TeamInfor is organized by department, allowing users to explore each of the company's departments and browse the latest news, resources, and contacts for each.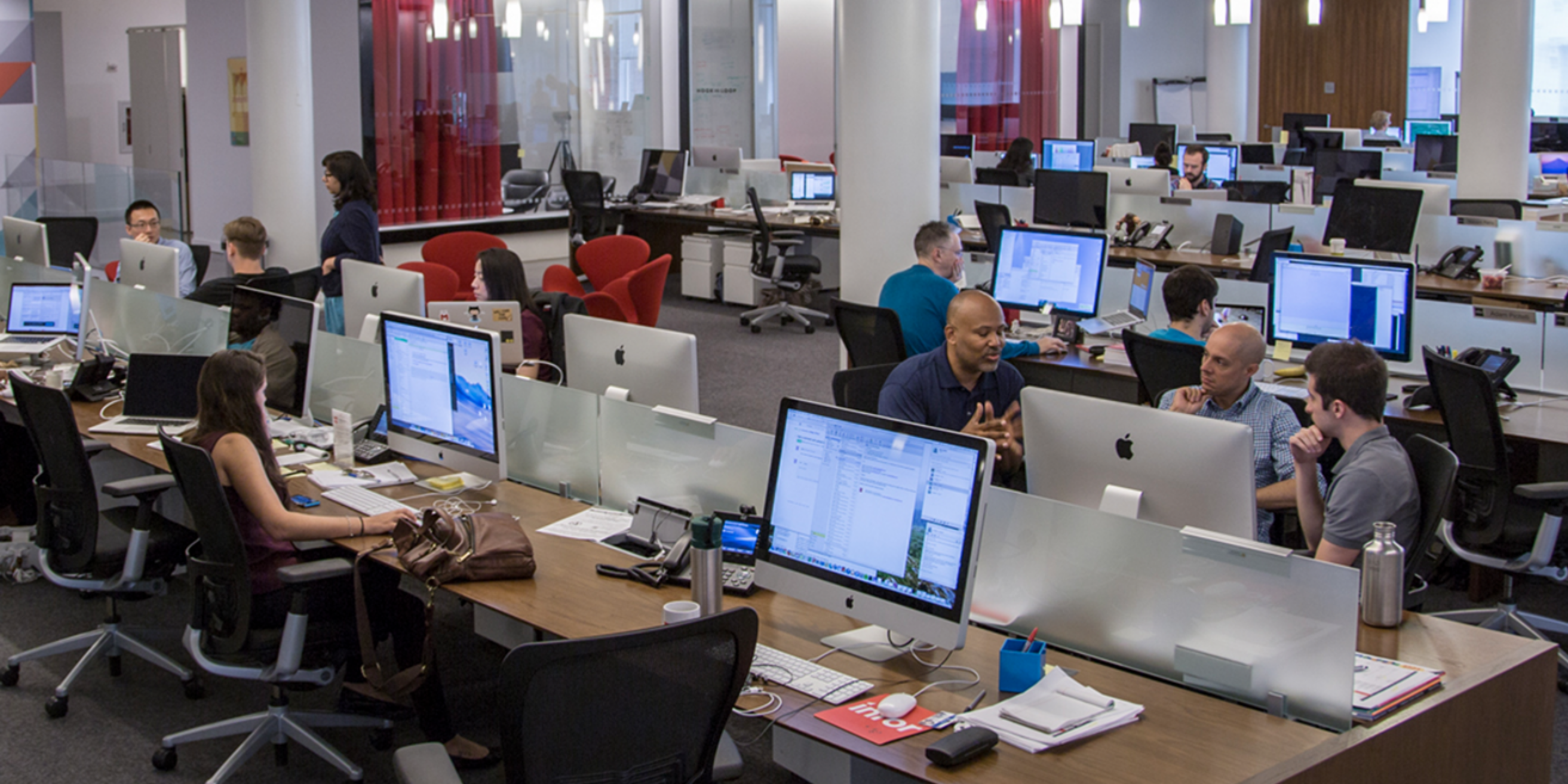 ---
Creative
A refreshed internal tool
At Imarc, we know that intranets don't have to be boring. In fact, they can look pretty great, and be something that employees enjoy using. Our creative team had a vision from the beginning of an engaging intranet that aligned with Infor's new brand instead of a basic, boring intranet. We worked with Infor on a variety of names, and ultimately Infor's employees chose TeamInfor as their intranet name. Throughout the process, our designers used Infor's solid design system, developed during the website refresh, to create an intranet experience that felt familiar and on-brand for employees.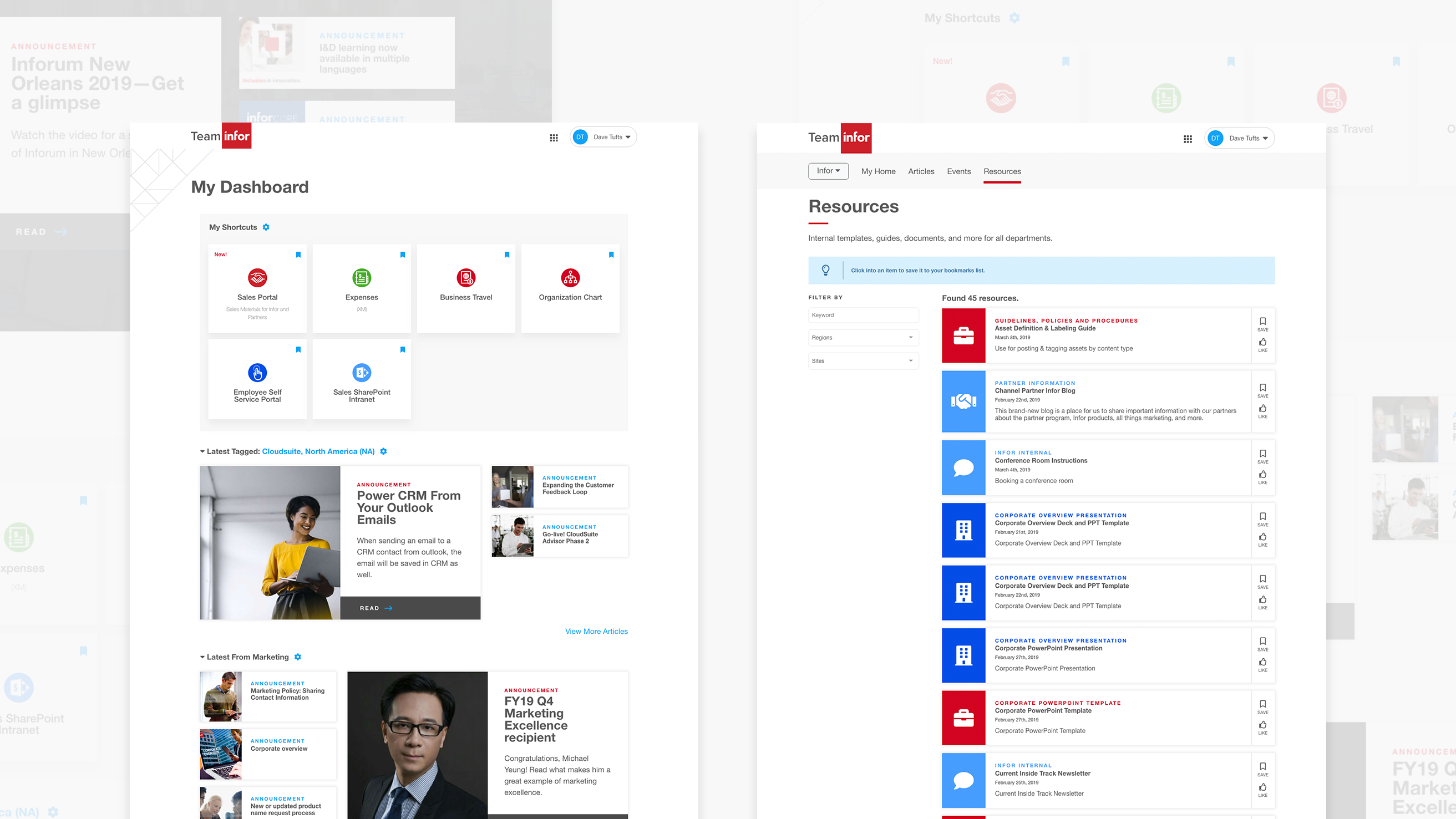 ---
Development
Laravel + custom integrations
Built as a custom application using Laravel, the intranet creates a unique, personalized experience for each user. TeamInfor features a customizable dashboard with bookmarks for external tools, a powerful, elastic search that queries thousands of resources, and the ability to promote featured content, and save resources. TeamInfor integrates with Infor's current business systems, including MRM for Events, Active Directory to support Single-sign-on (SSO), SAML, and Google Analytics. In addition, the intranet provides access to Infor's offsite resources and tools, such as Business Travel and Employee Self Service (e.g., Mingle), as well as social media platforms.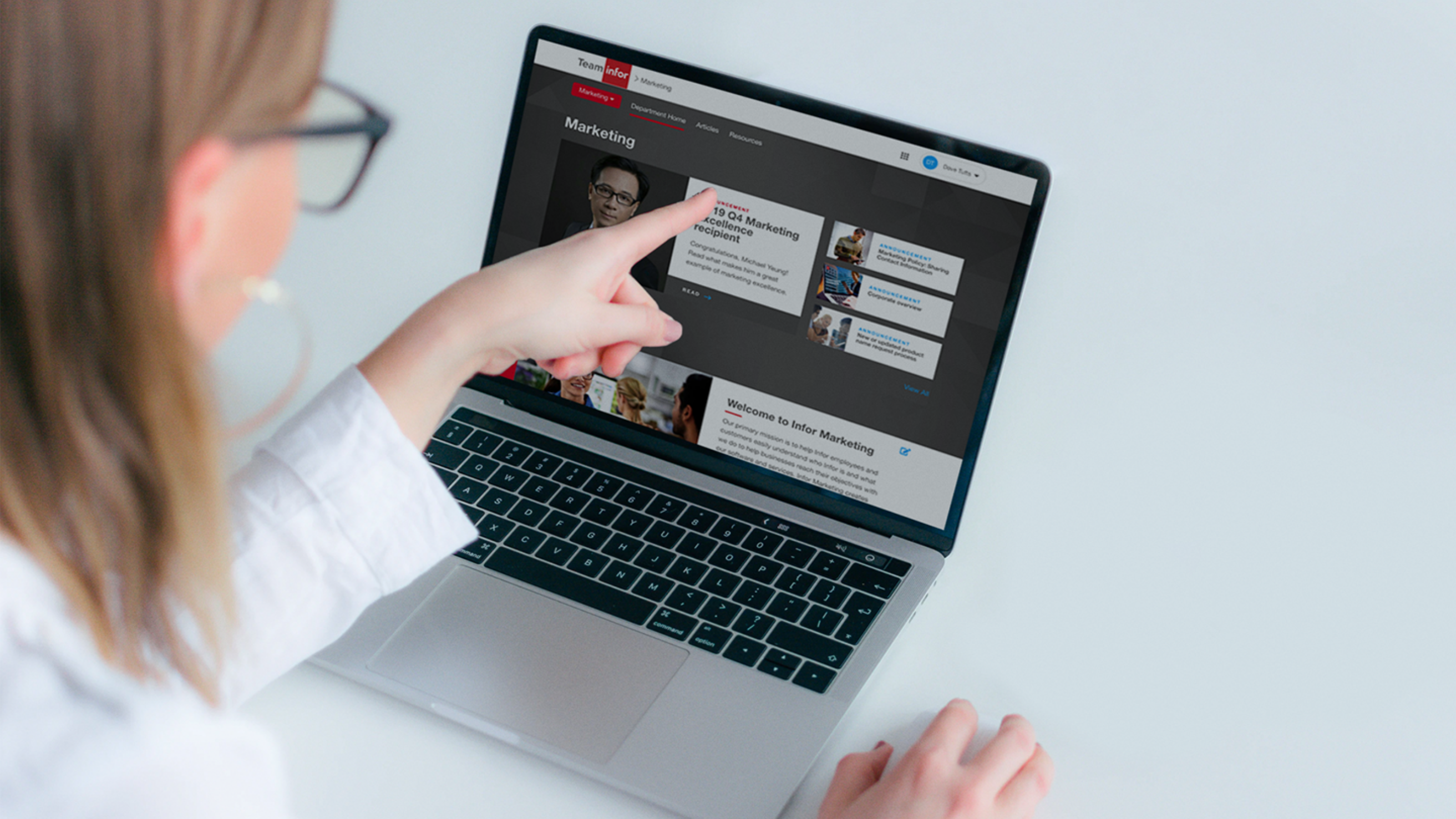 ---
Our Shared Vision
At Imarc, we understand the importance of employee engagement. The new TeamInfor is already helping employees feel connected to their company and access important news updates and documents they need to be successful.
STATEMENT OF WORK INCLUDED
Strategy & research

Stakeholder interviews
Research
User testing
Experience strategy
Persona development
User experience

Sitemaps
Wireframes
Responsive design
Prototyping
Front-end development
Creative

Visual design
Art direction
Development

Complex integration
Digital transformation

Custom web applications