I received an email from Ryan Deiss of Digitalmarketer.com the other day that said this:
"Your [email] list is a gold mine of potential customers who are already on the path to knowing, liking, and trusting you. And just showing up in their inbox isn't enough. They need YOU to consistently remind them why they subscribed to you in the first place."
His statement is spot on. There is so much potential with email marketing, but are your current efforts up to par?
To audit your email marketing, you'll dive into your previous and current email strategies to understand what's working and what isn't. Take a look at the copy, CTAs, your list, and analytics to better understand your email marketing performance. Your goal should be to inspire your customers to step out of their inbox and into your world.

All things digital marketing
AUDIENCE
List health
Start your audit by looking at who you're mailing to. Your subscribers are your current or (hopefully) future customers. They presumably joined your list because they wanted you to email them. But sometimes people end up on your list unintentionally, or simply lose interest in you.
If a subscriber stops opening your emails, internet service providers (ISPs) will perceive these emails as unwanted and move them to the spam folder. The more times that occurs, the more ISPs will devalue your emails and either leave them undelivered or send them to other subscribers' spam folders.
If a subscriber has stopped opening your emails, the best course of action is to ask them if they would like to continue to receive your emails. If they indicate that they would like to receive future emails, you can then send them into a re-engagement campaign. If they still don't open or respond to your email, it's best to remove (unsubscribe) them from your list yourself.
Deliverability
If your audience doesn't receive your emails, they can't engage with you. So, your goal should be a 100% deliverability rate. It's not always possible, but if you're not at least at 99%, you should do some list cleanup.
Start by looking at your email bounces. A "bounce" occurs when an email cannot be delivered to the recipient's inbox. A soft bounce means that the email address is valid but your email wasn't delivered because the subscriber mailbox was full, the server was down, or the message was too large for the recipient's inbox. Soft bounces usually aren't a cause for concern unless they reoccur with the same subscriber. A hard bounce indicates that the email address is no longer in existence, or the recipient has blocked your emails, probably flagging them as spam. In either case, it affects your deliverability rate. Remove any hard bounces from your list right away.
ISPs take note of these undelivered or bounced emails. If you regularly send emails to dead or abandoned addresses, ISPs assume you're spamming and will either block you or relegate your emails to the spam folder.
Growing an audience
The size of your subscriber list is less important than the quality (i.e., level of engagement, sales conversions made). Nevertheless, you're going to want to grow your list and replace inactive subscribers. Some good methods for generating new leads include:
Dedicating a landing page for people to subscribe to your emails. Be sure to explain all the benefits of signing up. You can direct site visitors there as well as promoting it on social media.

Offer a lead magnet, like a free guide or checklist they can download, in exchange for their email.

Include a sign-up form on every page of your site. It doesn't need to be tucked into the footer, either. Try putting it in callout boxes, sidebars, or even above your top navigation bar.

Use modals or popups. Be careful, though, as they can muddle the user's experience on your site. Consider having them set to appear after the user has scrolled a certain way down a page or they're about to click off your site.

Encourage referrals in your emails.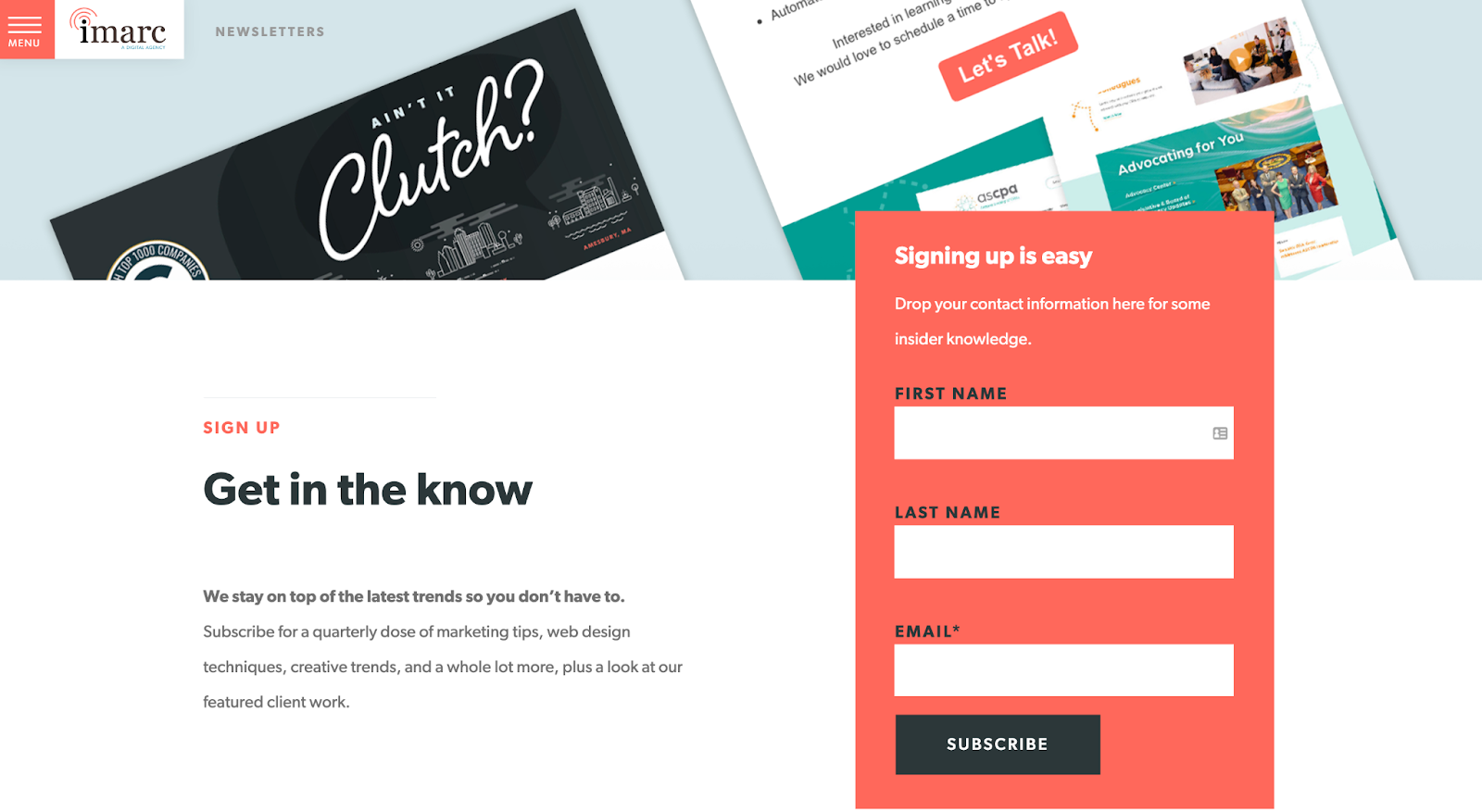 CONTENT
Copy
The length of your email can vary depending on its goal. If it's a newsletter with several educational topics, it may be several hundred words. If you're aiming to drive leads to an offer on your site, keep it concise. Use active voice, action-oriented words, an informal conversational tone, and lots of empathy (use "you" not "we").
In terms of formatting, use plenty of white space, bold text, and clear headlines to make reading your emails easy.
Design
The design of your email shouldn't distract from the overall message. It's best to use a single-column layout, as they are easy to scan and scroll through, especially for readers on mobile.
HTML or plain-text? While HTML emails can allow you to dazzle and convey messages quickly, subscribers may get the sense that the email is too "markety" and click away. A plain-text email strips away all that and leans heavily on the copy to persuade. It also has the advantage of feeling more personalized. Test them both to see what plays best with your audience.
Subject lines and preview text
Are your subject lines inspiring subscribers to open your emails? Does the content support the subject line? A concise subject line is best, but if you do go long, be sure the most important information is at the beginning since the subject line may be cut off in the inbox. An effective subject line should pique interest, inspire action, and give your subscribers a good idea of what your email is about.
Don't forget the preview or pre-header text. Use this to amplify the subject line. Don't leave it blank or, worse, with placeholder text like, "Put your preview text here…"
Call to action (CTA)
Now, do this! Your CTA is essential to driving conversions. Make it clear, concise, and specific. Use a button or inline link. Experiment with design and copy in your CTA. Remember: the goal is to inspire the next action you want your subscriber to take ("Learn more in this ebook") – not the one you want them to take down the road.
Cadence and timing
How often should you send your emails, and when is the best time to send them? Well, it depends on your audience's expectations, which you can help shape.
If you publish a newsletter, it's best to send it at the same time every day or every week. Keeping a regular cadence strengthens your reliability in the eyes of your subscribers. How often is too often though? If a subscriber is deeply engaged in your content, they may be happy to receive one or even more emails from you each day!
Timing is an important aspect of email marketing you'll want to test. If your content is for a B2B audience, you may not want to send it on a Sunday afternoon. Or maybe they're a busy CEO and that's actually the best time to catch their attention. Your data will tell you. Experiment with both frequency and time of day to see what works best.
Segmentation and personalization with automation

Segmentation is used as a personalization tactic to deliver more relevant email marketing to subscribers. Segment your email list, and add each segment to automated email workflows that sends them content based on preferences, behavior, subscriptions, life cycle, and engagement.
A marketing automation platform – like HubSpot, ActiveCampaign, Campaign Monitor, Marketo, or Pardot – puts powerful email marketing tools at your disposal. It allows you to nurture leads and customer relationships by creating email content based on specific data. This data can include interests, on-site behavior (e.g., pages visited, links clicked), emails engaged with, lead magnets downloaded, and just about any other data point you can track.
Welcome series
When someone becomes a subscriber, do you immediately send them a thank you email that introduces them to your brand? If you do, you probably notice that this email has one of the highest engagement rates of all your emails. That's because subscribers are new and freshly excited about joining your list. Keep stoking that fire. Set up an automated welcome email series to send to all new subscribers. Send them four to six emails over several days that tell your story and build on the relationship you've started with them. They want to hear from you, so give them some attention.
Tailored nurtures
These may be the most complex, but they can be the most effective. Set up automated workflows that send emails based on specific content users interact with on your site or in your other emails. This is how you harness the power of personalization.
Re-engagement
If a subscriber has stopped opening your emails, it's worth sending them a short series of emails to remind them of why they subscribed in the first place. It's possible their interests have changed, and you can adjust the content you're sending them. Or maybe they're just no longer interested in you. In that case, it's best to offer them the chance to unsubscribe.


Performance metrics
While you can track and test many different aspects of your email marketing, the three metrics that you should focus on are open rate, click-through rate, and conversion rate (once they reach your site). Each of these will give you a good picture of how your email marketing is performing. That said, some of the highest converting emails have the lowest open rates. It's a good idea to look at both the click-to-open rate and the click-to-convert rate.

Open rate
Open rate tells you how effective your subject line copy is, and to some degree how well your email compels subscribers to open your email. For sure, you can't get far with email marketing if no one opens them. But getting them to open an email is just the beginning. Open rates vary by industry, but these days anything over 20% is considered good. Over 30% is great.
On the other hand, click-to-open rate is the percentage of email recipients who opened an email and then clicked through the email via a link. This gives you a better gauge of how the email design and messaging resonated with your audience since these clicks are only from subscribers who opened your email. A good click-to-open rate is 20%- 30%.

Click-through rate
Once a reader opens your email, you want them to take some sort of action. It's the job of your copy, design, and CTAs to move your leads to click through to your website or landing page. Your click-through rate tells you how effective those elements of your email are. A healthy click-through rate is about 2.5%, but can vary depending on the industry.

Conversion rate
At the end of the day, you want readers to either make a sale or further engage with your content. Those who take the action are considered a conversion. For example, maybe you want to offer a newly published ebook to a segment of your list. Those who download it would be considered a conversion. An average conversion rate is about 2%-3%, but you should be aiming for 10%-20%.
Testing
Testing is one of the best ways to improve your email marketing. One of the beauties of email marketing platforms is how easy they make it to experiment. By setting up split or A/B testing, you can send variations of your emails to a small portion of your list to see which version performs best. The idea is to test just one variable per experiment. Elements to test might be subject lines, images, copy, or CTAs.
Test your content
Email is one of the best ways to test your content. Not sure if that article you just published will resonate with your audience? Your email subscribers will let you know
Begin your own audit
Drive business and start being heard. Email is still the most reliable and effective place to promote your content, brand, products, and services. Download our Email Marketing Audit Checklist below to get started! Still have questions? Our digital marketing experts are here to help. Let's talk!

Stay tuned!
This is part of our complete guide to conducting digital marketing audits. Read some of our other blog posts that detail how to perform digital marketing audits on these key marketing channels:
Be sure to download our Email Marketing Audit Checklist and share it with others!