Whether you're at a new job or taking over for another agency, inheriting a paid search account can be like digging through someone's kitchen cabinets. There's a method to the madness, but it requires opening 5 drawers to find the spoon you're looking for. The best way to overcome this hurdle is to perform a detailed SEM audit. For other types of digital audits, check out "A complete guide to conducting digital marketing audits."
Your SEM audit should attempt to answer the two most common questions in paid media.
How do I know if it's working?

Am I spending too much or too little?
Define conversions
What actions do you want users to take? How do you credit those actions back to the ad dollars of your campaigns? The answers to these questions will help you determine if your current strategy is working.
To start, you should define conversion actions. You can set up your conversions in Google Ads, though we recommend treading lightly with this feature. It's easy to bog down your account with conversion actions that aren't directly impacting your end goals. Remember, if you're tracking conversions, then Google's algorithm is optimizing for them.
Focus on the primary actions you want your ad dollars to impact, whether that's lead form fills, phone calls, or ecommerce sales. Consider using Google Tag Manager (GTM) as an alternate means of event tracking to attribute secondary conversions to your campaigns. For example, use phone calls as a secondary conversion if your primary conversion is a lead form fill on the contact page.

Assign an attribution model
Once your conversions are defined, you'll need to assign an attribution model. Google has a set of rules-based attribution models that "follow fixed rules for assigning conversion credit regardless of the conversion type or user behavior." Imarc recently touched on this in "A complete guide to conducting digital marketing audits."
The last-click conversion model tends to be the clearest line of sight into what drove a particular conversion. For complex use cases, the data-driven model may be the most accurate. When in doubt, we recommend the linear model as it equally credits all touchpoints throughout the conversion process.

Decide on a strategy
Your budget, goals, and personal experience will influence which tactics you incorporate into your strategy. We'll jump into the specifics of each of these tactics, but a combination will be most effective. Don't be afraid to experiment with some new features as well!

Search campaigns
Search campaigns are the most common and widely-used PPC tactic. Search campaigns allow you to place ads directly in search and shopping results, targeting users based on keywords or products they're actively searching.

Display campaigns
Advertising on Google Display Network (GDN) gives you the option to reach users on websites, apps, or videos. These include banner ads on the side of many web pages. The key to success here relies on relevancy and frequency. Right person, right place, right time, right banner ad.
Smart campaigns
Smart campaigns are great for small business owners with limited time and budget. They replaced AdWords Express in 2019. Ongoing optimizations are implemented by Google's algorithm, making them great for someone with little to no Google Ad experience. Monitor accordingly and make sure Google's decisions align with your business goals.

Discovery campaigns
One of Google's more recent product announcements is the addition of discovery campaigns. This new product hangs its hat on four valuable features: machine learning, relevance, extended reach, and new visually appealing ad formats. These campaigns leverage Google's algorithm to optimize toward a specific action – whether that's more traffic, lead form fills, or direct sales. It combines images and text formats, and even has a swipeable carousel option. Discovery campaigns offer extended reach to users in Google Discover, YouTube Mobile, and Gmail.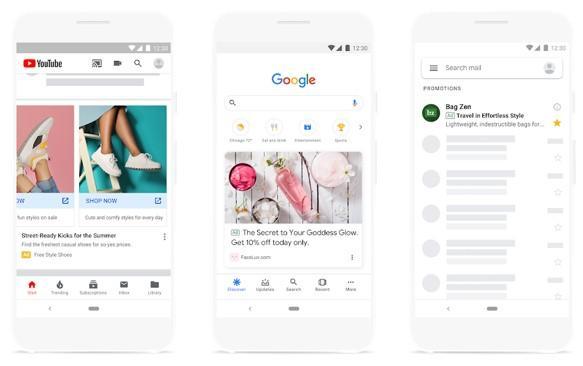 Dynamic campaigns
Dynamic Search Ads (DSAs) leverage machine learning to an extent which no other tactic mentioned above can compete with. Algorithms write the headlines, pick the landing pages, and set the bids. These campaigns replace targeting defined by humans with targeting defined by Google's AI Systems.
While the opportunity here is exciting, especially for clients in ecommerce, it needs to be closely monitored for success. To ensure a clear line of sight into performance, separate DSAs into their own campaign, add exclusions and negative placements as often as possible, and use ad groups to serve different ad messaging.
Structure your campaign
Take a look at how your campaigns and ad groups are set up. Are there consistent naming conventions? Are they labeled explicitly based on their tactic, target, and audience? Are the names intuitive to others inside or outside your organization?
Campaigns should encompass larger marketing initiatives, using ad groups to separate the performance of different geographies, device types, or keywords/ads. When it comes to keywords, ensure there are no more than 10-20 keywords per ad group. Wordstream provides a brilliant guide to Google Ad structure here.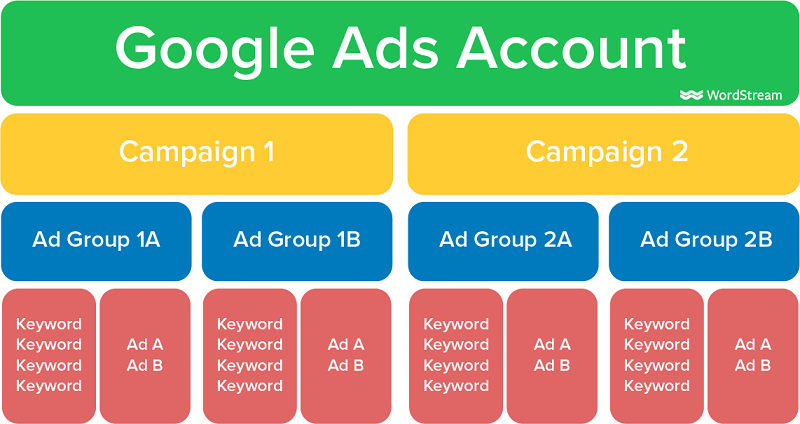 Determine your budget

Determining your initial Google Ad budget shouldn't feel like a shot in the dark. While oversimplified, a PPC budget calculator can be a good place to start. Here are a few important things to consider when planning your budget:
Current marketing efforts
Use your other marketing spends to inform decisions for your PPC budget. If you're spending $50K/year on Facebook Advertising, $5K/year on Google Ads will not set this channel up for success.
Competition
Review competitor strategies, bids, budgets, etc. SEMRush provides direct insights into your competitors' budgets and keywords.
Estimated cost-per-click (CPC)
Pair your industry knowledge with your competitors' keywords to identify a general keyword list. Use Google Keyword Planner or another similar tool to establish a benchmark CPC.
Understanding key performance indicators (KPI)
The cost of your campaign KPIs can vary significantly. For example, the cost of a completed video view is drastically different from the cost of a form fill. Ensure your KPIs align with your end goals & factor in the cost of each conversion.
The cost of your product
In the case of a Target cost-per-action (CPA), which we'll touch on momentarily, we suggest working backward from the cost of your product. Example: If your hotel costs $350/night, with an overhead of $200/night and profit margin of $50/night, then your Target CPA can't exceed $50-$100.
Test bid strategies
When it comes to bid strategies, there is no right or wrong answer. Which strategy you use depends on many factors, specific to your campaign & business goals. The best advice we can provide is to constantly test bid strategies in unique scenarios for your business.
Google Bid Strategies
Manual CPC
Manual CPC bidding allows users to define individual bids for each keyword. Typically, this is the best place to start for users with little previous experience with Google Ads.
Enhanced CPC
Similar in many ways to manual CPC bidding, enhanced CPC bidding allows users to manually set bids on each keyword but gives Google's algorithm freedom to increase or decrease a bid based on the likelihood of a conversion.
Maximize conversions & maximize conversion value
This tactic is what Google describes as a fully-automated bidding strategy. This bidding strategy is designed to achieve as many conversions as possible while always spending your daily budget. We recommend this strategy to scale a new campaign, but make sure to monitor efficiency metrics like cost-per-click and cost-per-conversion closely.

Maximize clicks
Very similar to the maximize conversions tactic, maximize clicks focuses on clicks instead of conversions. This strategy is great for a volume play to build remarketing lists or announce a website launch, but you need to monitor average cost-per-clicks closely. Google will attempt to spend your daily budget, regardless of whether those clicks cost $1 per or $10 per.
Target impression share
With this bidding strategy, advertisers define what percentage of search results they want their ad to show. This is popular to protect branded search terms from competitors or to take ownership of an extremely successful keyword. Utilize a maximum CPC to keep your campaign efficiency and CPAs in check.
Target search page location
When implemented correctly, this bidding strategy can make competing on difficult keywords successful. This bid strategy allows you to control where you want your ad to show on the search engine results (SERP) page, and we know SERP page location has a drastic impact on your click-through-rate (CTR). Unlike other bid strategies, this does not focus on performance metrics of the account.
Target outranking share
Target outranking share is used to outbid a specific domain, most likely your top competitor. Similar to target search page location, advertisers define what percentage of auctions they want to outrank a specific domain. We've seen this tactic used to protect brand keywords from competitors trying to steal market share. The hotel industry uses this tactic to protect high-priority keywords from Online Travel Agencies (OTAs), such as Expedia.
Cost per thousand viewed impressions (CPM)
CPM is a display-only bid strategy which allows advertisers to pay specifically for ad impressions as opposed to ad clicks. We've seen this used to promote brand awareness with a simple goal of getting ad views. Make sure to monitor frequency closely, and ensure placements are relevant for your audience.
Target return on ad spend (ROAS) & Target CPA
Google recently announced that Target ROAS & Target CPA will be reorganized to live as options within Maximize conversions & Maximize conversion value.
While Target CPA is evolving, it's still an extremely powerful strategy. It's another fully-automated tactic with no keyword bidding, but allows advertisers to define the maximum amount they're willing to pay per conversion. Google's algorithm will seek conversions within that ballpark, in some cases slightly above or below your Target CPA.
Use the quality score tool
Get a sense of how well your ad quality compares to other advertisers with the quality score diagnostic tool by Google. The score is calculated on a scale of 1-10 based on three different factors:
Expected CTR: The likelihood that your ad will be clicked when shown.

Ad relevance: How closely your ad matches the intent behind a user's search.

Landing page experience: How relevant and useful your landing page is to people who click your ad.

Your quality score impacts your ad rankings and eligibility, but Google actually incentivizes advertisers with a discount for achieving above-average quality scores. In some cases, this discount can be up to 50%!
On the other hand, Google penalizes advertisers for serving ads with low-quality scores. In extreme instances, you can pay up to 400% of the average cost per keyword. You should regularly evaluate and purge ads with low quality scores.
Review your paid ads performance
Once you've got some data under your belt, it's time to take a look at what is working well and what needs improvement. Typically, we start this process at a campaign level, then rinse & repeat for ad groups, keywords, and ads. Download the PPC performance checklist below to help get you started.
Stay tuned!
This is part of our complete guide to conducting digital marketing audits. Read some of our other blog posts that detail how to perform digital marketing audits on these key marketing channels:

Be sure to take a look at our SEM Audit Checklist and share it with others!