For the last few years, the folks at Pixel & Tonic have hosted a development conference around their increasingly popular Craft CMS. Attendees include web professionals, industry leaders, and an ever-growing number of worldwide Craft developers. This year, three Imarc engineers attended Dot All 2019. Read on for their insights into the latest industry news:

But first. . . Craft 4 and Craft Cloud Announcement!
Craft 4 has been announced for launch in 2020! Our clients have been rolling out on Craft 3 this year, but don't panic about a migration just yet – Craft 4 focuses on UI improvements, accessibility, and Author Experience (AX). As of now, there are far fewer infrastructure changes than we saw between Craft 2 and Craft 3, meaning migrations should be relatively minor. Our team will provide updates as we learn more.

New features we're excited about include:
Improved Admin Panel Interfaces
Improved Admin Panel Accessibility
Conditional Fields
Nestable Matrix Fields (without a plugin)
Additionally, Brandon Kelly announced the development of Craft Cloud, described as a "Headless Craft as a Service" platform. Craft Cloud will be a hosting platform focused on using Craft CMS as an API endpoint rather than as a template-generating CMS. Craft will always be available for "standard" set-ups and hosting, but the new service will provide more opportunities for web applications and cross-device development in particular. Craft Cloud doesn't have a launch date yet, but is expected in 2020.

Read the full press release here: Craft 4 and Craft Cloud Announced at Dot All 2019.
What did the Imarc Engineers think about it all?

Attending Dot All was such a great experience. It was incredible seeing and meeting the vast community of people across the world who use Craft. I'm not exaggerating when I say across the world – there were attendees who traveled all the way from Australia, India, England, France, and more. It was wonderful watching the community come together to learn and share our knowledge with each other about all things Craft.
One thing was very clear, based on the cheering in the room: we're all very excited about the improvements that are coming with Craft 4. With the changes we saw from Craft 2 to Craft 3, and the features mentioned for Craft 4, Pixel & Tonic have shown their commitment to improving the Craft experience for everyone from developers to authors.
Multiple presentations at Dot All discussed the ever-expanding roles of both backend and frontend developers. It's clear that we all have to continue learning new technologies to keep up, especially with the recent focus on Javascript-based site builds.
While it may seem like a daunting task to learn so many new things, Andrew Welch made a great point during his presentation when he said, "Don't get caught up on the syntax and the details, just play with it and it will come. What makes you a good developer is that you're a critical thinker, a problem solver."
I'm excited to expand my skillset and open up so many new opportunities for our clients with these new frameworks.
Kerri's Favorite Sessions:

Imarc boarded the "Craft train" a while ago. Back in 2016, my colleague Shawna wrote this blog about why we liked Craft 2. Craft 3 got even better. It gave us substantial performance improvements and introduced some new developer-friendly features such as support for GraphQL queries and Unit & Functional testing. GraphQL and Headless CMS may have been the talk of Dot All 2019, but what excited me most was learning about the changes coming next year with Craft 4. The next version of Craft will have a focus on creating a better Author Experience (AX), which is huge.
Craft 4 will support AX with improvements in collaboration. For example, it will provide notifications when multiple authors are trying to edit the same content, and support merging content for changes made by multiple authors. Users will appreciate full keyboard support and a dark mode to reduce eye strain, while a high-contrast view may help visually-impaired users. The control panel will get additional upgrades to improve the experience for users on the go, including mobile drag & drop and improved responsive table views.
On the engineering side, Craft 4 will give us even more flexibility to set up Control Panel pages for easy content management. In addition to the current Table and Tree views, Craft 4 will add Gallery, Calendar, and Board layouts. We'll have more power to define how those views filter and sort content. Best of all, the changes to the way Craft 4 manages fields will give us more flexibility to make complex site layouts using simpler, cleaner administration page forms. Clearly, the future is bright (or dark, or high contrast) for content administrators.
Bill's Favorite Sessions:

Dot All was an incredible two days of deep dives into the development universe. Overall, I'm really proud of the collaborative and experience-driven community surrounding the Craft CMS platform, and the dedication we all have to making this CMS the best experience possible for developers, content authors, and designers alike. I'm really happy to see that Craft 4 addresses Author Experience (AX) – it's an aspect of site creation that's too often neglected.

As a developer, it's clear that my skills and role in site-building is evolving beyond just backend and frontend tasks. I'm excited to see where frameworks like Vue and React take us, and how the emergence of screenless devices and complex web applications will continue to impact our industry beyond the Headless solutions already on the market.
My word of caution, as mentioned by some speakers, is to remember there is "One Web for All." This means we as developers must focus on accessibility, performance, and experience on a global scale and across a wide range of devices. Whether that's building and designing for screen readers, 3G mobile networks in Nigeria, or screenless voice assistants - it's all part of that one web.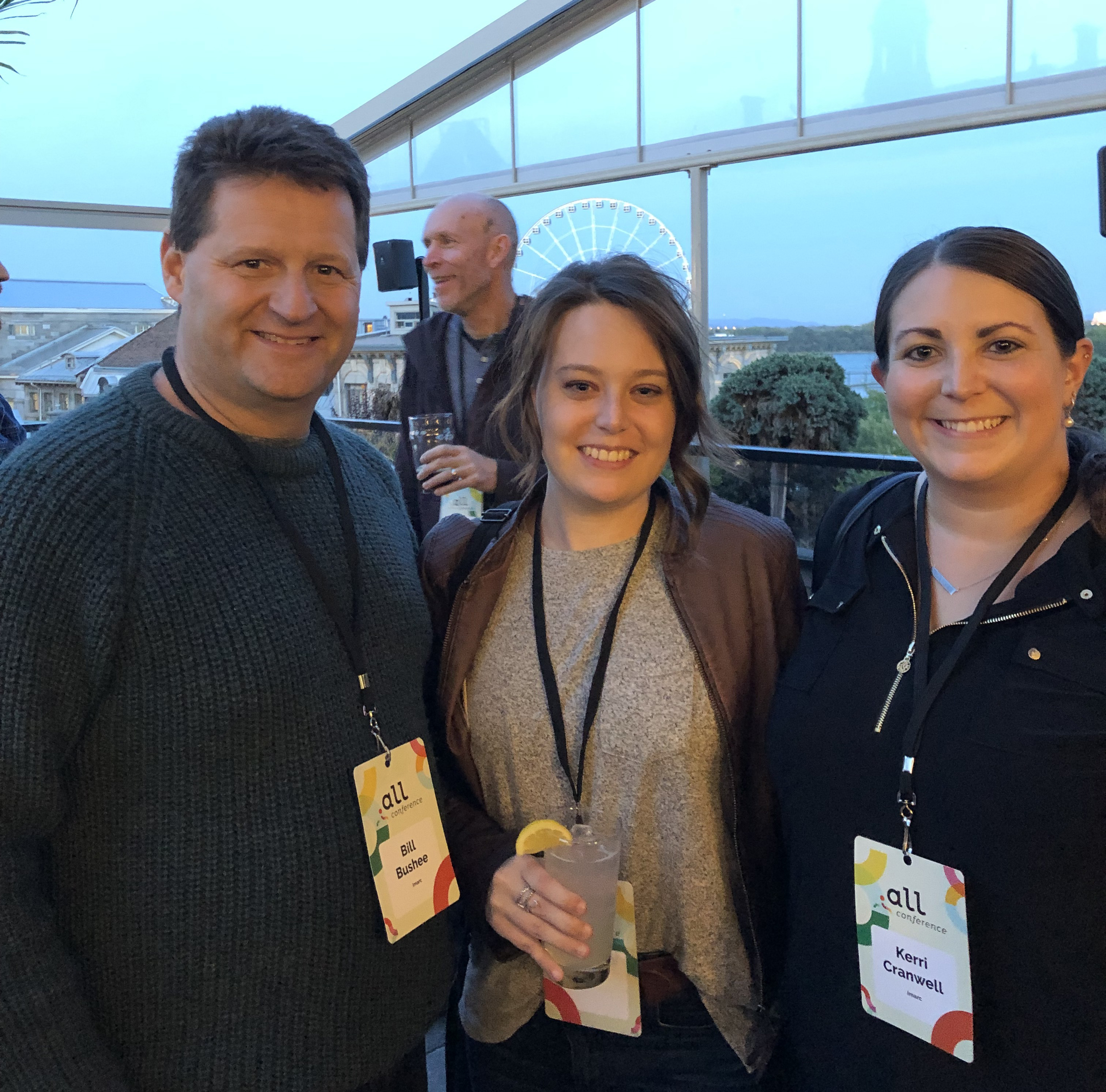 All in, the dotAll conference was a huge success! To learn more about some of our takeaways check out the presentation that we put together to share with our team of developers back at HQ!