---
The Project
Beacon Hill Staffing Group offers a complete suite of integrated staffing and talent solutions to clients across numerous industries. With extensive staffing expertise, Beacon Hill delivers custom solutions to each of its clients. Imarc recently redesigned Beacon Hill's website to elevate its position in the industry, engage key audiences, and improve content management efficiency.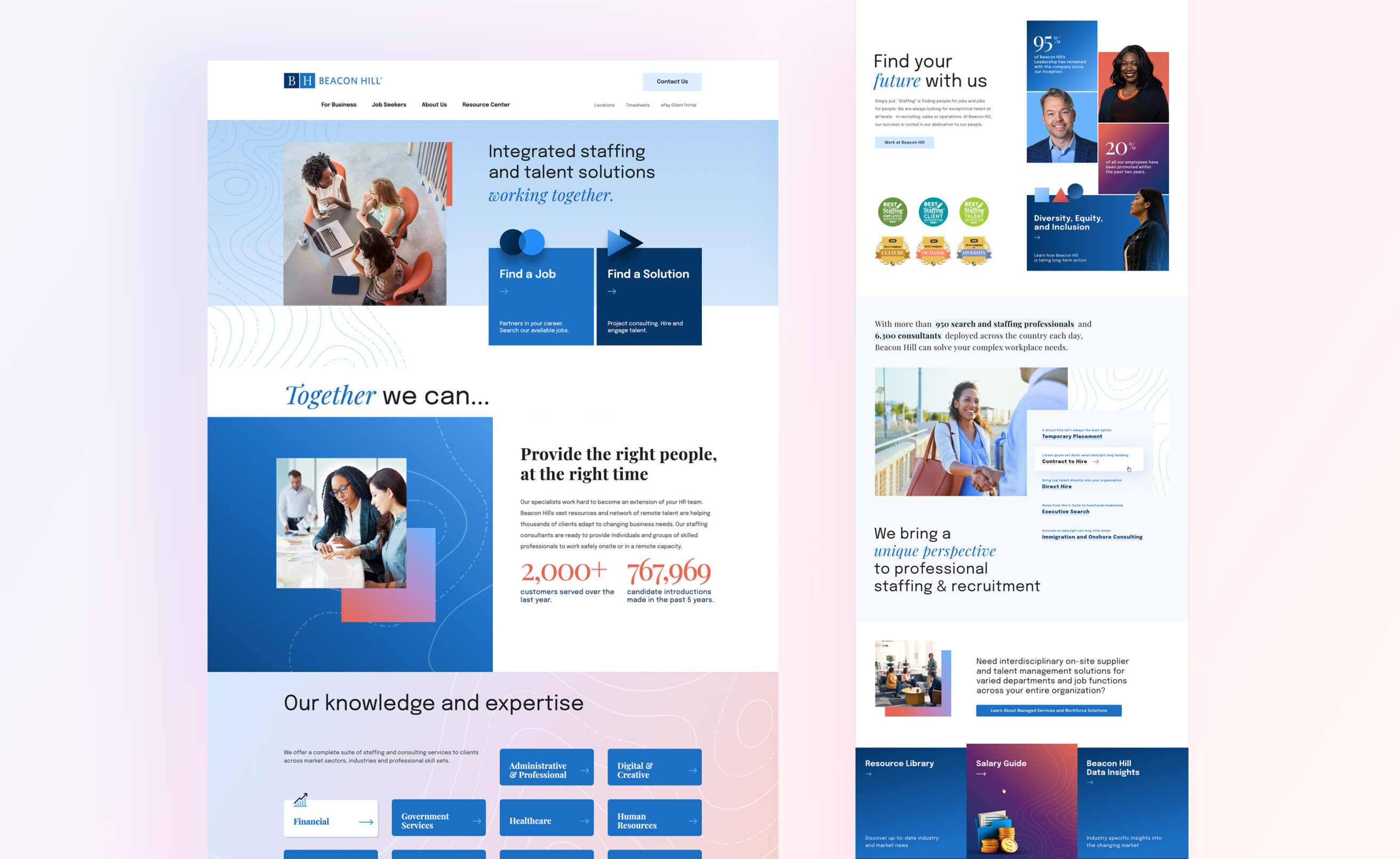 Our new website is delivering more traffic and better candidates. Following launch, we saw website traffic and job applications approximately double. We could not be happier with the work that Imarc did, and the numbers show it. Chris Wilcock, Senior Marketing Analyst

---
Strategy and Planning
Developing the strategic plan
Imarc kicked off the project with strategy and discovery. The Imarc team worked with Beacon Hill to identify the optimal functionality, content, and user journeys for the site. Extensive upfront discovery allowed the team to establish goals and create a plan tailored to Beacon Hill's needs. In particular, Imarc built wireframes of key pages, facilitated stakeholder interviews, and defined the job seeker workflow.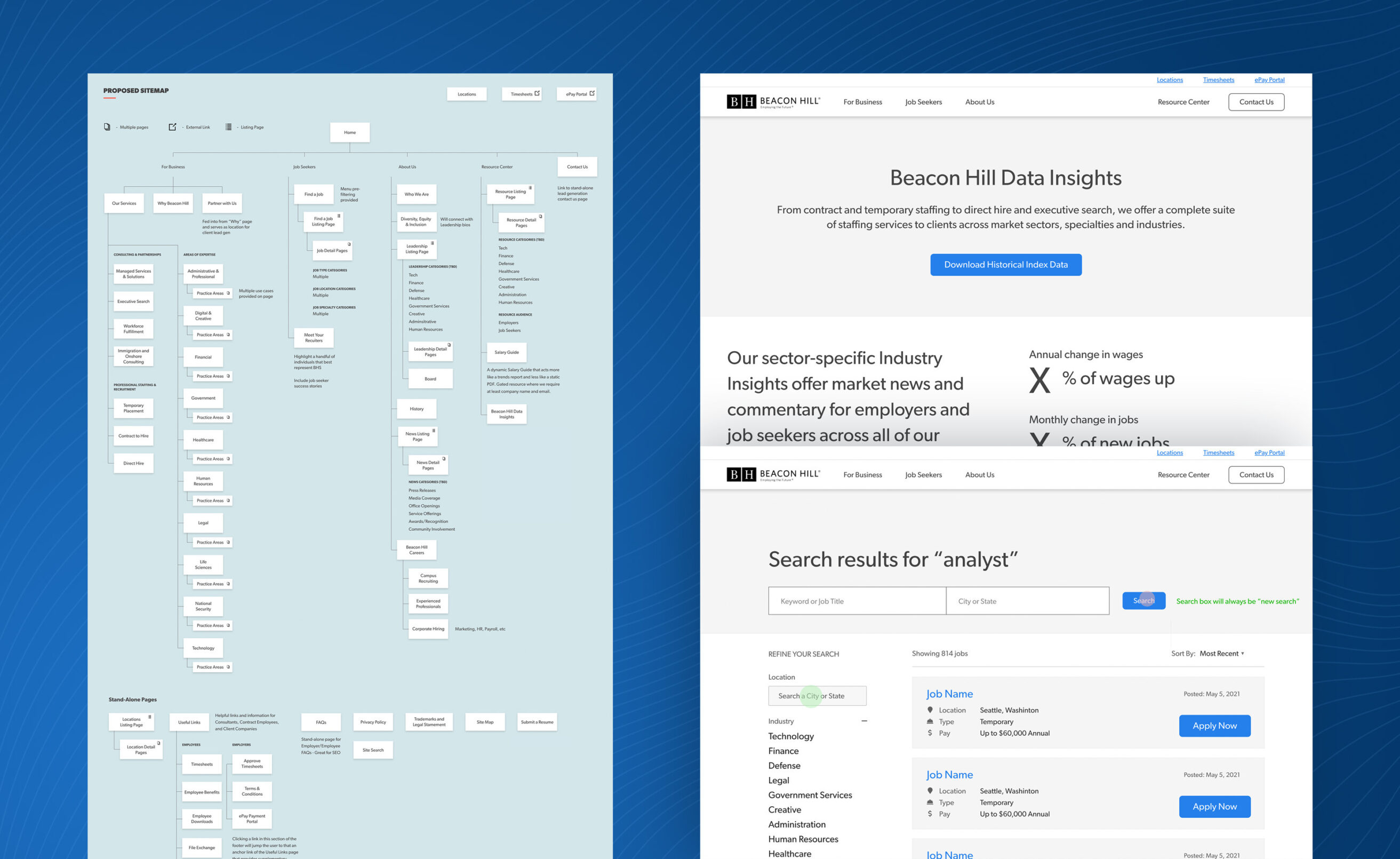 ---
Digital Marketing
Elevating Beacon Hill
To build excitement around the new website, Imarc created a website launch social media campaign. Imarc also worked with Beacon Hill to optimize its digital marketing landscape. This began with an audit to identify areas that needed optimization. Imarc provided guidance around strategic goals and restructured Beacon Hill's pay-per-click (PPC) framework to increase ROI. Imarc's team worked to enhance Beacon Hill's customer relationship management (CRM) tool, HubSpot, to support lead nurturing and marketing automation.
---
User Experience
Optimizing user journeys
Imarc's mission for Beacon Hill was to create the ideal user experience. The User Experience team developed personas that align with Beacon Hill's target audiences and outlined distinct user journeys. Particular personas consisted of job seekers, employers, and recruiters looking to join the Beacon Hill team. Additionally, the site is optimized for all platforms, including mobile, and features micro-animations throughout the site.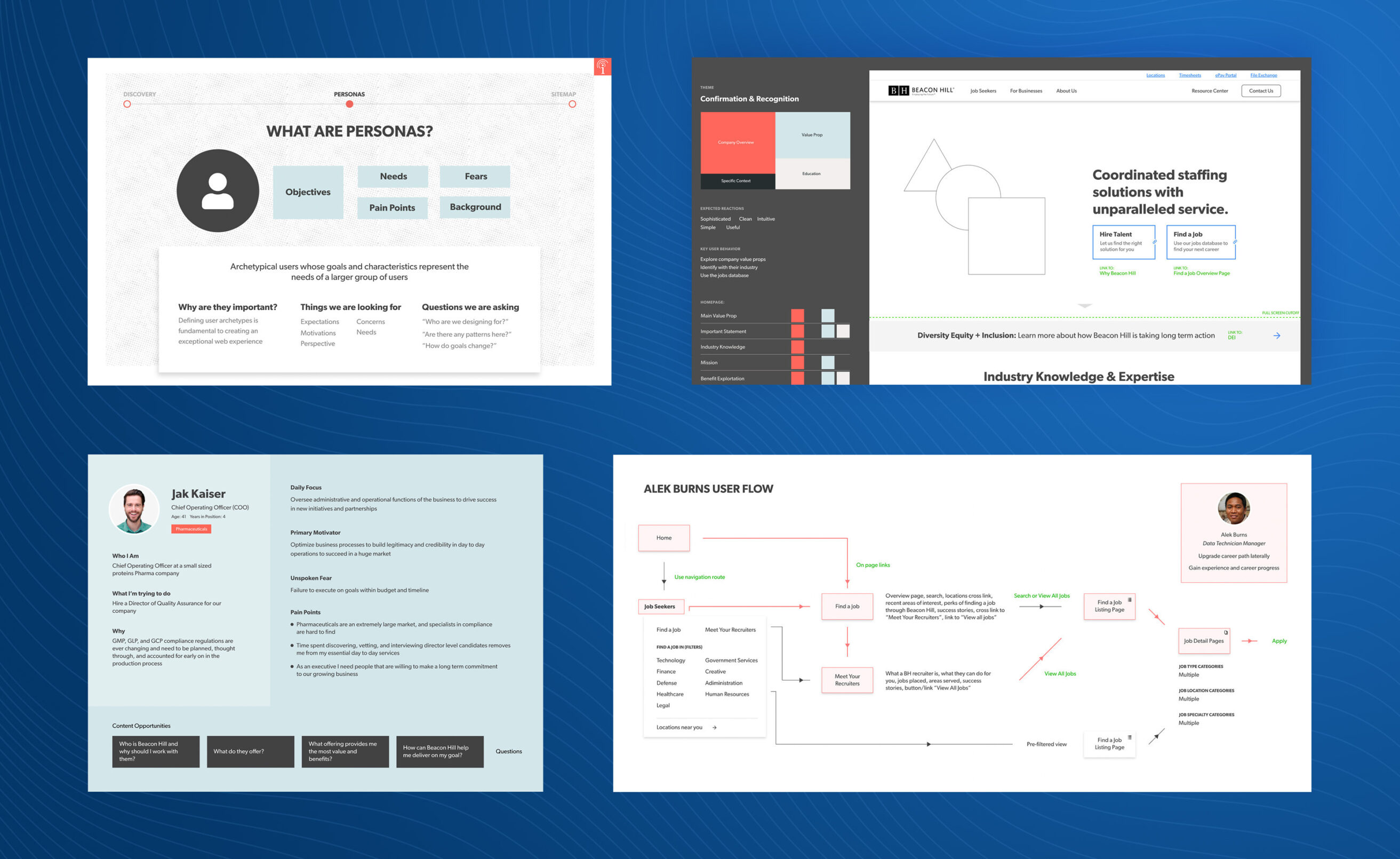 ---
Creative
Custom content and imagery
Imarc's creative team developed a content delivery plan and focused on aligning content with Beacon Hill's target personas. Moreover, the team edited copy on key pages of the site to drive lead generation and direct users through the conversion funnel. Imarc sourced icons to align with each of Beacon Hill's divisions and ensured that the imagery tone matched Beacon Hill's brand guidelines. Custom graphics and assets were created to transform the overall look and feel of the site.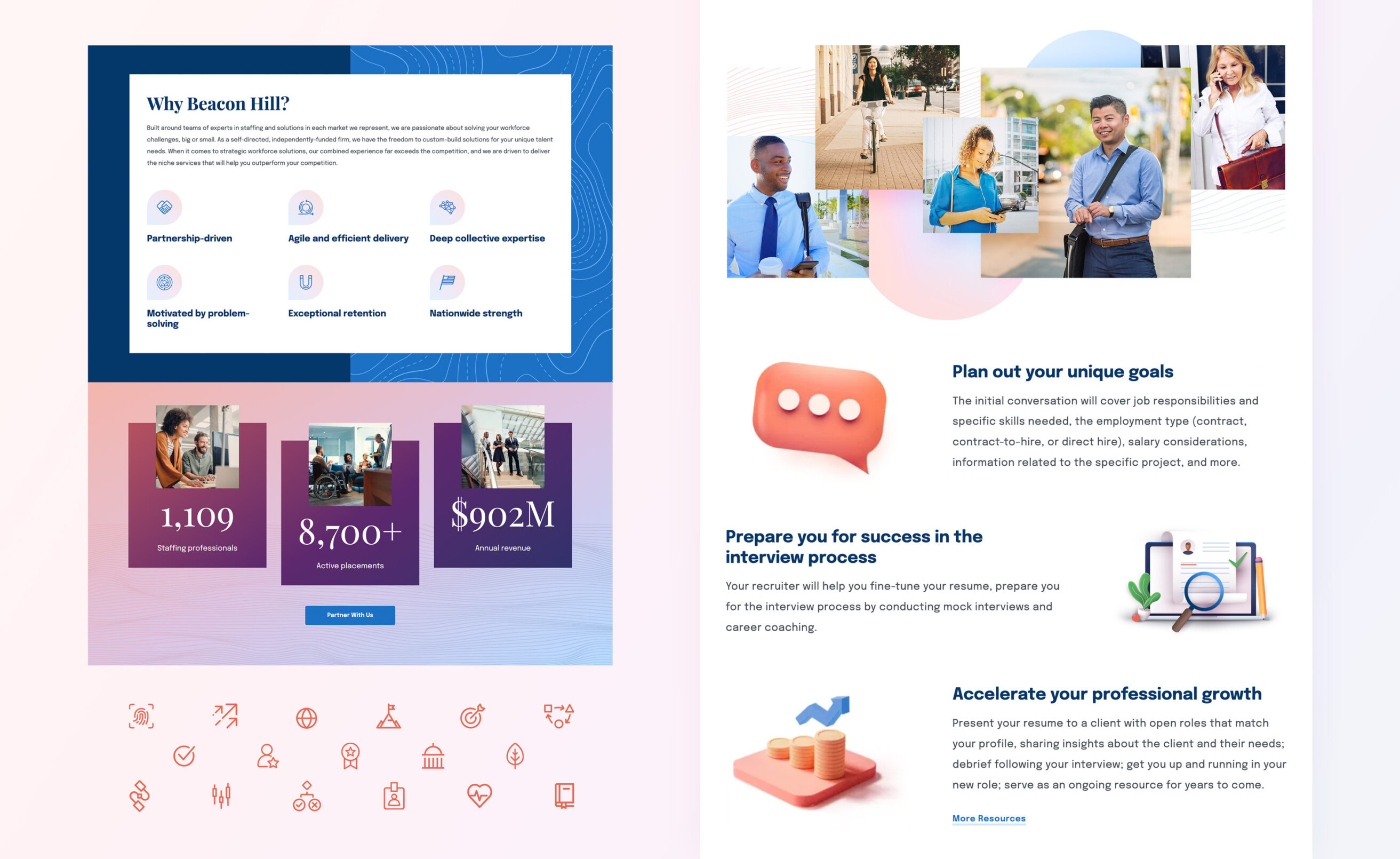 ---
Development
Building the site on the Craft CMS
Beacon Hill's new site is built on the latest version of Craft. During development, Imarc's engineers leveraged SEOmatic to help identify broken links and quickly add redirects. The plug-in allows Beacon Hill's team to easily add meta descriptions and images, which will position them to rank higher on search engine results pages. Imarc's developers also integrated with HubSpot and Google Analytics.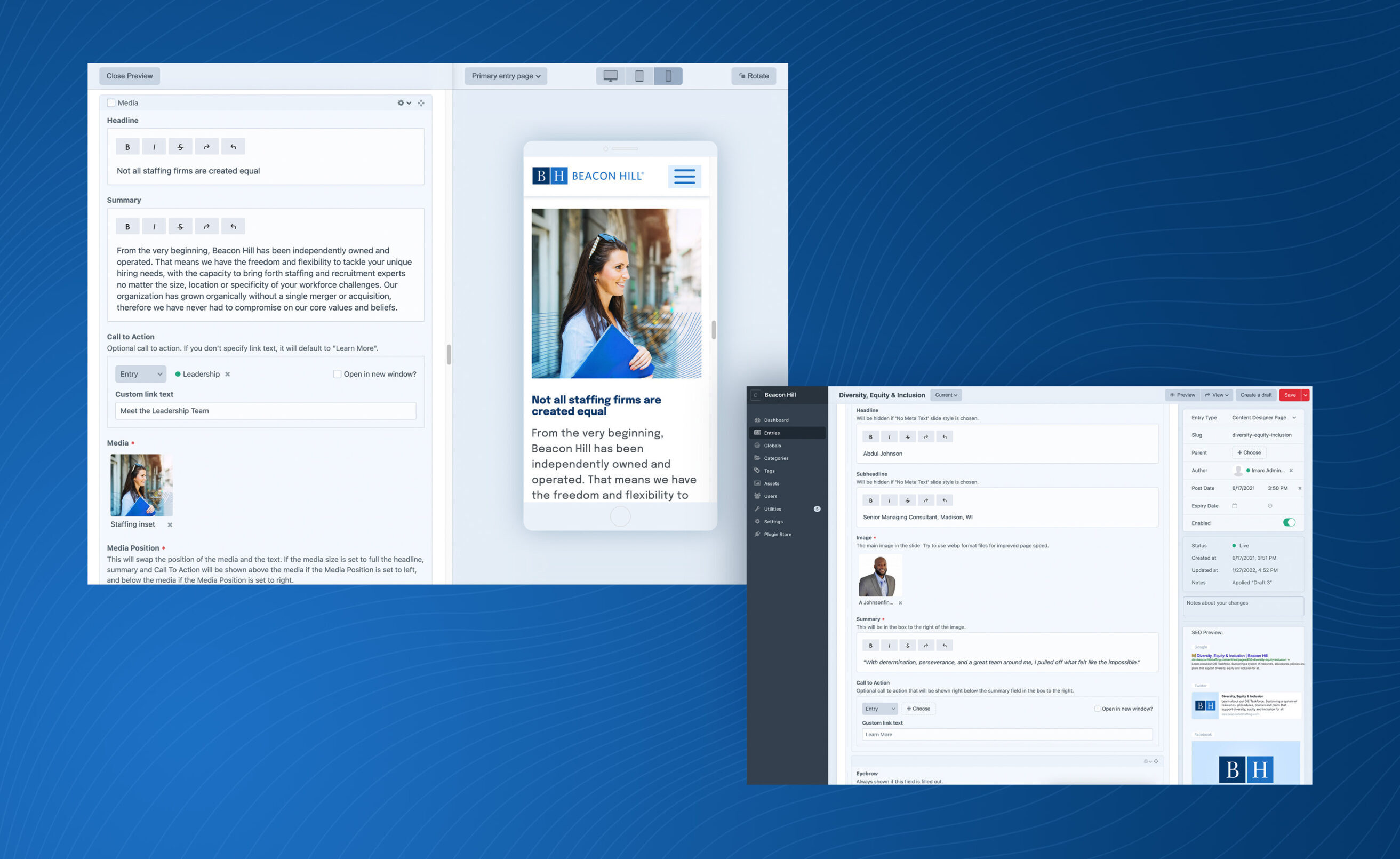 ---
Our shared vision
Imarc and Beacon Hill worked together to design a robust, modern site that reinforces Beacon Hill's brand and position in the staffing industry. Compelling visuals and strong calls-to-action make the site a powerful lead generation platform that is tightly aligned with Beacon Hill's target audiences. Imarc looks forward to continuing to support Beacon Hill's digital initiatives and serving as a strategic partner.
STATEMENT OF WORK INCLUDED
Strategy & research

Stakeholder interviews
Research
Project planning
Analytics
Experience strategy
User journeys
Information design
User experience

Sitemaps
Wireframes
Responsive design
UI kits & pattern libraries
UX writing
Content strategy
Prototyping
Interaction design
Front-end development
Creative

Visual design
Art direction
Copywriting
Illustration
Photography
Development

Content management system
Complex integration
Hosting & monitoring
Ongoing support & maintenance
API integrations
Digital marketing

​Search engine optimization
Lead generation & conversion
Social media management
Remarketing & display ads
Pay-per-click
Competitive monitoring
Web & social analytics