---
The Project
SIMCON is a leader in the simulation modeling and scheduling space. It was crucial to express the complexity and excellence of their services in a way that users could understand.
Throughout the project, Imarc's team focused on aligning SIMCON's new brand and online presence with its strategy and offerings. Imarc also designed an information architecture and overall user experience that highlights valuable content for each user's journey. All of this was done in a way that demonstrates SIMCON's credibility as a leader in its space.
Working with Imarc was a great experience from start to finish. They went above and beyond what we asked. We are a very specialized technical consulting firm, and Imarc took the time to get to know us, our clients, and our business. We felt the Imarc team cared about us and our business as more than just a client, but as a partner. I give Imarc my strongest recommendation, and I am sure we will be working with them again in the near future. Jeremy Tejada, Founder and President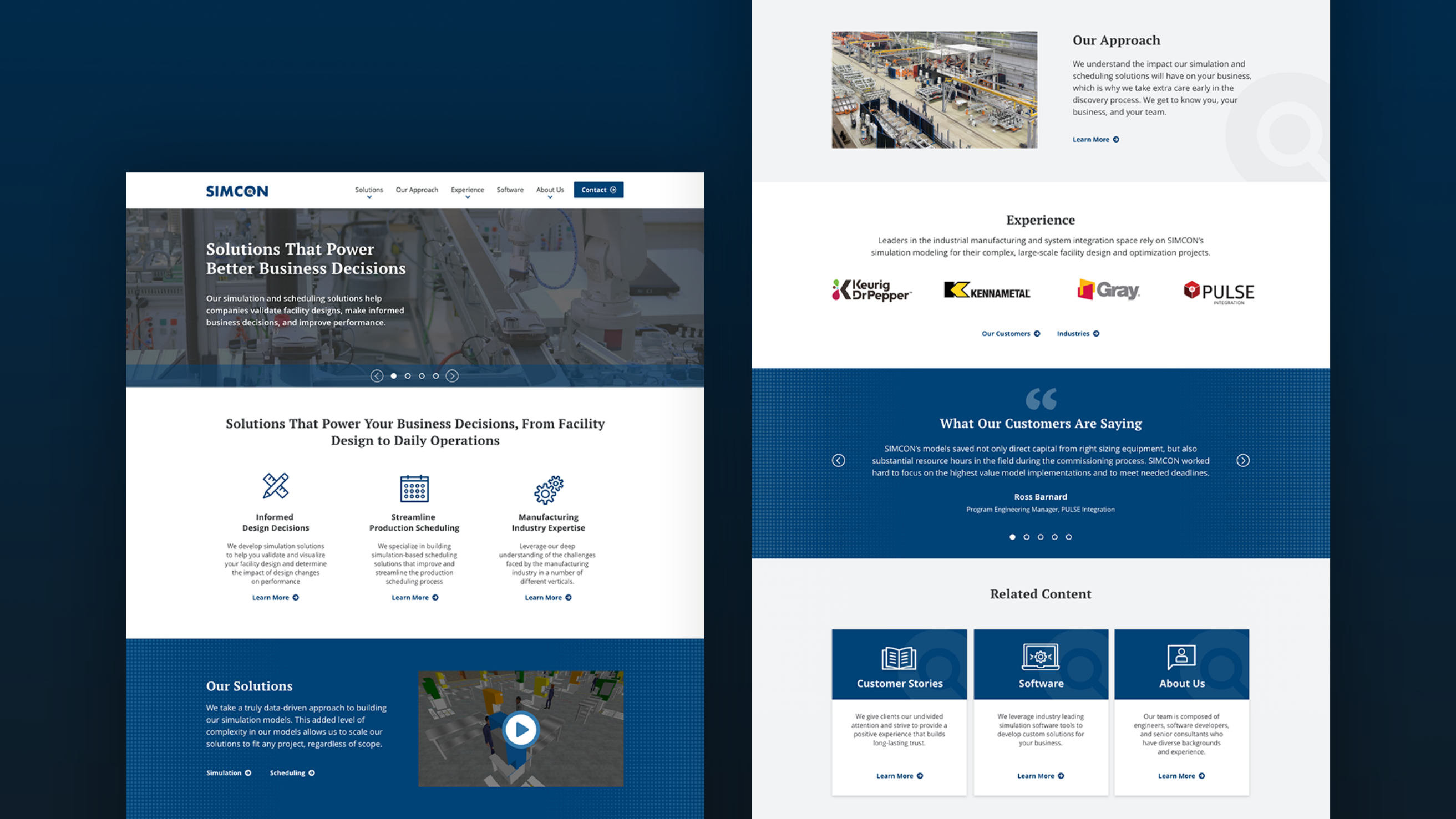 ---
Strategy and Planning
Understanding the process
The discovery phase began with a kickoff meeting between SIMCON stakeholders and the Imarc team. SIMCON's team walked through their simulation and scheduling processes, helping Imarc establish baseline information. Imarc then conducted eight stakeholder interviews that touched on all aspects of the business. This helped the team develop more substantial personas for key audiences including Industrial Engineers, System Integrators, and Schedulers. The team then determined what messaging would resonate with various audiences, and used it to develop a content strategy.
Imarc reviewed competitors and their business models, clients, services, and website designs. Many of the stakeholder interview participants were able to speak to the company's main differentiators, which helped Imarc uncover many competitive advantages.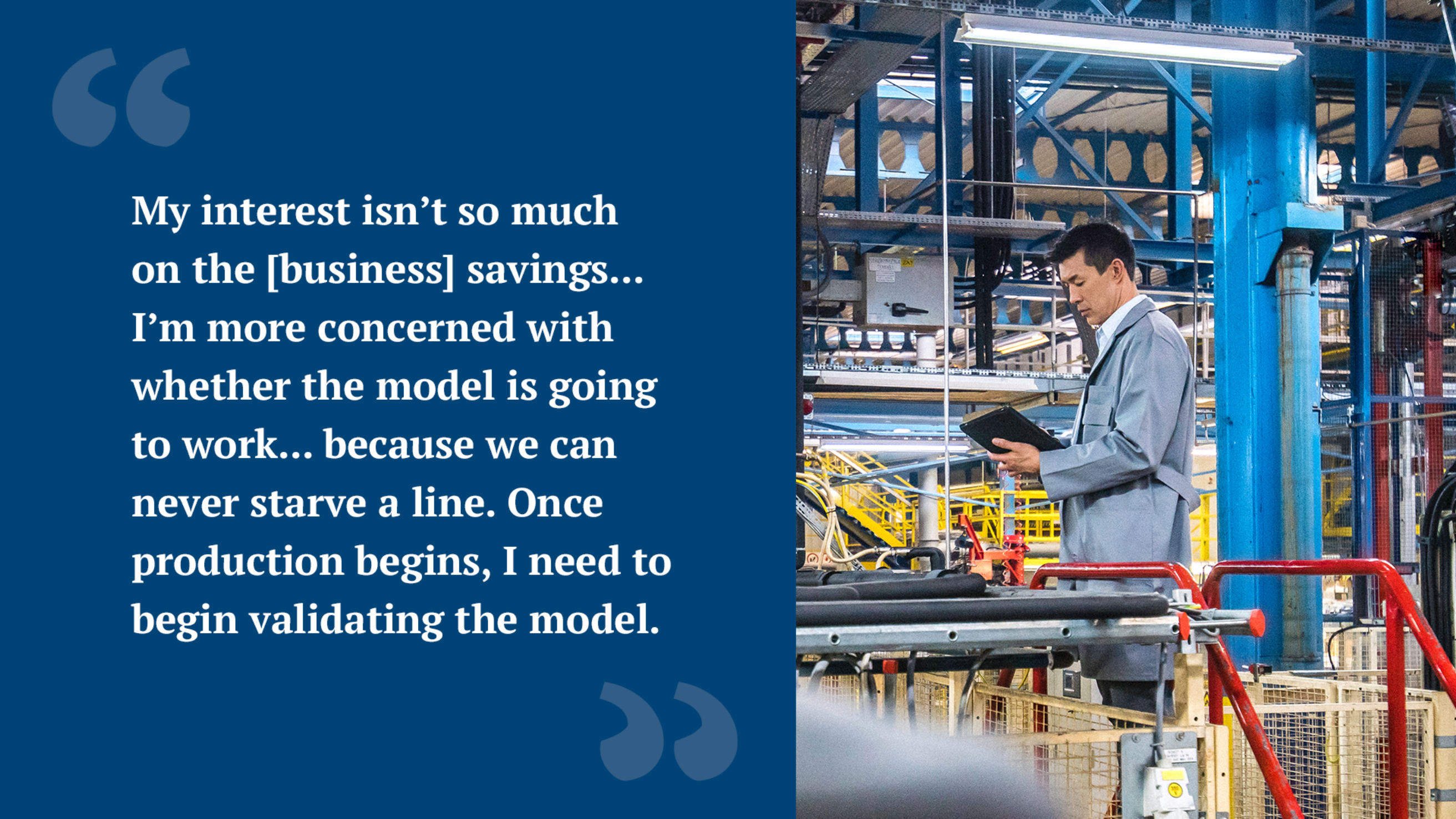 ---
User Experience
Speaking to industry experts
The redesigned user experience takes into account the key audiences and provides them with relevant content and pages including Solutions, Our Approach, and Experience.
Solutions: Under the Solutions page there is a Simulation page and a Scheduling page. The Simulation page speaks to the Industrial Engineers and Systems Integrators and references their top priorities. The Scheduling page speaks directly to the scheduling audience and highlights the ease of use and product capabilities.
Our Approach: Our Approach page is dedicated to highlighting the care and attention to detail SIMCON put into each project.
Experience: The Experience page highlights SIMCON's extensive manufacturing-related industry experience and expertise with a focus on digital transformation. The page includes content to empower all of the audiences to inform their own stakeholders of SIMCON.
Throughout the site, testimonials highlight how SIMCON's process separates them from the cookie-cutter approach taken by their competitors.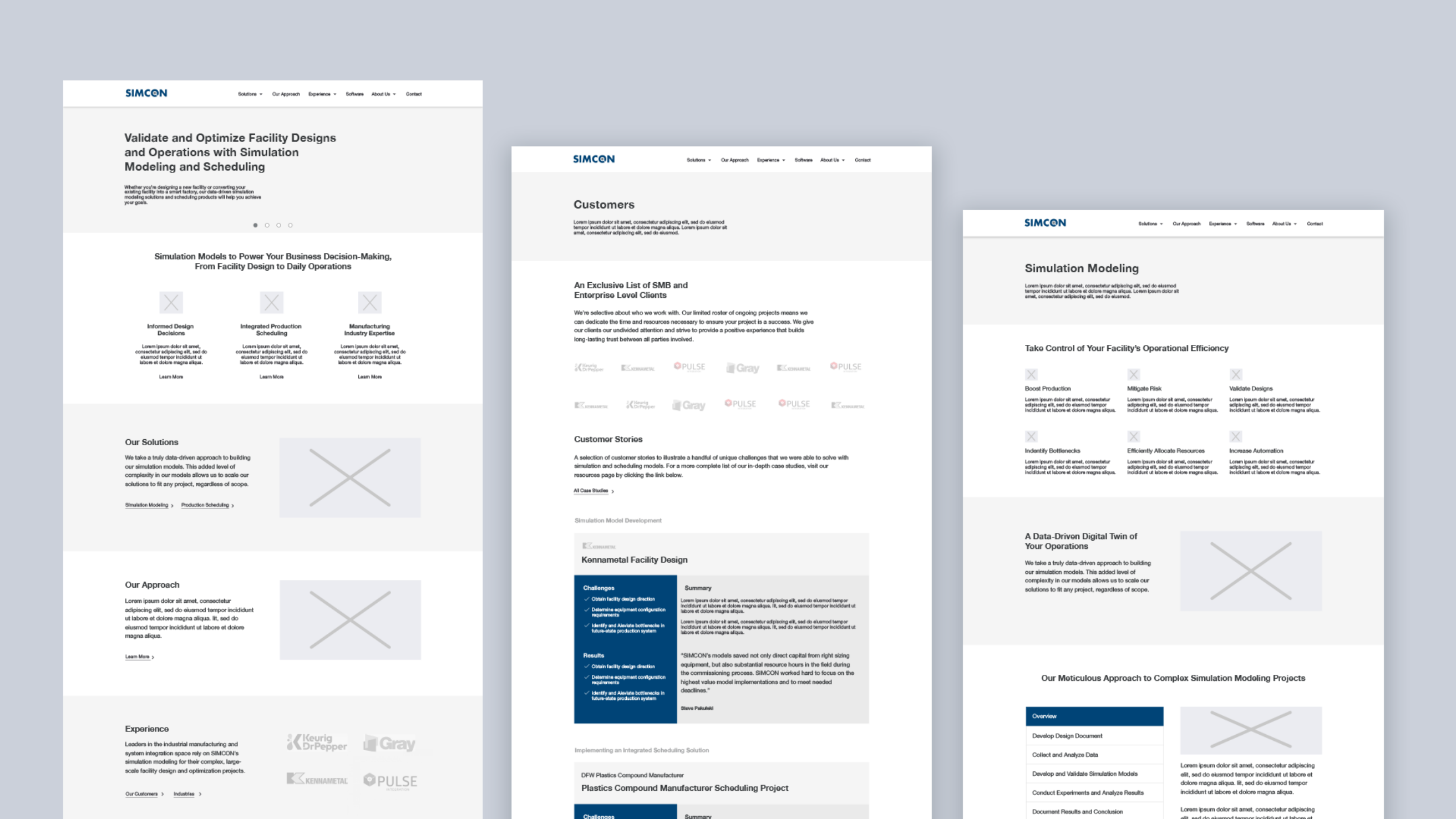 ---
Creative
Redesigning the brand
Imarc's Creative Team designed the new SIMCON logo with finesse and modern eyes. The new logo reimagines the original aesthetic of the magnifying glass and brings it to life in a fresh new way. Along with the logo, the brand colors were enhanced to align with the contemporary feel of the company.
"Creative was challenged with reimagining the magnifying glass in a modern way while keeping the familiarity of the original logo intact. The process included exploring color palettes, logo styles, and various logo marks. As a solution, the magnifying glass was harmoniously balanced in the existing wordmark that can also stand alone as a logo mark." – Arielle Tiner, Designer
To present SIMCON as a reliable and proven business partner to its target audience, the website was designed with a clean, streamlined look. It delivers SIMCON's complex product and process in a digestible way. Attention to the selection of photography used on the site also adds value to the SIMCON messaging.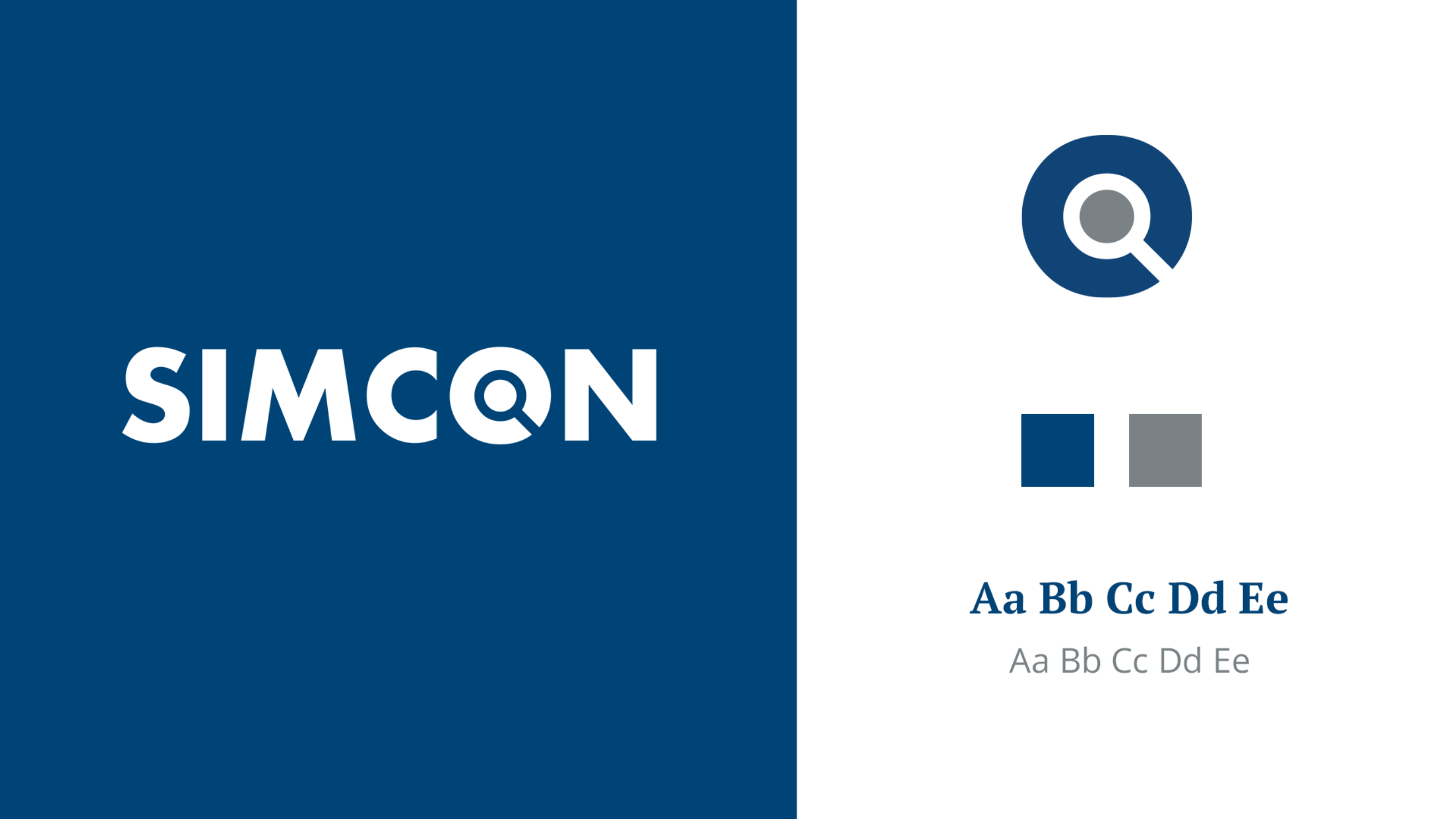 ---
Development
Choosing a framework
SIMCON's new WordPress site was built using a theme framework called Understrap, which offers a lightweight theme framework and child-theme with Bootstrap built-in.
Imarc took advantage of the new Gutenberg editing experience, giving the SIMCON team more flexibility to drag and drop content blocks into the page builder interface. It made for a much more enjoyable and intuitive experience than the standard shortcode + What You See Is What You Get (WYSIWYG) editor experience that so many WordPress users are used to.
The Imarc team exceeded my every expectation. We work in a very niche technical field, but Imarc managed to both understand what we do and bring it to life on the web. They worked tirelessly to address our every question and concern, and their efforts are reflected in every detail of the website. We are extremely satisfied with the final product and with the entire experience of working with the Imarc team. I am happy to provide them with my highest recommendation. Matthew Ballan, Application Engineer III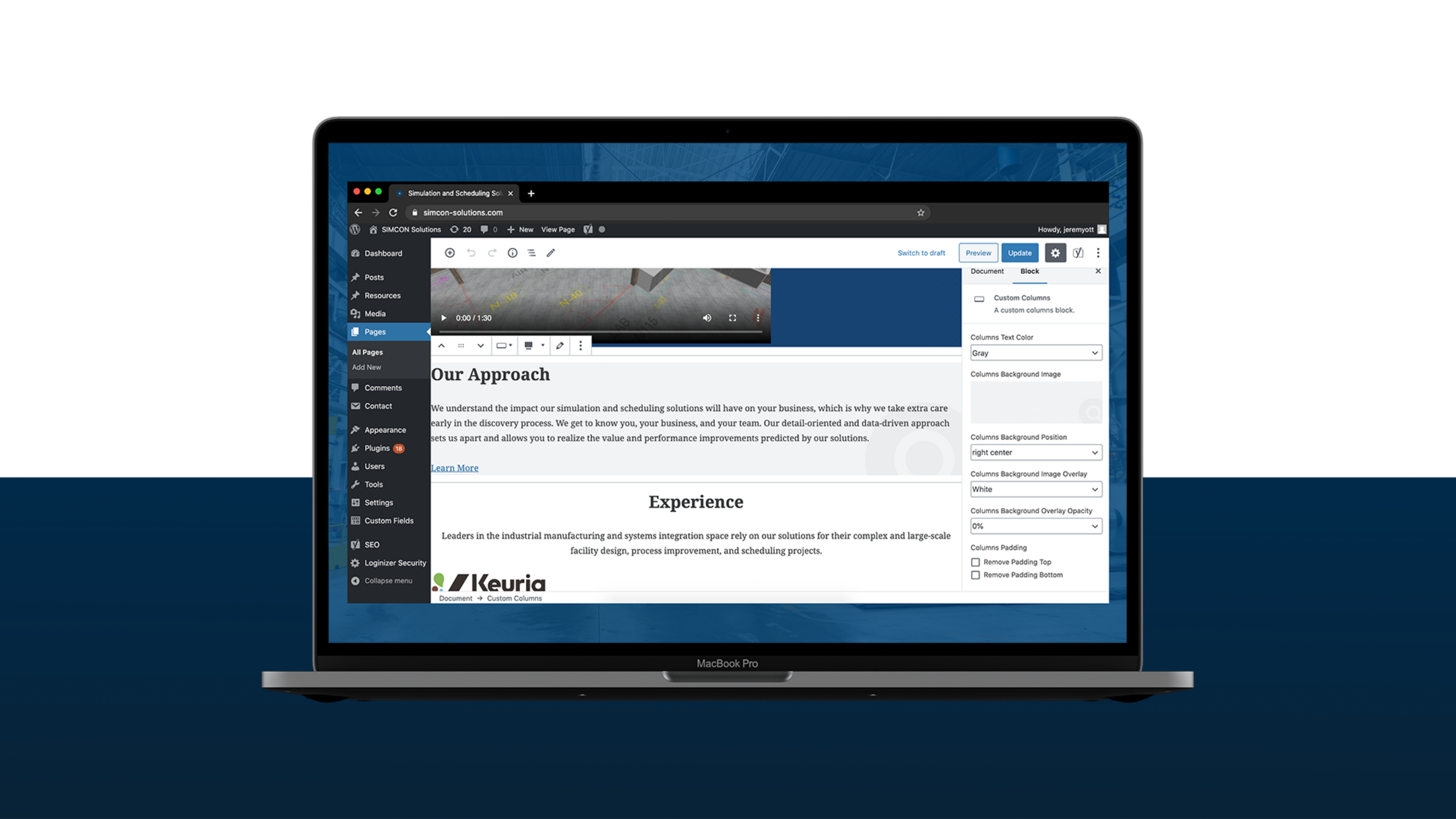 ---
Our Shared Vision
At Imarc we appreciate a good challenge. When SIMCON needed a new brand and website that reflected their complex work, the Imarc team rose to the challenge. The new website is not only contemporary and easy to understand, but it also supports SIMCON as a leader above its competitors.
STATEMENT OF WORK INCLUDED
Strategy & Research

Stakeholder Interviews
Research
User Testing
Competitive Analysis
Persona Development
User Journeys
User Experience

Sitemaps
Wireframes
Responsive Design
Content Strategy
Front-end Development
Creative

Branding
Logo Development
Style Guides
Visual Design
Art Direction
Messaging and Brand Persona
Copywriting
Development

Content Management System
Security & Testing
Ongoing Support & Maintenance