"We're honored that all of the hard work, dedication and collaboration that went into creating HelloJetBlue has been selected by the Web Marketing Association (WMA) for its WebAwards, Best Intranet Website of 2017. Working with an iconic brand like JetBlue to reimagine its intranet was an incredible opportunity for our talented team. It is our work with amazing clients like JetBlue that allows our team to go the extra mile and deliver successful results." -Nick Grant, Imarc CEO.
Here at Imarc, we're passionate about the work that we create. The opportunity that we had to work with JetBlue to reimagine its internal intranet was beyond what we could have expected.
Throughout the project our team was able to really push the digital limits of web design and development, delivering an intranet that far exceeded expectations.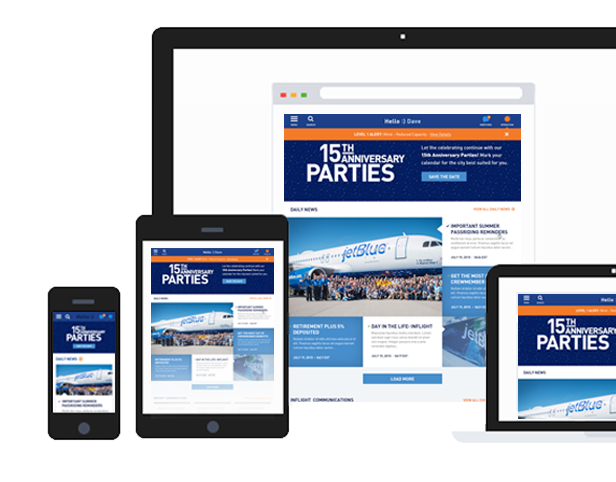 HelloJetBlue is a valuable tool designed to engage, educate and connect JetBlue's global staff or "Crewmembers" to inform them about key news and resources. This mobile optimized intranet is designed for JetBlue's remote staff and is an integral component of the organization which is designed to build a sense of community. HelloJetBlue features news, tools, alerts and resources to support the day-to-day operations of the airline. Imarc reimagined JetBlue's previous intranet, with users in mind, to craft a tool that employees would want to engage with.
The redesigned intranet incorporates the iconic brand's identity through animation, tone and even its use of puns, such as "That's Fly" when a user "likes" content featured on the site. The new HelloJetBlue gives Crewmembers a means to connect in ways that they couldn't before by communicating important company news, personal travel experiences and mentioning and sharing content with fellow Crewmembers.
The Web Marketing Association was founded in 1997 and is the standards-defining competition that sets industry benchmarks for the best websites based on the seven criteria of a successful website.
Interested in learning more about our award-winning work? Let's talk!